The Field Programmable Gate Array is an Integrated Circuit (IC) which can be configured to a device after its manufacturing. The unique feature of FPGAs to be reprogrammed post manufacturing for fulfilling a specific task makes them beneficial for users. Over the past few years, usage of FPGAs has increased from high-end devices to mid-end and low-end design needs across industries. With FPGAs, device engineering and prototyping is possible in a much lesser time and cost as compared to the traditional ICs. The market for FPGAs is thus poised for strong growth over the forecast period.
FPGAs have varied applications across industries. They have been heavily used in the telecom industry, data processing industry, and the industrial sector. In 2015, the telecom industry contributed heavily to the global FPGA revenue; it is anticipated to continue being the dominant end-use sector throughout the forecast period. This is attributed to the exponential increase in mobile phones and growing wireless technology worldwide.
U.S. FPGA market, by technology, 2015 (USD Million)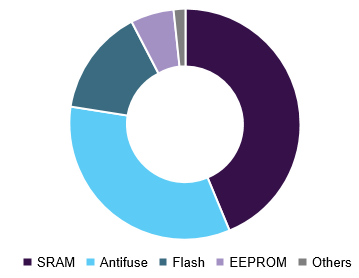 Use of FPGAs is further projected to grow in the consumer electronics, automotive, and military & aerospace industry. Demand for more distinguishing features by consumers in home appliances and other electronic gadgets has boosted the demand for FPGAs in the consumer electronics industry.
In the automotive industry, FPGAs have proved to be extremely efficient for digital signal processing, multi-threading, micro controlling, and parallel processing capabilities. Similarly, FPGAs are increasingly used in military & aerospace industry for waveform generation and image processing.
Over the years, there has been a transition in the technologies used for FPGAs. Fuse and Erasable Programmable Read-Only Memory (EPROM) based FPGAs are declining to give way to improved technologies such as the Static Random Access Memory (SRAM) and antifuse-based FPGA technology.
SRAM-based FPGAs are nonvolatile, simple in designing, and consume less power. The flash-based FPGAs are nonvolatile, electrically erasable, reprogrammable, and use single and multi-level memory chip for storing information. Both SRAM and flash based FPGAs are anticipated to experience high demand during the forecast period.
The Asia Pacific region is envisioned to drive the global FPGA market as the East Asian countries along with China are major manufacturing hubs for semiconductors, consumer electronics, and automotive.
Factors such as the technological efficiency of FPGAs over the Application Specific Integrated Circuits (ASICs), its growing demand across industries, and the technological improvement of FPGA circuits have made it very popular among users. The market growth is expected to be robust over the forecast period. However, the designing complexities of FPGA circuits and their overlapping market to some extent with System on Chips (SOCs) and ASICs may be a barrier to the otherwise growing FPGA market.

In-depth report on global field programmable gate array (FPGA) market by Grand View Research:
http://www.grandviewresearch.com/industry-analysis/fpga-market