What if somebody told you, you can have multiple health benefits and you won't have to hit the gym or run several miles for it? Yes several people will jump at this opportunity, and several people do. Vitamins have a way of improving health like no other nutrients could. All of them are important, but Vitamin B9 or Folic Acid has its own place. Let's dive in further to understand more about this important vitamin and how its market is flourishing.
When it comes to Folic Acid Market, there are several factors which are causing the market to grow leaps & bounds. Increasing consumption of folic acid in promising applications in various verticals of pharmaceuticals and nutraceuticals sectors coupled with strict regulations is expected to propel the global market demand. Raising its utilization in food and beverage industry to increase the folic acid food fortification particularly in developed economies such as North America and Europe is also predicted to impact the global folic acid market positively. All these factors along with several other positive ones lead the market to reach expected growth ofUSD 466.2 million by 2025, according to a new report by Grand View Research, Inc.
What Is Folic Acid And Why Is It So Important?
Folic acids or Folate or vitamin B9 is a type of water-solvent vitamin required by the body to produce red platelets, and its deficiency causes anemia. Additionally, it is involved in the normal body development and advancement, generation of genetic materials, for example, DNA and RNA and other essential chemical & physical functions. It encourages cell and tissue growth and development. Folic acid is used in multivitamins supplements because it is better absorbed.
Folic acid support fetal development by preventing the risk of birth defects promotes sperm viability, improves cardiovascular system by minimizing the risk of heart attack, encourages normal cholesterol levels, provides neurological support, and helps perinatal mood management. Vitamin B9 is an essential nutrient found green and leafy vegetables, peas, broccoli, oranges, corn, grains meats, and cereal. Significant folic acid deficiency can lead to macrocytic anemia
Excellent sources: Leek, green beans, parsnip, beetroot, cabbage, green peas, capsicum, spinach, cauliflower, oranges, chick peas, orange juice, oats, peanuts, wholegrain bread.
Market Factors At Play
Folic Acid has grown and it seems to continue doing so, riding on the back of several factors. Some of these factors affect positively while some of them has an inhibiting factor on the growth of the market. However, the growing factors outweigh the inhibiting ones and the market is set to tread the growth path.
Rising occurrence of diseases and pandemic like COVID-19 makes it essential to develop new set of pharmaceuticals; and rising growth of pharmaceuticals and neutraceuticals leads to spurt in the growth of Folic Acid demand.

According to WHO, Globally, anemia affects 1.62 billion people, which corresponds to 24.8% of the population. The highest prevalence is in preschool-age children and the lowest prevalence is in men. Folic acid has proven benefits in fighting anemia. Large anemia affected population causes a growth in demand for Folic Acid.

Folic Acid is used in body supplements and is involved in the normal body growth & development, production of genetic materials such as DNA and RNA and several other bodily functions. This makes it indispensable for the healthcare industry.

Folic acid food fortification has been made compulsory in many developed economies such as the U.S., New Zealand, UK, and Australia. This fuels the market as well.

Folic Acid plays a major role in providing support to a pregnant mother in taking care of the baby, leading to the increased demand in the market.

Folic Acid is used in additives for the animal feed to help them grow devoid of any deformities and boost their immune system, leading to additional demand in the market.

Some Environment Protection Laws work against the manufacturing of Folic Acid. This proves to be an inhibiting factor for the market.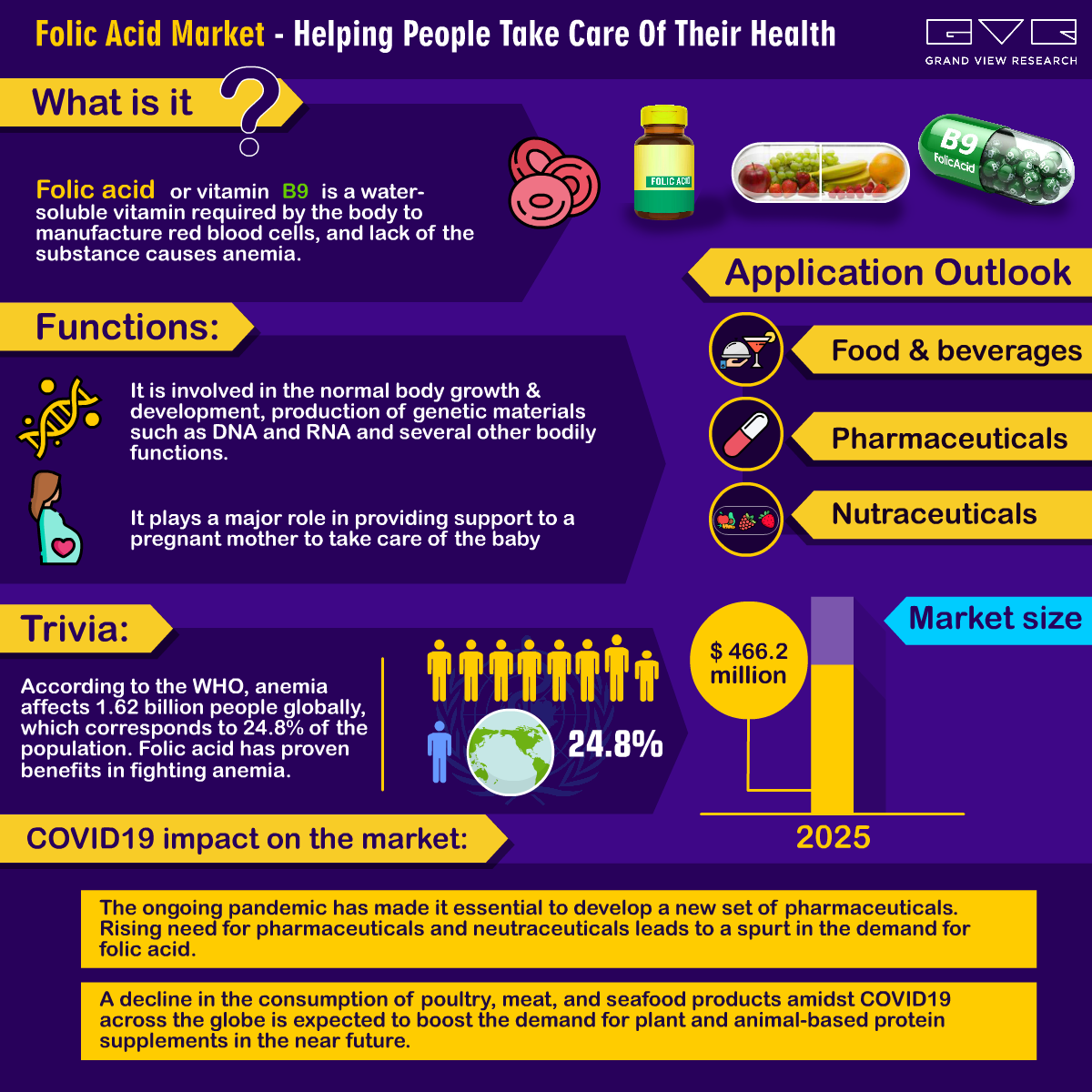 Region Specific Insights
Growing consumer's purchasing power in emerging economies along with increasing preference of consumption of nutraceuticals and mineral-rich instant food products are major growth drivers, which is expected to augment folic acid market demand during the next nine years. Asia Pacific occupied the largest share in the folic acid market. The major demand for folic acid is expected to arise from China, India, and Japan. Stringent regulations pertaining product safety in the medical sector is projected to propel market growth over the coming years.
Amendments imposed by Environmental Protection Agency (EPA) and European Union (EU) and other international regulatory authorities regarding the consumption dosages of folic acids are predicted to reinforce further the market growth in European region. However, raw material availability and volatile price trends, changing health regulations and scrutinizing pharmaceutical organizations remain bigger challenges for the global market growth.
Aggressive Competition
Key industry players operating in the global folic acid market include BASF SE, Zydus Pharmaceuticals Ltd., Medicamen Biotech Ltd., Jiangxi Tianxin Pharmaceutical Co. Ltd., DSM N.V., and Emcure Pharmaceuticals Ltd. The industry is concentrated with the top few players and is characterized by continuous developments, diversified product portfolio, and increasing regional presence. Acquisition and new product development are some key strategies adopted by the industry players to increase their revenue share as well as improving their value chain integration.
Recent Developments
In the time pandemic (COVID-19), it is extremely important to keep your immune system at its peak. According to scientists, Folic Acid has several immune related benefits and along with other B complex vitamins, it plays a major role in keeping immune system up and running.

In India, the National Nutrition Mission (NNM) has been set up with a three year budget of Rs.9046.17 crore commencing from 2017-18. The NNM is a comprehensive approach towards raising nutrition level in the country on a war footing. Iron and Folic Acid (IFA) supplements will be given and mapped in the country.

In-depth report on global folic acid market by Grand View Research:
https//www.grandviewresearch.com/industry-analysis/folic-acid-market