Increasing consumption of folic acid in promising applications in various verticals of pharmaceuticals and nutraceuticals sectors coupled with strict regulations is expected to propel the global market demand. Raising its utilization in food and beverage industry to increase the folic acid food fortification particularly in developed economies such as North and Europe is also predicted to impact the global folic acid market positively.
Folic acids or vitamin B9 is a type of water-solvent vitamin required by the body to produce red platelets, and its deficiency causes anemia. Additionally, it is involved in the normal body development and advancement, generation of genetic materials, for example, DNA and RNA and other essential chemical & physical functions. It encourages cell and tissue growth and development. Folic acid is used in multivitamins supplements because it is better absorbed.
Folic acid support fetal development by preventing the risk of birth defects promotes sperm viability, improves cardiovascular system by minimizing the risk of heart attack, encourages normal cholesterol levels, provides neurological support, and helps perinatal mood management. Vitamin B9 is an essential nutrient found green and leafy vegetables, peas, broccoli, oranges, corn, grains meats, and cereal. Significant folic acid deficiency can lead to macrocytic anemia.
• Excellent sources: Leek, green beans, parsnip, beetroot, cabbage, green peas, capsicum, spinach, cauliflower, oranges, chick peas, orange juice, oats, peanuts, wholegrain bread.
• Good Sources: Cos lettuce, wheat germ, avocado, banana, carrot, tomato, parsley, strawberry, hazelnuts, canned salmon, cashews, almonds, walnuts.
In 2015, the Chinese government implemented the Environmental Protection Law to control water pollution arising due to inappropriate sewage disposal treatments. The farmlands of around the manufacturing unit were polluted, destroying the standing crops, contaminate groundwater and reducing the agricultural yield. China is a key manufacturer of folic acid in the world. Due to the execution of the law, a few Chinese folic acid producers were compelled to close down operations, prompting to global supply squeeze and cost increments.
The price at the beginning of 2014 was around USD 50/kg, in the second quarter it was around USD 80/kg and on the end of 2014, the price had increased to around USD 120/kg. Now, the price has increased to USD 350/kg. In 2015, folic acid prices had increased by 1000% to reach USD 350/kg. The global demand for folic acid in 2014 was 1,675 MT of which Chinese manufacturer had a share of 78.93%, with a production capacity of around 3000 MT in 2013. Hence, Chinese manufacturers had sufficient folic acid production to export to global countries which is used as an Active Pharmaceutical Ingredients (API) in the manufacture of medicines, until the adoption of environmental law by the government. Owing to the shutdown, the average price of Folic acid shot up to $445/kg in the first quarter of 2015 compared with about $22/kg in the year-ago period.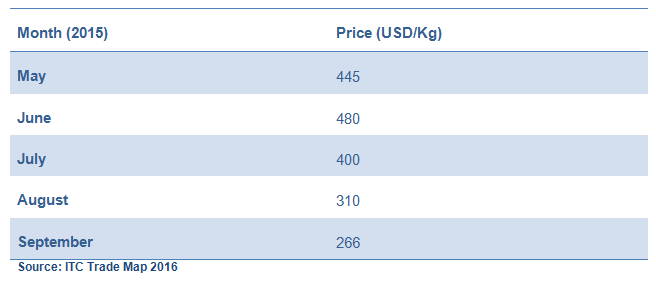 Addition of vitamin B9 powder in food grains and pulses to increase folic acid food fortification has been made compulsory in many developed economies such as the U.S., New Zealand, UK, and Australia, thus boosting the further market demand in the coming years. Folic acids have promising applications in the medical sector and are widely used as nutrition supplements in pharmaceuticals, nutraceuticals, food, beverages, animal/agriculture feed, cosmetics and others.
Growing consumer's purchasing power in emerging economies along with increasing preference of consumption of nutraceuticals and mineral-rich instant food products are major growth drivers, which is expected to augment folic acid market demand during the next nine years. In 2015, Asia Pacific occupied the largest share in the folic acid market. The major demand for folic acid is expected to arise from China, India, and Japan. Stringent regulations pertaining product safety in the medical sector is projected to propel market growth over the coming years.
Amendments imposed by Environmental Protection Agency (EPA) and European Union (EU) and other international regulatory authorities regarding the consumption dosages of folic acids are predicted to reinforce further the market growth. However, raw material availability and volatile price trends, changing health regulations and scrutinizing pharmaceutical organizations remain bigger challenges for the global market growth.
Key industry players operating in the global folic acid market include BASF SE, Zydus Pharmaceuticals Ltd., Medicamen Biotech Ltd., Jiangxi Tianxin Pharmaceutical Co. Ltd., DSM N.V., and Emcure Pharmaceuticals Ltd. The industry is concentrated with the top few players and is characterized by continuous developments, diversified product portfolio, and increasing regional presence. Acquisition and new product development are some key strategies adopted by the industry players to increase their revenue share as well as improving their value chain integration.

In-depth report on global folic acid market by Grand View Research:
http://www.grandviewresearch.com/industry-analysis/folic-acid-market