Pumping systems are found globally in various industrial facilities. Rising infrastructural development in Asia Pacific countries including India and China couple with growth of various end-use industries including oil & gas, power and food & beverages is expected to fuel market growth over the next nine years. Middle East & Africa is expected to witness moderate growth over the forecast period on account of upcoming projects in the region
Industrial pumps market demand is majorly driven by the escalating need for electricity across the globe. Growth in infrastructural projects across China, India, Saudi Arabia, and UAE, is expected to augment the market. The Middle East & Africa market is projected to gain prominence over the forecast period owing to numerous upcoming projects.
Furthermore, the industry generates a portion of revenue from the construction of utilities, as pumps and compressors are used to control the flow of fluids through water and sewage systems, which are found in all major towns and cities across the U.S. Demand from this market tends to be more stable than others, as these services are essential. The value of utilities construction is expected to rise in 2017.
Global industrial pumps market by region, 2015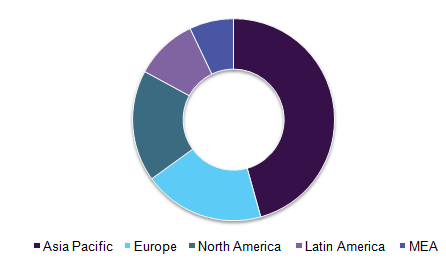 North America accounted for 17.9% of the overall market share in 2015 and is projected to exhibit a compound annual growth of 4.9% from 2016 to 2025. The U.S. is investing in its construction infrastructure for development & growth prospects. These projects include Dulles Transit Extension, O'Hare Modernization, and Crescent Corridor Expansion, among others. This in turn is expected to fuel industrial pump market growth over the next nine years.
Refineries in Europe are suffering from low margins on account of high manufacturing cost coupled with stringent environment regulations. This regulatory move in Russia is expected to fuel demand for industrial pumps in refining applications. In addition, technological advancement in enhanced oil recovery and deploying hydraulic fracturing activities in Russia and Ukraine are expected to increase availability of tight oil and shale gas which in turn will have a positive impact on the product market over the forecast period. further rising water & wastewater treatment plants in the region will fuel market growth over the next nine years.
The global market is characterized by integration through raw material manufacturing and production and distribution stages. Industries worldwide depend upon pumping systems for day-to-day operation. These pumping systems account for about 20% of the global industrial electrical energy demand and account for about 25-50% of the energy usage in few industrial plant operations. Major industrial pump manufacturers include Zeutech Engineers Pvt. Ltd., Apex Pumps, Blagdon Pump, and Sulzer.

In-depth report on global industrial pumps market by Grand View Research:
http://www.grandviewresearch.com/industry-analysis/industrial-pumps-market