Pumping systems are used in multiple industries and are able to do plenty of types of work, and that makes it something which is extensively sought after. Industrial pumps, which are one of the types of pumping systems, are in demand from industries such as oil & gas, power and food & beverages among others.
Advancement in technology is the key behind increase in the demand, as it led to spurt in the efficiency of the pumps to handle everyday tasks, as well as pushed the reliability factor of the pumps. Furthermore, it is likely to reduce the power consumption and augment its performance, paving way for increased deployment across the end-use industries, such as water and wastewater, oil and gas, and construction. All these factors stated above and others, led the industrial valves market to be expected to reach USD 99.3 billion by 2027, with an aggressive expansion CAGR of 5.9% till 2027.
A Glance Over…
Industrial Pumps are generally used to move liquid through the desired amount of distance and with required speed. There are several types of pumps suited to different types of applications. The application mainly includes the type of fluid you desire to pump, the distance you desire to move the fluid, and the quantity you require to get over a particular time frame.
Types of Pumps
Pumps are classified mainly into two types –
Also, Positive displacement pumps are classified into diaphragm pumps, gear pumps, peristaltic pumps, lobe pumps, and piston pumps.
Regional Market Insights
Industrial pumps market demand is majorly driven by the escalating need for electricity across the globe. Growth in infrastructural projects across China, India, Saudi Arabia, and UAE, is expected to augment the market. The Middle East & Africa market is projected to gain prominence in the near future, owing to numerous upcoming projects.
Furthermore, the industry generates a portion of revenue from the construction of utilities, as pumps and compressors are used to control the flow of fluids through water and sewage systems, which are found in all major towns and cities across the U.S. Demand from this market tends to be more stable than others, as these services are essential.
North America accounted for 17.9% of the overall market share in 2015 and is projected to exhibit a compound annual growth of 4.9% from 2016 to 2025. The U.S. is investing in its construction infrastructure for development & growth prospects. These projects include Dulles Transit Extension, O'Hare Modernization, and Crescent Corridor Expansion, among others. This in turn is expected to fuel industrial pump market growth.
Refineries in Europe are suffering from low margins on account of high manufacturing cost coupled with stringent environment regulations. This regulatory move in Russia is expected to fuel demand for industrial pumps in refining applications. In addition, technological advancement in enhanced oil recovery and deploying hydraulic fracturing activities in Russia and Ukraine are expected to increase availability of tight oil and shale gas which in turn will have a positive impact on the product market. In addition to this, further rising water & wastewater treatment plants in the region will fuel market growth in the upcoming years.
The market insights with a regional demand in the sight can be aptly explained with the pie-chart below.
Global industrial pumps market by region, 2015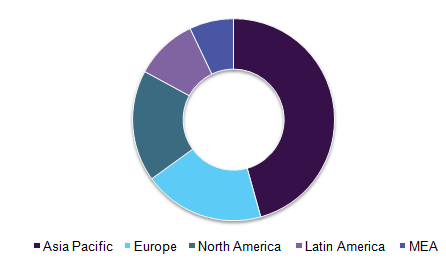 Competive Insights
The global market is characterized by integration through raw material manufacturing and production and distribution stages. Industries worldwide depend upon pumping systems for day-to-day operation. These pumping systems account for about 20% of the global industrial electrical energy demand and account for about 25-50% of the energy usage in few industrial plant operations. Major industrial pump manufacturers include A.R. North America, Inc.; SPX Flow Inc.; Vaughan Company Inc.; Colfax Corporation; ITT Corporation; Flowserve Corporation; and Iwaki America Inc.
Recent Developments
Internet of Things (IoT) has gained access to multiple industries, revolutionizing those for the better; similar is the case of industrial pumps industries. Long Range Wide Area Network (LoRaWAN) is an LPWAN specification from the nonprofit IoT group LoRa Alliance for battery-operated devices that provides secure, bidirectional communications between remote sensors and centralized network servers.Availability of these public networks means that utilities do not need to operate their own networks and can use existing networks in a similar manner to current cellular service.

Annovi Reverberi Group, the Italian manufacturer of diaphragm pumps for agriculture applications, high pressure washers and piston pumps for industrial applications, announced the acquisition of a 95% stake in Ace Pump Corp. ("Ace Pumps"), a U.S. manufacturer of pump solutions for agricultural and off-highway applications. Andy Randle, CEO of the company, will retain a 5% stake in Ace Pumps.

SPX FLOW, Inc. announced that it has entered into a definitive agreement (the "purchase agreement") to sell a substantial portion of its former Power and Energy reportable segment ("the P&E business") to an affiliate of funds managed by Apollo Global Management, Inc. Under the agreement, the Apollo fund affiliate will purchase the P&E business in an all-cash transaction with an enterprise value of $475 million.

With the advent of renewable technology, Industrial pumps got a big boost with the inclusion of Solar pumps. It has provided a strong push with increase in the efficiency, cost cut and profit margins, in addition with efforts to attain a sustainable environment.

In-depth report on global industrial pumps market by Grand View Research:
https://www.grandviewresearch.com/industry-analysis/industrial-pumps-market