The extensive use of Si photonics leverages the feature of the high-resolution lithography toolset in the CMOS industry. The use of these devices helps to provide high resolution, low power consumption, and fast switching speeds.
The optical quantum computers are capable of performing exponentially faster than the digital electronic microprocessors. Hence, with advancements in the silicon photonics devices market, the increased level of efficiency will enable multi-tasking using such devices in comparison to the in-use microprocessors. Quantum computing is gaining traction and is expected to provide solutions across a range of applications, such as optimization, water network optimization, radiotherapy optimization, protein folding, machine learning, object detection, video compression, and Monte Carlo simulation, among others.
Quantum computers also provide enormous parallelism and with advancements in the solid state qubit technology, the market for silicon photonics is expected to further grow in the years to come. The demand for quantum computing services across a range of verticals, which require a high computational power and high efficiency, can be met using the silicon photonics technology.
Silicon photonics market by application, 2015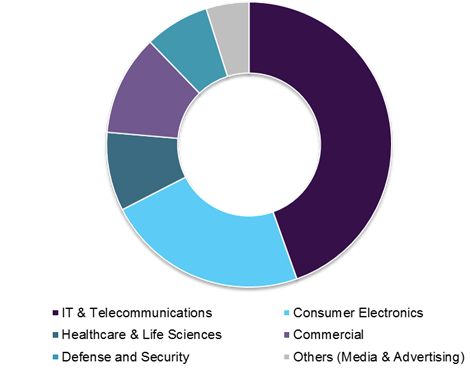 The optical telecommunication applications in the silicon photonics market have emerged as a dominant sector. Optical signal processing poses a great growth potential over the forecast period, owing to the development of PICs that find applications in the telecommunication sector.
The high level of power efficiency and a considerably increased level of integration across multiple devices are the driving factors for the silicon photonic devices market. For instance, the data center interconnect market is one such sector where the overall silicon photonics segment is expected to increase in the years to come. This is a result of high power efficiency that is a governing factor in data centers. The data centers are based on a platform that is capable of delivering 500G of line-side capacity in 2RU. The presence of key industry participants globally, such as Cisco Systems Inc., Finisar Corporation, Intel Corporation, Mellanox Technologies, and Molex Incorporated, have resulted in an increased demand.

In-depth report on global silicon photonics market by Grand View Research:
http://www.grandviewresearch.com/industry-analysis/silicon-photonics-market