Computing world is set to take a quantum leap with a new style of computing revolution called - Quantum Computing; and Silicon Photonics are sure to be the wind in its sails.
With the rise in optical technology and increasing demand for efficacy in computing world, quantum computing has made a niche for itself. Quantum computing is given credit for seamless encryption of data, along with analysis of huge chunk of data collected and its usage, to solve complex problems that even a supercomputer finds troublesome - such as medical diagnostics and weather prediction.
Quantum computing is gaining traction and is expected to provide solutions across a range of applications, such as optimization, water network optimization, radiotherapy optimization, protein folding, machine learning, object detection, video compression, and Monte Carlo simulation, among others. The optical quantum computers are capable of performing exponentially faster than the digital electronic microprocessors. In addition to this, advancements in the silicon photonics devices, the increased level of efficiency will enable multi-tasking using such devices in comparison to the in-use microprocessors.
Along with quantum computing, silicon photonics have a wide range of application in CMOS industry as well. The extensive use of silicon photonics leverages the feature of the high-resolution lithography toolset in the CMOS industry. The use of these devices helps to provide high resolution, low power consumption, and fast switching speeds. Theses factors boost demand in the Silicon Photonics Market, making it grow quickly in size, so much so that, it's size is expected to reach USD 918.3 million by 2025, according to a new report conducted by Grand View Research, Inc.
Simplifying All The Technical Mumbo-Jumbos…
The usage of heavy technological jargons and description of its application is meaningless, if there is a wide gap between you and your understanding of the concepts used above. To start it off,
Quantum Computing - As the name suggests, it is a discipline which has something to do with computing. It is an area of computing focused on developing computer technology based on the principles of Quantum theory, which explains the behavior of energy and material on the atomic and subatomic levels. It is a modern computing advancement with staggering potential to punch above its weight.

Photonics - Photonics is the area of science and technology, which deals with the usage of Light (whose fundamental element is photon) as a source of power, in a way similar to electronic usage of electrons.

Silicon Photonics is an evolving technology, which enables the seamless data transfer between computer chips with the help of optical lasers. Lasers are used for the data transfer as they are able to transfer data in a short span of time than electrical conductors.
The research in silicon photonics began in late 1980s and has been ongoing ever since. Lasers are used to transfer data into light pulses, after that, multiplexers combine all the pulses into single signal. These signals travel in the optic fiber and reach silicon receivers, where de-multiplexers divide the signal. These light signals are then converted into data by the photodetectors. Silicon photonics makes data transfer easier and quick, making it one of the technologies having a significant demand.
Market Determinants
Even though Silicon Photonics is an evolving technology, market is investing its trust in it due to proven potential in optoelectronics integration. Demand in silicon photonics market has remained high and will continue to do so for the coming years. Factors play a major role in determining the path that the market takes in the coming years. Similarly, several market factors play a role in pushing the demands in the market higher.
Increased usage of silicon photonics devices such as multiplexer, attenuators, de-multiplexers among others in the consumer electronics, IT & communication and commercial segments is primary reason for the rise in demands in the market.

Quantum computers provides enormous parallelism and with advancements in the solid-state qubit technology, the market for silicon photonics is expected to further grow in the years to come. The demand for quantum computing services across a range of verticals, which require a high computational power and high efficiency, can be met using the silicon photonics technology.

The high level of power efficiency and a considerably increased level of integration across multiple devices are the driving factors for the silicon photonic devices market. For instance, the data center interconnect market is one such sector where the overall silicon photonics segment is expected to increase in the years to come. This is a result of high-power efficiency that is a governing factor in data centers. The data centers are based on a platform that is capable of delivering 500G of line-side capacity in 2RU.

Rising demand of silicon photonics devices in the data centers due to its usage in data center networking is set to boost the demand in the market. Currently, the largest market demand in silicon photonics is for data center interconnects (DCIs), the fiber optic links over which servers exchange information.
Market Segmentation Based On Applications
Market, segmented on the basis of application, includes IT & telecommunication, consumer electronics, healthcare & life science, commercial, defense, and security. Among these segments, IT & Communication has the largest market share and generates larger demand for the silicon photonic devices. The information is aptly depicted in the pie-chart below
Silicon photonics market by application, 2015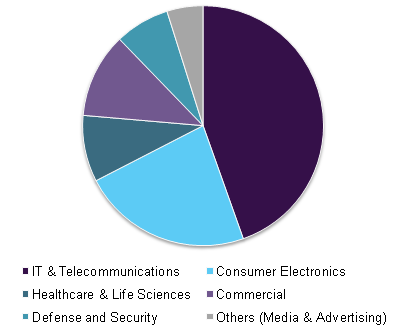 The optical telecommunication applications in the silicon photonics market have emerged as a dominant sector. Optical signal processing poses a great growth potential over the forecast period, owing to the development of PICs that find applications in the telecommunication sector.
Competitors
Innovation rules supreme in the market and major key players are continuously trying to develop new innovative products or enhancements, which will give them an extra edge amidst the intense competition.
Major players in the market are Cisco Systems Inc., Finisar Corporation, Intel Corporation, Mellanox Technologies, STMicroelectronics N.V., and Molex Incorporated.
Recent Developments
Cisco Systems Inc. acquires Luxtera, Inc. a privately-held semiconductor company based in Carlsbad, Calif. Luxtera, Inc. uses silicon photonics technology to develop integrated optics capabilities used by data centers, webscale companies and service providers among others. Cisco and Luxtera optics technologies together present an opportunity to enable customers expand and network safely.

Cisco, Inc. set to acquire Acacia Communications, a company headquartered in Massachusetts, which caters to the webscale companies, service providers and data centers by helping them meet the rising consumer demand in data.

Intel Corporation has successfully integrated 1.6 Tbps silicon photonics engine with its 12.8 Tbps programmable Ethernet switch. The integrated package brings together technological building blocks from Intel Corporation and Barefoot Networks Division together for integrated optics on an Ethernet switch.

II-VI Incorporated, a global leader in engineered materials and optoelectronic components, completes acquisition of former rival, Finisar Corporation. This unity of two giants of the market, leads to development of one significantly large enterprise which will have greater market reach in diverse sectors such as communications, consumer electronics, military, industrial processing lasers, automotive semiconductor equipment and life sciences.

In-depth report on global silicon photonics market by Grand View Research:
https://www.grandviewresearch.com/industry-analysis/silicon-photonics-market