When there is a huge solar energy spill, Its just called a "nice day".
Climate awareness is growing among people with every passing day. Greta Thunberg, a Swedish 17-year-old school going girl showed the entire world the risks of climate change. This event also highlighted the rise in amount of awareness about climate in the world; proof of this can be seen from the popularity of Fridays For Future & massive support received by Greta from every nook and corner of the world. This awareness is the key reason as to why the world leaders are turning towards the renewables as the last resort to tightly balance both, the need of energy as well as climate sustainability.
When it comes to renewables, solar energy is one of the best substitutes to fossil-based energy resources. It is an infinite source of energy with unmatched potential, just waiting to be harnessed. In this scenario, infrastructure needed to harness solar energy becomes extremely important and has come a long way since its inception. Recent addition to this state-of-the-art infrastructure is solar tracker, which now has an important role to play and is used world over to increase the efficiency of solar panels. So much that, Solar Tracker Market is expected to grow at a CAGR of 32.0% from 2019 to 2025, according to a research report by Grand View Research, Inc.
Solar Trackers - What, Why & How?
Solar tracker is a product that aids in directing payloads towards the direction of sunlight. The payloads that are majorly used are parabolic troughs and solar panels. It maximizes your solar system's electricity production by moving your panels to follow the sun throughout the day, which optimizes the angle at which your panels receive solar radiation. Solar trackers are typically used for ground-mounted solar panels and large, free-standing solar installations like solar street lights.
When solar panels are exposed to sunlight, the angle of incidence of the sunlight is strictly kept into consideration. Minimum the angle of incidence of sunlight, maximum the efficiency of the solar panels, leading to maximum charge deposition in solar cells. This is where solar tracker comes into the picture. It tracks the movement of sun and helps align the panels in such a way that angle of incidence remains minimum, leading to increased conversion of solar energy into electricity.
The usage of trackers as an additional device could further improve the energy efficiency of the application in terms of quantity of energy received through the panels. The low maintenance cost of the product coupled with reduced electricity costs can improve the efficiency of solar panels.
There are two types of solar trackers -
Single Axis Tracker - These trackers align the panels to the north-south direction and allows the panel to arc from east to west tracking the sun through the entire day. It makes tracking the sun for the day easier.

Dual Axis Tracker - As the name suggests, this tracker allows the panel to move on two axes, namely, East-West & North-South. Therefore, enabling the panel to track the daily as well as yearly variation in movements of the sun, maximizing the collection of solar energy throughout the year.
Although the dual axis tracker provides a better capability to the panel, it is a much less popular option for solar installations, even among large, utility-scale projects. This can be aptly depicted by the pie chart given below.
Global solar tracker market installed capacity by product, 2015 (MW)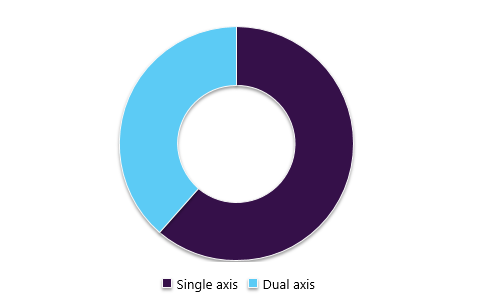 Driving Forces
Solar trackers are comparatively new, when it comes to solar infrastructure. However, it has gained a boost from the market, riding on some crucial factors which are the driving forces behind it. Due to these following factors, market demand for solar tracker is expected to reach 172.0 GW by 2025.
Generally, a solar panel system with a single-axis solar tracker installed sees a performance gain of 25 to 35 percent. A dual-axis tracker boosts performance up by another 5 to 10 percent. This clearly shows that installing solar tracker results in good amount of increase in solar power accumulation.

In the regions of high altitude, where the position of sun has a large range of variation, resulting in variations in the amount of sunlight in the region around the year; trackers help increase the electricity storage by reducing the angle of incidence.

Rising climate concerns in the world has made the countries boost investment in the renewables sector. This has created a good demand for solar trackers around the world.

Technological developments and research in the renewable arena are expected to cut costs and make infrastructure cheap and ready for deployment around the world.
Points That Can't Be Overlooked
As the solar tracker technology is in its nascent stage, plenty of obstacles are there that can't be overlooked. They are needed to be tackled and cleared.
Although technological developments are going on to bring down the costs of solar tracker, present truth is that they tend to have higher installation costs. A solar tracker will cost more money up front than a fixed solar panel system because it is a more complex technology and has moving parts.

Along with the high costs of installations, maintenance also can burn a hole in your pocket. With more complex systems and moving parts, maintenance costs are bound to be increased.

Due to its complex nature, weight of the complete setup shoots up. It becomes too heavy to be used in rooftop solar projects and renders itself useful only to be installed in ground-mounted array.

The reliability of tracker is still a major cause of concern for the solar installation manufacturers. The motors involved in the tracker run for a very small amount of time and the electronics involved is also simple, but as the product is in its initial phases of development there could be some setbacks.
As every coin has two sides, similarly, using a solar tracker also has its advantages and disadvantages. However, advantages have higher weightage than disadvantages and proves to be largely beneficial in the longer run.
Market Insights
The manufacturers are investing in major solar installation projects around the world to increase their geographical presence. The major strategy used by industry players is a rapid market expansion to gain maximum market share.
Companies such as Array Technologies and SunEdison are establishing subsidiaries in developing countries to be a part of the rapid renewable energy revolution taking place in these countries. It has been observed that developing countries are adding more than 2 GW of renewable energy every year. And with the renewed push to Paris Agreement, it is bound to go up, boosting demand in the sector.
Key market players in the global industry include AllEarth Renewables, Inc.; NEXTracker, Inc.; Soltec; PV Hardware; Artech Solar; NClave; and Powerway Renewable Energy Co. Ltd. These companies offer a diverse portfolio in the market in terms of products and are highly integrated across the value chain.

In-depth report on global solar tracker market by Grand View Research:
https://www.grandviewresearch.com/industry-analysis/solar-tracker-industry