Tannin extracts are characterized as a bitter-tasting, brown colored organic substance. It has high oxidation properties and is thus employed in the manufacturing of wines. Tannins act as structural components and are utilized to retain the color of wine. These extracts help the wines to age better, ferment properly and gain a distinct aroma. Tannin thus improves the taste and aroma of wines.
Tannins extracted from various tree plants including, barks, roots and leaves are utilized for the manufacturing of leather. Owing to their insoluble proteins, tannins do not decompose and are thus utilized for tanning leathers. Tannins help in improving the solidarity, water-resistance, and wearing properties of leather.
Different tanning methods produce varied results in leathers. Some prominent tanning methods utilized for manufacturing leather include chrome tanning, vegetable tanning, alternative tanning, and natural tanning. Leather is manufactured with the help of tannins in three stages including preparation stage, tanning, and crusting.
Use of tannin in three stages of leather manufacturing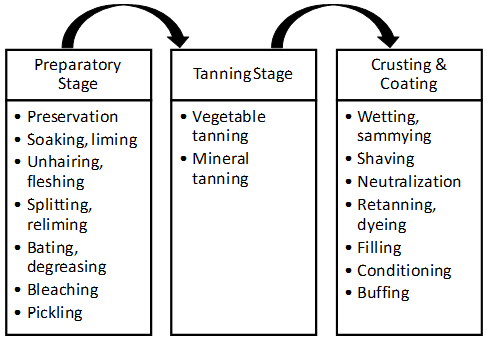 When consumed in food products, tannin is highly beneficial for the human body as it inhibits the growth of fungi, viruses, yeasts, and bacteria. It also helps in protecting cellular oxidative damage and lipid peroxidation in human beings. Tannin prevents various external entities including foodborne bacteria, micro-organisms, and aquatic bacteria from affecting the human body.
Over the past few years, the industry has experienced subsequent shifts in raw material trends, technology, and even production. Tannin manufacturers have been investing in several R&D projects to develop environment-friendly manufacturing processes.
Research studies have shown that tannin extracts have harmful effects when they are not utilized appropriately. Tannin-based products when consumed inappropriately are often regarded as carcinogenic and can be the cause of various diseases including esophageal cancer, heart diseases, intestinal bleeding, and diarrhea. Owing to the various shortcomings, tannin-rich foods are often considered to be low in nutritional content.
Hence, the tannin industry has been still in the developing stage and along with the rising demand from leather manufacturing and winemaking industry, the demand of tannin extracts is also expected to build up over the next few years. Tannin extracts and tannin-based end products are subjected to various governmental regulations globally and varies from one region to another and in many countries.

In-depth report on global tannin market by Grand View Research:
https://www.grandviewresearch.com/industry-analysis/tannin-market