Eagerness to exploit the full capabilities of 4K TVs have driven market growth
The global 4K Set-top Box (STB) market size was valued at USD 218.4 million in 2015. Growing emphasis on crystal-clear broadcast quality and eagerness to exploit the full capabilities of 4K televisions have helped 4K STBs make steady inroads into the niche economic class. Growing demand for high-quality in-home entertainment is expected to be the key factor responsible for modern-day consumers shifting their preferences from normal and High Definition (HD) to 4K STB consoles.
North America 4KSTB market volume by product, 2014 - 2024 (Thousand Units)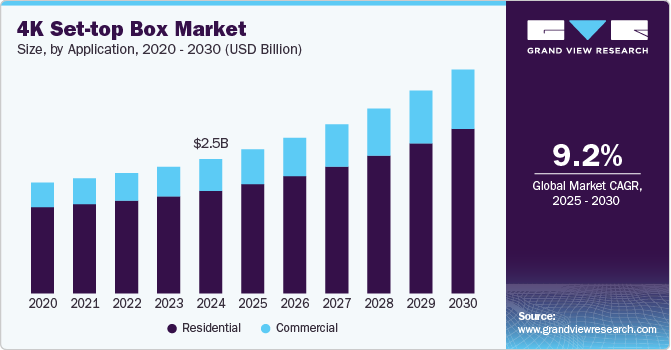 The introduction of OTT (Over The Top) streaming technologies and Internet Protocol Television (IPTV) is expected to ascertain the favorable growth prospects of the industry. The primary stakeholders involved in the market include direct broadcast satellite providers, telecom companies, and other on-demand content service providers.
Escalating demand for interactive content has culminated in prominent service providers forming strategic alliances with software and content providers to ensure seamless broadcast for users. There has been an increased emphasis on STBs with increased storage space for enabling personal video recording.
Increased availability of high-speed broadband internet services, particularly in metropolitan and semi-metro cities across the world is expected to impact the IPTV and OTT devices market favorably. Increased prominence of these innovative devices is expected to open significant growth avenues for 4K STBs over the forecast period.
Some of the prominent components and technology providers such as the U.S.-based system-on-chip (SoC) solutions provider Sigma Designs have introduced HRD support-enabled UHD STB SoCs thereby enabling them to offer a superior visual experience.
The approval of a proposal by The Federal Communications Commission (FCC) in 2016 that allows users to swap costly cable boxes for cheaper devices and apps is expected to boost the competition in the 4K STB market. It allows users to choose video streaming and IPTV STB services from providers, such as Apple, Inc., Google, Inc., and Tivo, Inc., over satellite, cable, and other television service providers such as Verizon Communications and Comcast Corp.
High 4K video content subscription prices, as well as costlier set-top box hardware relative to HD and SD STBs, are expected to pose a challenge to market penetration across lower economic groups. Moreover, issues such as lack of availability of high-speed broadband internet in the developing economies that are required for OTT and IPTV service subscriptions are expected to have a negative bearing on industry growth.
Satellite-based 4K Set-top Boxes dominated the market
Vendors and service providers are providing several Ultra HD STB variants such as OTT, IPTV, satellite, Digital Terrestrial Television (DTT), and hybrid STB devices. Satellite-based 4K STBs dominated the industry in 2015, acquiring over 30% of the global revenue share.
Although IPTV and OTT services use the internet as a medium to deliver content, their respective frameworks vary, owing to which both differ in content quality and picture delivered. IPTV service is characterized by a higher video quality as the content is transmitted via a network managed by a service provider. IPTV STBs are expected to witness significant growth and are expected to replace other STB and content transmission services.
OTT makes use of the public internet for transporting content that originates from service providers such as Hulu and Netflix, thereby making it cheaper as compared to IPTV and other internet-based services. However, unlike IPTV, OTT services do not provide any quality guarantee for media content and do not provide live programming.
The provision of OTT and IPTV services is expected to assist cable operators in the enlargement of their client database over the forecast period. Hybrid STBs are projected to grow at the fastest rate from 2016 to 2024 owing to their compatibility towards multiple streaming and content transmission services.
Asia Pacific to undergo substantial growth; India has maximum growth potential
Asia Pacific 4K STB market is expected to witness a CAGR of over 50% from 2016 to 2024. The high growth prospects in this region can be primarily attributed to increased penetration of 4K TVs in the higher economic class and government mandates pertaining to digitization in the region. Diminishing prices of Ultra HD televisions and compatible STB devices as a direct consequence of escalation in local production have led to market growth in the region.
Prominent Indian digital broadcast satellite providers such as Videocon and Tata Sky have started introducing 4K STBs in a bid to offer enhanced TV viewing experience to their consumers for gaining the first-mover advantage in the industry with an estimated half a billion TV viewers collectively.
North America is expected to observe a surge in IPTV devices' demand on account of the presence of high-speed network infrastructure, coupled with add-ons and features offered to users.
ZTE, Huawei, Technicolor feature among key market players
Key industry participants include ZTE, Technicolor, Roku, Mstar, Huawei, Infomir, Humax, EchoStar, and Amazon. Increased preference of customers towards UHD, interactive, and 3D TV is expected to present substantial growth prospects for new market entrants.
Manufacturers have started integrating features such as sleep mode for addressing concerns raised by various energy-efficiency communities pertaining to the energy consumption of these devices.