Industry Insights
The global adipic acid market size was estimated at USD 4.55 billion in 2013. Growing electronics and automotive industry, specifically in Asia Pacific, is expected to drive the market demand over the forecast period. It is widely used in nylon production for the composite material, which has application in automotive industry.
North America Adipic Acid market revenue by product, 2012-2020, (USD Million)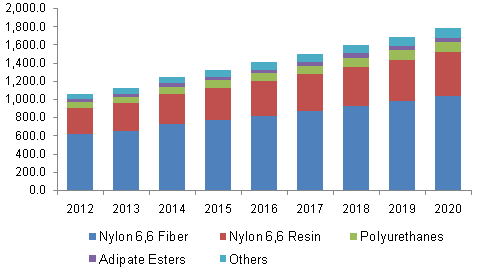 Increasing automotive sales coupled with the shift of manufacturing facilities to China, India, Thailand, and Vietnam are anticipated to complement the demand. Increasing per capita disposable income in emerging economies of Asia Pacific and the Middle East is projected to propel market growth over the forecast period.
Increasing applications in paints & coatings, synthetic fibers, and low-temperature lubricants are expected to positively influence the industry. Growing paints & coatings demand owing to rising infrastructure spending is projected to fuel market growth. It is mainly produced from petroleum derivatives such as cyclohexane, benzene, and phenol as its occurrence in nature is very rare.
Adipic acid possessing high purity grade is used for processing polyurethane and the one maintaining low purity grade is utilized for polyurethane production. Polyurethane is expected to grow at a significant growth rate over the forecast period. Nylon resin has wide application scope in footwear and thermal insulation industries. Growing footwear industry in emerging nations such as China, India, and Russia is further expected to propel the demand over the next six years.
Increasing concern towards adverse environmental impact is expected to hinder market growth and compel industry participants to shift towards bio-based adipic acid. Bio-based production is projected to gain popularity due to low costs as compared to the synthetic production.
Application Insights
Nylon 6,6 fiber was the largest application segment and accounted for 1,541.1 kilo tons of the total volume in 2013. Increasing demand from automotive industry is anticipated to drive this application segment demand. It is used in manufacturing automotive components and as a flavorant and gelling aid in food & beverage industry. Growing food & beverage industry owing to changing food habits coupled with population expansion is expected to increase the market size over the forecast period.
Nylon 6,6 resins are expected to grow at a CAGR of 5.0% from 2014 to 2020. Increasing resin demand from footwear industry is projected to drive the demand for the application segment. Polyurethane is expected to emerge as the fastest growing application with an estimated CAGR of 6.9 % from 2014 to 2020. Polyurethane is widely used for thermal insulation.
Regional Insights
Asia Pacific adipic acid market accounted for over 35% of global market volume consumed in 2013. Along with being the largest market, Asia Pacific is also expected to be the fastest growing market for adipic acid at an estimated CAGR of 5.3% from 2014 to 2020. Growing end-use industries such as automotive, electronics, and footwear in China and India are expected to remain a key driving factor for the industry.
Europe is also expected to grow at an estimated CAGR of 4.2% from 2014 to 2020. Increasing environmental concerns coupled with strict government regulations are expected to limit market growth in this region. North America accounted for 24% of the total market volume and is projected to witness stagnant growth rate owing to saturation in end-use industries. Growing automobile sector in emerging economies of Latin America such as Argentina and Brazil is projected to create lucrative opportunities for market participants over the forecast period.
Competitive Insights
The adipic acid market is highly concentrated as top four manufacturers including BASF, Rhodia, and INVISTA and Ascend Performance Materials together accounted for 60% of the total production in 2012. Other players operating in the market include Liaoyang Petrochemical, Radici, Shangdong Haili (Bohui), and Asahi Kasei.
Rennovia became the first company to develop bio-based acid using chemo-catalytic process. The global market for bio-based acid has passed its feasibility stage and is currently in its development stage. It is expected to find application in all segments of which currently synthetic source is being used, which creates a lucrative opportunity for bio-based producers to replace synthetic adipic acid market. Other major players such as DSM and Bio-Amber are expected to enter the bio-based market gradually over the next few years.