Industry Insights
The global lightweight materials market size was USD 104.8 billion in 2015 and is expected to witness growth at a CAGR of over 8% from 2016 to 2024. The demand for lightweight materials is expected to increase on account of rising use as a replacement for iron and steel in applications such as automotive and aviation. These materials find application in various end-use industries due to superior characteristics including enhanced durability and strength along with the lightweight advantage.
The lightweight materials market is expected to grow rapidly on account of increasing application in automotive manufacturing. Automotive manufacturers worldwide are focusing on weight reduction as a tool to improve fuel efficiency and enhance vehicle performance. The use of these materials enhances fuel efficiency resulting in reduced CO2 emissions from vehicles, thus curbing environmental damage.
Germany Lightweight Materials Market Revenue, By Application, 2013 - 2024 (USD Million)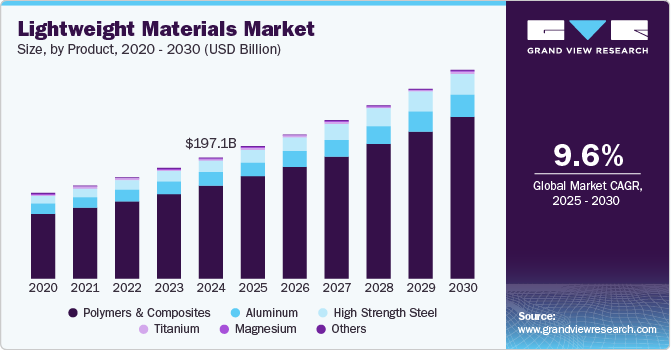 Lightweight materials find application in wind energy sector for manufacturing of long rotating blade components. The increasing number of wind project installations in developing countries such as India and South Africa is expected to boost demand for lightweight blade components.
The major manufacturers such as SABIC and Cytec Solvay are engaged in expansion and new product development initiatives. Industry participants are investing heavily in R&D to gain strategic advantage over competitors and increase application scope. Companies are also investing in improving their production facilities to meet the global demand.
Application Insights
Automotive was the largest application segment in the market accounting for more than 90% of the total consumption in 2015. The growth in this application can be attributed to the increasing demand for automobiles and stringent regulations regarding vehicle fuel emissions. These materials are used in the manufacture of vehicle parts such as engine parts, body structure, panels, and roofs.
Energy application is expected to be the fastest growing application at a CAGR of over 12% on account of rising demand for long rotating blade components used in wind installations. The Paris Agreement of December 2015 aimed at reducing carbon emissions with the use of renewable energy sources is expected to boost product demand in energy application over the forecast period.
Aviation application is the second largest segment in the market. Rising innovation in materials used for aircraft manufacturing is expected to drive demand in the next eight years.
Product Insights
Polymers & Composites are expected to be the fastest growing product segment with a CAGR of over 9% from 2016 to 2024. The increase in demand can be attributed to ease of application and anti-corrosion properties provided by polymers and composites.
Aluminum and high-strength steel were the most widely used products in 2015 on account of low costs involved in the application and large-scale production capacity available for these materials. Titanium which has started gaining importance in this market is used in niche applications such as defense and military.
Regional Insights
MEA is expected to be the fastest growing region with a CAGR of over 13% from 2016 to 2024. The growth in this region is driven by rapid industrialization and setting up of manufacturing units by various conglomerates such as Cytec Solvay Group. Ease of availability of natural resources coupled with growing application industry is expected to boost demand for these materials.
Asia Pacific dominated the global demand due to growing aviation and automotive industry in India, Indonesia, and China. The growth in North America can be attributed to the presence of automotive and carbon composites manufacturers in this region. The demand for these materials is growing rapidly in Latin America owing to increase in the number of manufacturers. The growth in Europe can be attributed to the presence of aircraft and wind energy equipment manufacturers.
Competitive Insights
The lightweight materials market is fragmented due to the presence of a large number of manufacturers. Allegheny Technologies Incorporated is a major titanium and high strength steel manufacturer that offers tailor made products for application in aviation and energy sector. The market players comprise of Saudi Basic Industries Corporation (SABIC), Aleris International, Cytec Solvay Group, Formosa Plastics Group, Alcoa Inc., PPG Industries Inc., Toray Industries Inc., Precision Castparts Corp., Allegheny Technologies Incorporated, Evonik Industries, Novelis Inc. and Bayer AG. In December 2015, Solvay completed the acquisition of Cytec resulting in the formation of Cytec Solvay Group.