Industry Insights
Global advanced ceramics market was valued at USD 56.70 billion in 2015. Rising electronic device demand among consumers particularly in emerging economies of Asia Pacific including India and China is expected to have a positive impact on the market over the forecast period. These products have gained high popularity in the market on account of unique properties such as careful processing and high chemical purity which is expected to fuel industry growth over the forecast period. Various product types including alumina nitride, zirconia, silicon carbide, titania and silicon nitride -based materials, have their specific characteristics and are employed as a high performance and economical substitute to traditional materials such as plastics, metals, and glass.
U.S. advanced ceremics market revenue, by application, 2013 - 2024 (USD Million)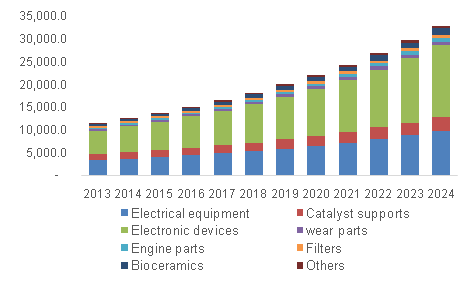 Numerous players are expected to increase their R&D expenditure to comply with growing demand from new applications most companies have been trying to improve their operations at a reduced cost which in turn is expected to boost product market over the next eight years.
Product properties including strength, wear & corrosion resistance and thermal stability can be optimized according to individual needs of various end-use industries. This factor is expected to increase product demand among consumers over the next eight years.
Amongst various oxide ceramics, alumina is widely particularly in the electronic segments on account of enhanced properties such as high modulus, wear resistance, inertness, adequate strength and wear resistance. Key factors responsible for the growth of the electronics industry include rising consumption of consumer goods in emerging markets of China, India, and Thailand amid new product launches. The incorporation of innovative technologies such as nanotechnology in major manufacturing destinations such as Japan and China is expected to drive the electronics market which in turn will boost product industry growth over the next eight years.
Application Insights
Electronic devices were the largest application segment in 2015 accounting for over USD 16.00 billion of the market. The products increasingly used in the segment as a result of the growing awareness of the benefits they offer. They are widely used in insulating, superconducting, semiconducting, magnetic and piezoelectric applications.
Bioceramics accounted for over 2% of the global revenue in 2015. They are widely being employed in the medical sector as they help in tissue and bone development and do not affect the body's' immunity system. These products are used in dental as well as joint and hip replacement applications.
Material Insights
Alumina ceramics accounted for over 35% of the global market in 2015. Rising use of alumina in various end-use of industries such as electrical & electronics, automotive and machinery on account of properties such as corrosion and weathering resistance is expected to have a positive impact on the market over the next seven years. In addition, alumina is used in the manufacturing of bioceramics which will fuel industry growth over the forecast period.
Product Insights
Ceramic matrix composites are expected to be the fastest growing product segment at a CAGR of over 13.0% from 2016 to 2024. They are widely used in machinery and automotive applications and numerous space-related applications such as heat resistant tiles. These products are also used in the production of transport equipment used in space shuttles on account of their long life span and hardness properties. Furthermore, these products are used in the manufacturing of sports equipment including golf clubs.
End-use Insights
Advanced ceramics are employed in various end-use industries including electrical & electronics, machinery, automotive, environmental and medical. Environmental is expected to be one of the fastest end-use industries for the product on account of their increasing use in wind turbines, photovoltaic modules, and other pollution control applications.
Product demand in the machinery sector is expected to grow over the forecast period. Rising demand for ceramic machines has been growing over the past few years on account of its high-grade functionality aspects. Manufacturers have been continually investing in R&D to introduce innovative products like ceramic tile machinery, mosaic tiles machinery, and ceramic surface grinding machinery which will positively impact industry growth over the forecast period.
Regional Insights
Asia Pacific contributed to over 35% of the global industry in 2015, and this trend is expected to continue over the forecast period due to increasing consumer spending on automobiles primarily in emerging economies including India and China.
North America market is relatively mature and is characterized by new product developments and growing preference towards advanced ceramic products. As of 2014, North America held a considerable share of the global market. Within North America, U.S is a predominant market witnessing growth in terms ofproduct application in the medical and environmental sector. However, the region is expected to lose market share to the developing economies over the next eight years.
Competitive Insights
Global advanced ceramics industry is fragmented with numerous large scale manufacturers present globally. Most companies continually invest in R&D for new product development in order to gain higher market share. Morgan Advanced Ceramics and CeramTec are two dominant players with a global presence. In February 2016, CeramTec inaugurated a new kiln hall in Marktredwitz which meets the growing demands of various end-use industries. In addition, it also complies with recent requirements in terms of environment friendliness and energy efficiency.