"Aging population coupled with the growing disposable income levels to drive the demand for aesthetic laser-based procedures"
The global aesthetic lasers market size was valued at USD 508 million in 2015 and is expected to grow at a CAGR of around 15.5% over the forecast period. The demand for lasers is projected to grow at a rapid rate due to aging baby boomers as well as surplus income with the middle class to spend on cosmetic surgeries.
The total expenditure on cosmetic surgeries in 2015 was USD 12 billion. Remarkably, 43% growth in male participation was witnessed over 5 years. This poses as an attractive opportunity for companies to target men for nonsurgical cosmetic surgeries.
U.S. Aesthetic Lasers Market, by Application, 2013 - 2024 (USD Million)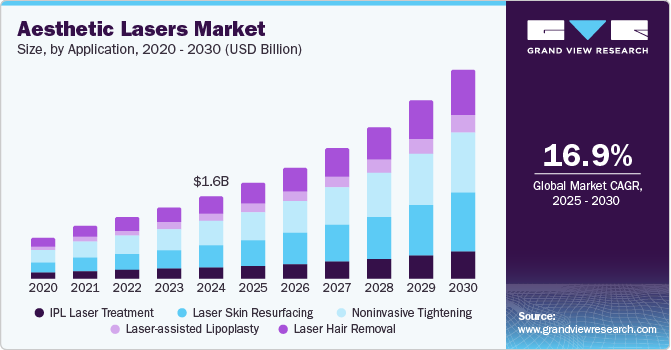 Countries such as Japan have relaxed their regulations in order to increase the products and services to fulfill the rising demand. In March 2016, Cutera was granted regulatory clearance for its product "enlighten" by the Japan Medical Devices Regulatory Authorities. It is used for treating pigmented lesions and was one of the first systems in Japan to gain clearance.
Competitors have an attractive opportunity to boost their shares by identifying and fulfilling unmet needs. This activity is expected to benefit the customer base, service providers, and manufacturers as well.
"Laser hair removal was the largest application in the aesthetic lasers market"
In 2015, laser hair removal dominated the aesthetic lasers market in terms of procedure volume. Growing Aesthetic consciousness and altering beauty concepts are the main factors driving the growth of this segment. Conventional hair removal techniques prove to be time-consuming and are not feasible in the current fast-moving lifestyle. Laser hair removal gives a permanent solution to customers, thus raising its popularity.
The cost of hair removal process is comparatively less than other cosmetic procedures making it affordable and cheaper in the long run.
However, non-invasive skin tightening was one of the dominating segments in terms of revenue. Though the number of procedures undertaken is less than hair removal, the high price makes it a revenue fetcher for most of the service providers.
Skin tightening is popular amongst the age group of 35 to 50 years. Amongst people considering cosmetic manipulation, 45% opt for skin tightening. The non-invasive nature, shorter recovery time, and notable results give it an upper hand over dermal fillers and implants.
Increasing awareness and consciousness about appearance in the developing economies is expected to increase the demand for other Aesthetic laser treatments.
For instance, increasing demand for laser-assisted lipoplasty was witnessed by Brazil, Mexico, India, and China owing to rise in obesity and early results of the procedure. This technique is opted for in areas such as after pregnancy stomach, thighs, and localized fats in other body parts that are nonresponsive to exercise and dieting.
"North America was largest regional aesthetic lasers market, with the U.S. generating the maximum demand"
North America dominated the market owing to the growing aesthetic consciousness amongst the elderly population and rapid technological advancements. The manufacturers compete closely for market share in this region. Due to the absence of professional training for Aesthetic procedures, companies incorporate training initiatives using their own products for healthcare practitioners, thus boosting their sales.
This strategy helps companies increase their revenue, while simultaneously building the service provider base to fulfill the growing demand. Viora, founded in 2005, is one such company that provides training and clinical tools, which helps healthcare providers to conduct the procedures efficiently.
Asia Pacific is the fastest-growing region due to its large aging population base and comparatively lesser procedures costs. Improved results and reduced risk coupled with adverse events such as accidents and burns encourage people to opt for aesthetic procedures.
All these factors have attracted international players to establish their businesses and obtain approvals from countries in this region. Companies such as Sciton, Inc., Syneron Medical Ltd., Lutronic, and Cutera have their geographical presence in this region. In 2010, Candela Corporation received approval from the Ministry of Health, Japan to distribute 'Vbeam long-pulsed dye laser system' for treating vascular conditions.
Furthermore, Candela GentleYag Laser system with a Dynamic Cooling Device is another technology that is used for hair removal and is suitable for all skin types.
"Syneron Medical, Lumenis & Cynosure are some key players of the aesthetic lasers market"
Some key industry contributors are Solta Medical, Inc. (acquired by Valeant Pharmaceuticals); Lumenis; Cynosure, Inc.; STRATA Skin Sciences; Syneron Medical Ltd.; Lutronic; Cutera; Viora; Lynton Lasers; and Sciton, Inc.
Companies are experiencing dynamic mergers and acquisitions in the industry. In 2013, Cynosure, Inc, acquired Palomar Medical Technologies in USD 287 million.
Similarly, in November 2015, Lumenis (minimally-invasive clinical solutions provider) acquired Pollogen Ltd (provider of skin treatment products) with an aim of extending its product portfolio in the Aesthetic and beauty market.