Industry Insights
The global agricultural films market size was USD 7.27 billion in 2015. Increasing food demand owing to growing population coupled with the rising requirement for optimum agricultural productivity is anticipated to drive market growth over the forecast period. Factors such as increasing high-quality crop requirement and declining arable land and are projected to raise product demand over the next eight years.
Agricultural films are used for covering greenhouses and are placed over soil or wrapped around fodder. Agricultural films help in improving crop quality and increasing overall productivity. Rising need to increase agricultural productivity to fulfil the daily demand of population has led to commercialization of these specialty coverings.
Various innovations in the industry, including Ultra Violet (UV) blocking, florescent, NIR blocking, and ultra-thermic films are expected to impact product demand positively over the next eight years. Environmental concerns regarding product disposal is anticipated to hinder growth in near future. Stringent government regulations regarding plastics and polythene use is anticipated to negatively affect agricultural films market growth.
U.S. agricultural films market revenue, by raw material, 2014 - 2024 (USD Million)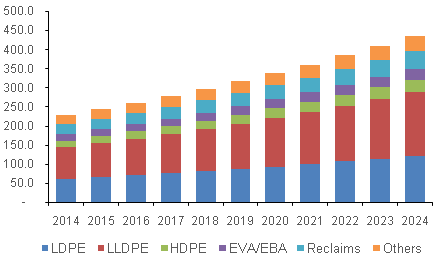 The introduction of biodegradable and bio-based polymer films is expected to create lucrative opportunities for industry participants over the next few years. Biodegradable agricultural films are getting popular in mature regions owing to their eco-friendliness. Technological advancements in horticulture coupled with the development of particle, multi-layer, and UV protection films to improve agricultural productivity is anticipated to raise product demand over the foreseeable future.
Raw Material Insights
LLDPE was the leading raw material segment in 2015 and is anticipated to witness the fastest growth, at a CAGR of 5.7% from 2016 to 2024. High-durability, extended shelf life of finished products with high tensile strength, and improved thermal properties are expected to increase market penetration over the forecast period. Development of biodegradable LLDPE films is estimated to drive market growth over the next eight years.
LDPE films accounted for over 21% of the market in 2015. LLDPE and LDPE are expected to witness high demand in Asia Pacific, especially in China. Their applications in agriculture are highly beneficial in areas with limited water supply and harsh climatic conditions.
HDPE and EVA/EBA films are used in agricultural applications, where rigidity is desired. HDPE films are mostly used in mulching and fumigation applications. Reclaims are recycled materials, and have excellent tensile strength. However, prices of these films are not competitive as compared to other conventional polymers.
Other agricultural films manufactured from PVC and EVOH have low market penetration owing to non-competitive prices and low durability of finished products coupled with non-biodegradable nature of the products. Development of bio-PVC films and other innovative products are expected to create immense opportunities for the industry over the forecast period.
Application Insights
Mulching emerged as the leading application segment and accounted for over 43% of total market volume in 2015. Increasing demand for high-quality crop and rising disposable incomes is expected to drive the industry over the forecast period. Global agricultural films application in mulching is projected to reach USD 5752.5 million by 2024.
Greenhouse is projected to witness the fastest growth at a CAGR of 5.6% over the forecast period. Growing greenhouse agriculture in Asia, Middle East, and Western Europe is anticipated to have a positive impact on market growth. Factors such as growing demand for floriculture & horticulture and uncertain climatic conditions are expected to increase market penetration in this segment. Greenhouse films help in improving productivity and plant cultivation.
Regional Insights
Asia Pacific agricultural films led the global industry and accounted for over 70% of global demand in 2015. Over 80% of the farmers in the region use mulch. Favorable government initiatives such as R&D of protected agriculture practices are anticipated to drive industry growth in the region. China is estimated to witness the fastest growth in agricultural films over the foreseeable future.
Europe is expected to witness stagnant growth in near future owing to stringent environmental regulations regarding film disposal and manufacturing. However, shifting consumer focus towards biodegradable materials in the region is anticipated to drive industry growth over the forecast period.
Central & South America is estimated to witness average growth in demand. A large number of cultivable land along with advancements in agricultural technologies and implementation of effective horticulture techniques to increase crop yield may be attributed to increasing market penetration in economies including Brazil and Argentina.
Competitive Insights
Global agricultural films market is highly fragmented owing to the presence of several small-scale and regional players, particularly in China and India. Major companies operating in the industry include BP Industries (BPI), ExxonMobil, Trioplast, Group Barbier, Armando Alvarez, Britton Group, BASF, Novamont, Kuraray, and Ab Rani PlastOy.
Major companies have been investing heavily in R&D to introduce innovative products such as agricultural bags for grain storage to increase their presence in the industry. Other strategies employed by companies include M&A, strategic collaborations with biotechnology firms and enhancing supply chain efficiency.