Industry Insights
Aquafeed, also known as the fish feed, is a commercially produced food item for various aquatic species such as fish, crustaceans, and mollusks. Aquafeed is extensively used in the aquaculture sector. Fish cultivated on farms and feeding on pests found on crops can also be categorized under the aquafeed market segment. Properties of commercially manufactured feeds can be altered so that they can float on the surface of the water or sink to the bottom of the tanks where fish are reared. Furthermore, the content of various nutrients in the feed can be controlled.
Global aquaculture additives market, by product, 2012 - 2022 (USD Million)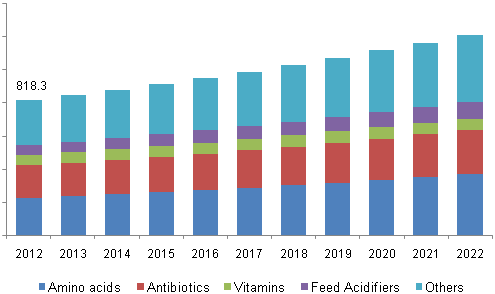 This has led to an increase in popularity and growth of the market over the past few years. Increasing aquaculture activities is one of the primary factors expected to drive the aquafeed demand over the forecast period. Also, growing human consumption of fish owing to rising consumer awareness about its health benefits is expected to fuel demand for aquafeed over the next few years. However, fluctuating prices of key ingredients used in manufacture fish feed such as fish meal and fish oil is expected to hamper the growth of the market. Global demand for aquafeed was 41,627.6 kilo tons in 2014 and is expected to grow at a CAGR exceeding 11% from 2015 to 2022. In terms of revenue, the market was valued at USD 69,721.9 million in 2014 and is expected to grow at a CAGR of 11.4% from 2015 to 2022. Growing demand for fish and fish oil products owing to rising consumer awareness regarding the health benefits of omega 3 is further expected to expand aquaculture activities, consequently fuelling the demand for aquafeed.
Product Insights
Amino acids were the largest product segment of the aquaculture additives market in 2014, accounting for over 25% of the revenue share. Proteins are essential macromolecules which are necessary for healthy growth of the fish. Fish are incapable of synthesizing ten indispensable amino acids, viz., methionine, arginine, threonine, tryptophan, histidine, isoleucine, lysine, leucine, valine and phenylalanine. Thus, more and more manufacturers are adding protein sources to aquafeed to enhance growth and improve overall health. Feed acidifiers are expected to witness the highest growth over the next seven years. Feed acidifiers help in improving the level of gastric acids in animals which strengthen their digestion system by regulating assimilation of food. An optimum acid level also helps in destroying harmful bacteria breeding including E Coli and Salmonella in the gastro intestinal tract.
Application Insights
Carp was the largest application segment of the market, accounting for over 25% of global aquafeed demand in 2014. In addition, demand for aquafeed in carps is expected to be the highest over the forecast period. Carps are rich in omega-3 fatty acids and offer high sources of protein that are low in fat. Demand for carps has been widespread in rice and fish farming as well. Over the past few years, carps are being increasingly reared in rice paddies to feed on insects and other organisms associated with rice culture. These factors are expected to boost demand for carps, in turn, augmenting demand for aquafeed over the forecast period. Mollusks were the second largest application segment of aquafeed accounting for over 20% of global market volume in 2014. Certain mollusks such as clams and oysters are an important source of food to humans. Increasing meat consumption over the past few years at a global level has led to a growing demand for clams and oysters. In addition, oyster shell extracts are being increasingly used in cosmetics, thereby, propelling market growth. Additionally, clams and mussels are filter feeders that are being increasingly used in maintaining good water quality by filtering nutrients, sediments, and contaminants from the water.
Regional Insights
Asia-Pacific was the largest market for aquafeed, accounting for over 65% of global aquafeed demand in 2014. Asia-Pacific is expected to dominate the aquafeed industry over the projected period due to significant growth in the aquaculture industry owing to factors such as ease of availability of natural resources, induced conditions for aquaculture and cheap labor. In other regions including Europe and North America, growing inclination towards salmon farming, rising demand for seafood, hardiness of the species and governmental interest have led to a higher demand for aquafeed from aquaculture species. Europe was the second largest consumer of aquafeed in 2014 accounting for over 14% of the global demand.
Aquafeed Market Share Insights
The global market was fragmented on the global level with a large number of companies supplying a variety of products. Key players present in the global aquafeed market include Alltech Inc, Biomar, Ridley, Aller Aqua, Dibaq Aquaculture, Addcon Group GmbH and Biomin.
Frequently Asked Questions About This Report