Industry Insights
Global argan oil market size was 4,835.5 tons in 2014. The industry is still at a development stage which is gaining importance on account of the oil's high performance ingredients which include nutrients and vitamins namely antioxidant tocopherols, lupeol, omega 3 & omega 6 fatty acids, butyrospermol, triterpenoids and beta amyrine.
A complex blend of vitamins and nutrients has led to increased vitamin E content in the oil, which helps in accelerating cell growth and strengthens its antiseptic & anti-inflammatory properties. The favorable regulatory scenario is also contributing towards the overall growth. Technological innovation aimed at chemical & microbiological quality enhancement will also serve as a major impetus over the future period.
U.S. argan oil market revenue by application, 2012-2022 (USD Million)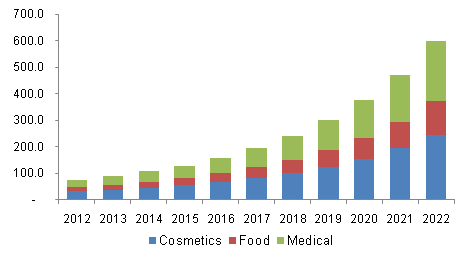 Increasing scope in medical and food industries has been pressurizing major producers to increase their capabilities to meet demand-supply gap. It is expected that over the future this gap shall increase, thus raising the need for serious initiatives by governments to drive production levels.
Argan oil is abundantly available in Morocco. There are a number of co-operatives formed in the country for its extraction from kernels. Local women are employed in these co-operatives to produce the oil either manually or through mechanical processes. After extraction, the unrefined item is then sourced to refineries to enhance its quality and properties for application areas including cosmetics, food and medical.
Application Insights
Cosmetics segment accounted for an overall volume share of over 42% in 2014, driven by increasing application in skin aging, environment defense and hair treatment products. Major skin and hair care product manufacturers are increasing incorporating the oil in advanced cosmetic solutions for skin & hair care.
Consumer preference towards healthy food regime has been instrumental in driving the oil's demand in food applications. The oil has been found to control cholesterol levels and boost energy in humans. Thus the oil functions as a vital component in foods consumed by people with heart ailments, lower metabolism, and vitamin & mineral deficiency. High obesity rates in various developed countries along with global initiatives to eradicate malnourishment are expected to act favorably on the industry's growth in food applications.
Argan oil is used in medical treatment of various diseases such as cancer, arthritis, obesity, acne and other skin ailments. Diagnostic trends of these diseases offer a larger arena for the industry to grow. Medical device segment is projected to register highest CAGR over the forecast period.
Regional Insights
The Middle East & Africa dominated the global industry in terms of volume as a rural economy of the region mainly in Morocco depends upon the product for food, shelter, charcoal, livestock feed, and wood.
North America followed the Middle East & Africa in terms of volume and is expected to witness the highest growth over the forecast period. The region is characterized by high consumer awareness regarding health & nutrition, government initiatives to tackle obesity and a mature cosmetics industry shifting towards natural & organic products.
Rigorous efforts by research institutes and R&D facilities of companies to identify and capitalize on the medical potential of argan oil shall also improve the growth projectile of the region in the near future.
Asia Pacific, on the other hand, is a high growth potential market, driven by increasing application in food and medical areas. Consumption in the region is expected to be driven by the ageing population in China, Japan, and South Korea.
Innovations in medical treatment fields, particularly in China, India, Japan & Southeast Asian countries, which are vying for a balance between traditional & modern treatment techniques shall also complement regional growth.
Competitive Insights
Key manufacturing operating in the global argan oil market include OLVEA, Zineglob, Biopur and Nadifi Argan. On account of limited production, there are only a few refiners in the industry to cater the product through seller, distributors and traders. Considering the limited supply, the value chain is well established and with the distribution network ensuring uniform availability of the product globally.
Key companies involved in distribution services consist of Argan Oils (distributor), The Moroccan Argan Oil Inc. (seller/marketer), Argan Export Company (trader) and Simply Agadir (trader). There is availability of wide range of end-users, and their count is expected to increase owing to the product's widening application base in medical and food industries.