Industry Insights
The global automotive HVAC market size was valued at USD 11.68 billion in 2014. Increasing income level and growing middle-class population are expected to boost industry growth over the forecast period. Private car rental players such as Uber, Ola, Lyft, and Sidecar have made air conditioning as their basic requirement to enhance customer value proposition.
U.S. automotive HVAC market by technology, 2012 - 2022 (USD Million)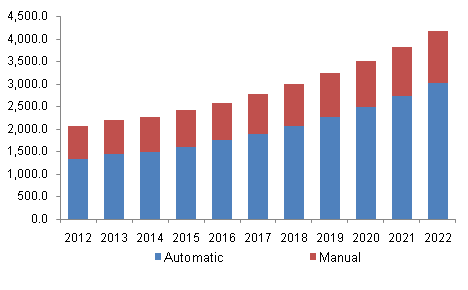 Research and development is expected to enhance players' offering and technological capability expenditure to develop energy efficient system that can improve vehicle performance. The operation of these systems requires considerable power and has a negative effect on fuel economy. Reduction in system size and weight of the system will spur industry growth over the next seven years. Government initiatives to curb global warming are expected to lead to the introduction of energy efficient and green technology solutions.
Technology Insights
Manual system segment, where users have to select the temperature and blower setting, is expected to decline over the years owing to low efficiency and complexity. The technology accounted for over 35% of the overall revenue share in 2014.
The automatic system is a major technology segment and is expected to continue its dominance over the next seven years. The segment accounted for around 58% of the automotive HVAC market and is expected to grow at a CAGR of over 8.5% from 2015 to 2022.
Vehicle Type Insights
Rising disposable income and availability of various finance schemes is expected to spur growth over the forecast period. Passenger car HVAC market accounted for over 60% of the overall revenue in 2014 and is anticipated to grow considerably over the next seven years. HVAC systems in LCVs are also expected to grow at a CAGR of over 7.5% due to better financial schemes and rural demand.
Regional Insights
Asia Pacific automotive HVAC market is anticipated to witness growth owing presence of the major automobile manufacturers and increasing vehicle demand in developing nation such as India and China. The region accounted for over 40% of the overall revenue share in 2014. According to the U.S. Department of Transportation, automotive production in China was 23.7 million in 2014, while a number of vehicles produced in India in the same year was 3.9 million.
Government initiatives to revive the auto industry are anticipated to propel industry growth over the forecast period. For instance, the government of India has allowed 100% Foreign Direct Investment (FDI) through automatic route in the automobile sector. Increasing production and rising population are anticipated to make India and China key regions for growth over the forecast period.
North America automotive HVAC market is estimated to witness growth due to improving the macroeconomic condition and increasing vehicle production in the region. The region is anticipated to grow at a rate over 7.5% from 2015 to 2022. Additionally, increase disposable income in the U.S. is expected to boost regional growth over the forecast period.
Competitive Market Share Insights
Key industry players include Air International Thermal Systems, Brose Fahrzeugteile GmbH & Co. Kg, Calsonic Kansei, DelStar Technologies, Denso Corporation, Engineered Plastic Components, and Hanon Systems. Other prominent vendors include Japan Climate Systems Corporation, Johnson Electric, Mahle Behr GmbH, Sanden Holdings Corporation, Sensata Technologies, and Valeo Group.
In January 2013, Valeo released its first passenger compartment air conditioning filter that helps in reducing allergies inside the vehicle during air filtration. In August 2012, Japan Climate Systems Corporation announced that the Hiroshima plant has exceeded 10 million units of total HVAC production.
In June 2014, Hanon Systems announced that it had reached an agreement to acquire a majority stake in Japan Climate Systems (JCS) for USD 6.4 million to expand its product capabilities and serve the increasing customers in China. In October 2015, Denso announced to help Toyota develop Prius, which improves the thermal, sensing and hybrid technologies for a safer, fuel efficient and greener environment. In December 2014, Denso announced its investment in Turkish manufacturers of air conditioners and refrigerator system DJ COOL Corporation.
In July 2015, Mahle Group acquired Delphi Automotive's thermal business to enhance its market penetration and product offering. Delphi Automotive was among the top five industry players, and this acquisition is expected to give the significant competitive edge to Mahle Group over other competitors.