Growing prevalence of chronic conditions will drive the bioactive wound care market
The global bioactive wound care market was valued at USD 6.9 billion in 2015 and is expected to grow at a CAGR of 6.3% over the forecast period. Localized injury to the skin and underlying tissue results in conditions, such as pressure ulcers, bed sores, and diabetic foot. The prevalence rate of these disorders is increasing every year. For instance, in developing countries, such as India, around 1.0 million cases of pressure ulcers are recorded per year.
Moreover, chronic wounds affect over 5.7 million patients in the U.S. alone and are estimated to cost USD 20 billion annually, thus impacting the market growth positively. This rising prevalence of the aforementioned diseases is acting as a high impact rendering factor for this industry's growth.
Furthermore, wound infection is a major global safety concern for healthcare professionals and patients, thus effective care is essential to reduce infections. With the widespread increase in the number of patients, the demand for these products is on the rise. Burns are the most common skin injuries and account for around 195,000 annual deaths.
The death incidences are majorly high in low and middle-income countries, where the gradual change in the awareness levels and the growing disposable income in the countries are expected to positively impact the industry growth over the forecast period.
This vertical boasts of technologically advanced products including occlusive dressings for skin-related injuries, which help maintain a moist environment that actively promotes healing. For instance, the launch of keratin-based products used in conjunction with injury dressings,aid inre-epithelialization of damaged tissue. These products expedite the healing process, while the biodegradable keratin matrix is absorbed bythe microenvironment of the injuries thereby eliminating the need to change the dressing.
North America Bioactive Wound Care Market Share, By Product, 2013 - 2024 (USD Million)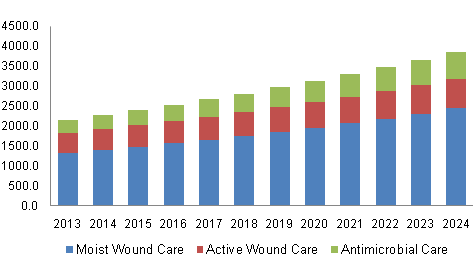 Furthermore, the launch of innovative products and technologies related to management of superficial injuries, such as biomaterials, nanotechnology, and combination dressings, are enhancing the overall usage rate of wound care products. These advancements deliver better relief to patients and hence, act as high impact rendering drivers for the industry.
Moist care is the largest bioactive wound care market
The bioactive wound care segmentiscategorizedinto the following types of products: moist, antimicrobial, and active care. The moist care segment dominated theproduct segment with more than 50.0% market share in 2015.
The moist product types are further sub-segmented into foam, alginate, film, hydrogel, and hydrocolloid-based dressings. These dressings create and maintain a wet environment around the site of application, which is conducive for effective healing. As these products hasten the healing process, these dressings are hence recommended for chronic conditions including pressure ulcers, diabetic ulcers, burn injuries, and other slow healing injuries.
The antimicrobial products segment, which is further categorized based on the presence of silver and non-silver ingredients, is anticipated to witness lucrative growth over the forecast period. These products offer various benefits which include easeof use, wide availability, and greater cost-effectiveness compared to antibiotics. In addition, thesecan be obtained without a prescription and they pose a low risk of developing antimicrobial resistance.
Bioactive products have been observedto be highly beneficial in cases of burns, severe trauma, and in third degree pressure & diabetic ulcers. FDA approvalsfor the products, such as Dermagraft and Alpigraph, have further supported the emergence of this vertical.
The Asia Pacific bioactive wound care market is pegged to witness the fastest growth
The regional segments of the global bioactive wound care market include North America, Europe, Asia Pacific, Latin America, and Middle East and Africa. The North America region, especially the U.S., witnessed significant usage of these products. With a sophisticated healthcare system, favorable reimbursement system, and increased patient awareness levels this sector is poised for growth in this region. In addition, thehigh healthcare spending in this region has contributed to the further development of the healthcare sector. Furthermore, the increased utility of the products related to injury care in the home healthcare segment is nurturing the growth of this vertical.
Asia Pacific is anticipated to witness grow that a lucrative rate over the forecast period. The target population comprising individuals with diabetic foot, pressure ulcers, and infections is on the rise in these developing regions. This provides avenues for players in this verticalto carry out campaigns and awareness programs with regard to skin conditions thereby increasing product penetration in the regional verticals.
Competitive Market Share Insights
The key players in this industry include Smith & Nephew, Mölnlycke Health Care, ConvaTec, Inc., Paul Hartmann AG, Organogenesis Inc., Systagenix Wound Management Ltd., 3M Health Care Ltd., Medtronic, Covalon Technologies Inc, BSN Medical, and Medline Industries, Inc.
New product launches, collaborations, mergers, and acquisitions are the key initiatives undertaken by the leading players in this vertical to sustain the competition. In March 2015, 3M Healthcare Ltd. completed the acquisition of IveraMedical Corporation, a manufacturer of healthcare products and devices.This acquisition is expected to expandthe former's product portfolio.
Analyst Perspective
The scope of this study encompasses wound care products, which exert biological action upon application. Attributes represented in this study would provide valuable insights into the industry players, new entrants, blue chip companies, and healthcare practitioners.
Market estimation and forecasting is a result of the utilization of multiple approaches. The top down approach is one such method using which the parent vertical (wound care vertical) is analyzed to conclude on estimates andthereby derive the bioactive wound care market. These numbers were further validated through more than 100 primary interviews using the Quality Function Deployment (QFD) model.
The report can be further customized based on requirements,on the product and regional level.