"Growth in simultaneous and specific profiling of biological markers expected to fuel demand for biochips"
Global biochip market was valued at USD 7.63 billion in 2015. Presence of strong demand for proteomics - and genomics research-oriented products along with a comprehensive drug development pipeline is expected to drive growth in revenue.
A growing need to reduce turnaround time and miniaturize biological and clinical tests used for research & diagnosis has increased demand for biochip and bio-array techniques. Rapid technical developments related to these techniques and a wide product portfolio on offer, due to new product launches, are anticipated to provide researchers with a range of choices to specifically suit their requirements.
U.S. biochip market, by type, 2013 - 2024 (USD Million)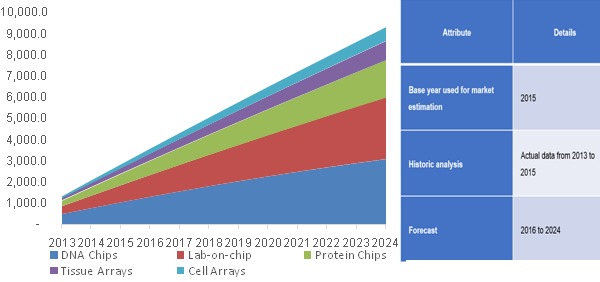 Biochips have applications ranging from disease marker identification to accelerated drug development, including a number of research applications in fields of genomics, genotyping, and proteomics. Increase in spending on the clinical research along with substantial resource allocation for genomic and proteomic research are factors that further reinforce growth potential of the market.
However, as biochip systems comprise probes formatted in micro scales on glass surfaces, they require automated robotic tools for handling and scanning of micro-scale samples. In addition, bioinformatics tools are also needed for data analysis. Need for such specific tools and techniques for implementation of this technology is expected to make biochips a highly sophisticated and considerably expensive technology, along with the expansion of the product range for the market.
Simultaneous and specific profiling of biological markers is a major application of biochips. In addition, they are also critical components in studies investigating multiple parameters simultaneously, as they hold chemical sites providing specific and sensitive analysis. Furthermore, these integrated systems involve exhaustive physical and chemical analysis for studies related to optimal selection, activation, and stabilization for the development of new platforms of clinical systems.
"DNA chips accounted for the largest share of revenue in 2015"
The biochip market is segmented based on types into DNA chips, lab-on-a-chip (LOAC), protein chips, and tissue/cell arrays. DNA chips accounted for the largest share of revenue, as a result of high spending on research pertaining to genomics and next-generation sequencing along with rising demand for detection and diagnosis of genetic disorders.
Progress in the development of protein microarrays coupled with emerging classes of tissue- and cell-based biochips for various applications are factors anticipated to drive demand for biochips. Also, the competitive dynamics prevalent are greatly influenced by next-generation sequencing applications. Rapid DNA analysis and diagnostic LOAC are rapidly being adopted in new drug discovery as well as in point-of-care diagnostics. Applications to enhance information support and lower the cost of miniaturized bioanalysis are anticipated to enhance biochip demand over the forecast period. Diagnostic and clinical applications of tissue- and cell-based biochips and usage in new drug discovery from ongoing R&D over the forecast period are also expected to fuel growth.
The protein and DNA biochips and LOACs have widespread applications for gene expression, single nucleotide polymorphism genotyping, expression profiling, in vitro diagnosis, high throughput screening, point-of-care, drug discovery, tissue arrays, and agricultural biotechnology. Probable commercialization of products in company pipelines are expected to be instrumental in further enhancing market potential of biochips.
"Asia Pacific to grow at the fastest rate over the forecast period"
In 2015, North America was dominant in the regional biochip industry with a share of over 45% of total revenue generated. The rapidly growing adoption of personalized medicine, increasing applications of biochips, primarily for new drug discovery, and developments in the biochip technologies are factors responsible for the region's dominant share.
In addition, high prevalence of chronic diseases like cancer and diabetes in this region drive the need for research and clinical diagnosis/disease management applications. Government initiatives that encourage precision medicine coupled with considerable industry investment in R&D for cancer genomics, human proteome, etc, are also anticipated to result in the higher revenue generation from North America.
Asia Pacific is likely to witness the fastest growth from 2016 to 2024 due to the presence of raised healthcare spending on R&D pertaining to genomics, proteomics, next-generation sequencing as well as growing patient awareness regarding developments in diagnostic technologies, specifically in the developing economies.
"Market players involved in product portfolio enhancement strategies"
Some major entities operating in this sector include Abbott Laboratories; PerkinElmer, Inc.; GE Healthcare; Sigma-Aldrich Corporation; Agilent Technologies, Inc.; Illumina, Inc.; Bio-Rad Laboratories, Inc.: Fluidigm Corporation; Thermo Fisher Scientific, Inc.; and Merck Millipore.
In order to enhance their presence, they are involved in strategic collaborations and mergers & acquisitions where it is necessary to enhance portfolios to gain entry into untapped territories. For instance, in January 2016, PerkinElmer, Inc. announced the acquisition of Vanadis Diagnostics, a Sweden-based developer of digital analysis of cell-free DNA-based noninvasive prenatal testing (NIPT). This is expected to extend PerkinElmer's health product and services portfolio.
Similarly, in September 2015, Illumina, Inc. announced the acquisition of the GenoLogics Life Science Software, Inc. It is a developer of information management systems for life sciences and clinical research & manufacturing laboratories. This acquisition is projected to provide and expand the company's innovative and informatics solutions for life science organizations, thus provide a revenue-generating growth to the market.
Similar developments from a number of key market players are expected to positively influence biochip development over the forecast period and enhance competitiveness factor in this sector.