Industry Insights
The global biodegradable mulch films market size was worth USD 33.5 million in 2015. Increasing demand in greenhouse application coupled with rising environmental concerns about synthetic counterparts is anticipated to impel the market growth over the next eight years. Growing population coupled with a shrinking agricultural land owing to rapid urbanization and industrialization has forced farmers to increase productivity.
Various advantages offered by these films, such as lower environmental impact, enhancing crop yield by inhibiting weed growth, maintaining soil moisture levels and temperature, are expected to drive their demand over the forecast period. Favorable government regulations regarding the usage of eco-friendly products, especially in Europe and North America regions, are anticipated to have a positive impact on the market growth in the near future.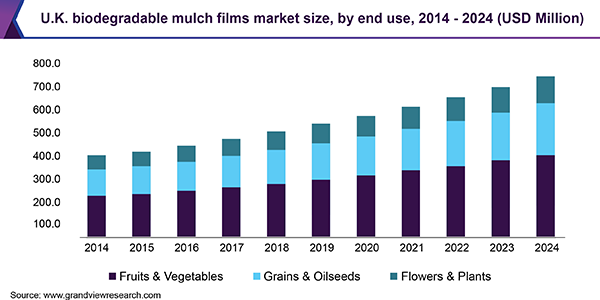 Rising concerns regarding plastic mulch residues in soil are also expected to increase the product penetration over the next eight years. Biodegradable films can provide benefits of plastic mulch and eliminate the need for removal and disposal while alleviating the negative environmental impact. Biodegradable mulch films are manufactured from these raw materials using the conventional plastics processing technology.
The raw materials are converted into lactic acid by microorganisms through fermentation. On the other hand, some of these raw materials have poor mechanical properties, such as brittleness. Once the raw materials are converted into lactic acid, they are linked together into long chains called biopolymers.
Raw Material Insights
Thermoplastic Starch (TPS) was the leading raw material segment in 2015 and is anticipated to witness the fastest CAGR of 7.7% from 2016 to 2024. High demand can be attributed to low cost and easy availability of starch. Thermoplastic starch degrades into harmless products when it is placed in soil. Rising environmental concerns regarding conventional synthetic polymers used in the product manufacturing have boosted the demand for biodegradable materials made from renewable resources.
Starch is used to prepare TPS, which flows at an elevated pressure and temperature. Biofilms manufactured from starch blended with Polylactic Acid (PLA) are expected to witness high growth at a CAGR of 7.6% from 2016 to 2024. The development of a truly degradable mulching film is expected to reduce disposal and labor costs for agricultural producers. The PLA/starch polymeric blend utilizes 99% bio-based materials and is anticipated to replace petroleum-derived Polyethylene (PE) films over the forecast period.
Crop Type Insights
Fruits & vegetables were the major crop type segment and accounted for 51.05% of the global demand in 2015. This segment is anticipated to witness the fastest CAGR of 7.8% from 2016 to 2024. This can be attributed to the ease of application owing to the perennial nature of crops.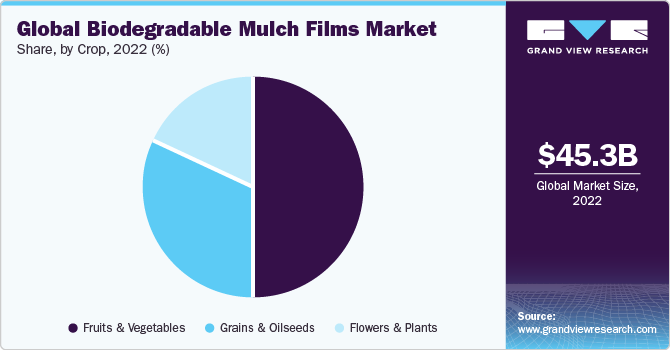 Biodegradable mulch films reduce fruit rot by preventing contact between fruit & soil and improve the product quality. Biofilms demand for grain and oil seeds is anticipated to witness steady growth over the next few years and is expected to reach USD 20.3 million by 2024. Increasing grain and oilseed production, particularly in the Asia Pacific region, is anticipated to boost demand for biofilms.
Regional Insights
Asia Pacific led the global biodegradable mulch films market and accounted for 64.1% of the total demand in 2015. China was the leading consumer owing to rapid industrialization and urbanization resulting in enhanced living standards and rise in demand for food products. The product demand in Europe was worth USD 5.33 million in 2015. Europe is anticipated to witness moderate growth in the near future owing to increasing adoption of eco-friendly products. These mulch films do not require waste disposal and represent a sustainable mulching alternative and have a high demand in the region.
The Middle East & Africa region is estimated to witness average growth over the forecast period. Constant technological advancements coupled with implementation of horticulture techniques to enhance crop yield are anticipated to fuel the product demand in countries including South Africa. Rising need for plastic film alternatives in the agricultural and horticultural sector in the region is expected to drive the regional market over the coming years.
Biodegradable Mulch Films Market Share Insights
Major companies in the market include AEP Industries, Inc.; Ab Rani PlastOy.; Al-Pack Enterprises Ltd.; RKW SE; BASF SE; BioBag International AS; British Polythene Industries PLC; Novamont S.p.A.; Armando Alvarez; and Kingfa Sci & Tech Co. Ltd.