Industry Insights
Global borage oil market size exceeded 1,500 tons in 2015. Increasing demand for bio-based cosmetics and nutraceuticals is expected to be a key driving factor for the global borage oil market over the forecast period.
Borage (starflower) oil is increasingly gaining importance on account of high gamma linolenic acid (GLA) content. While many other plant oils such as black currant seed oil and evening primrose oil also contain GLA and offer similar health benefits, high GLA content than its counterparts give it an upper hand in the competition. GLA content in borage oil is around 20% to 25% while in black currant seed oil it is approximately 14% to 17% and in evening primrose oil it varies between 10% to 15%.
U.S. borage oil market revenue by application, 2014 - 2024 (USD Thousand)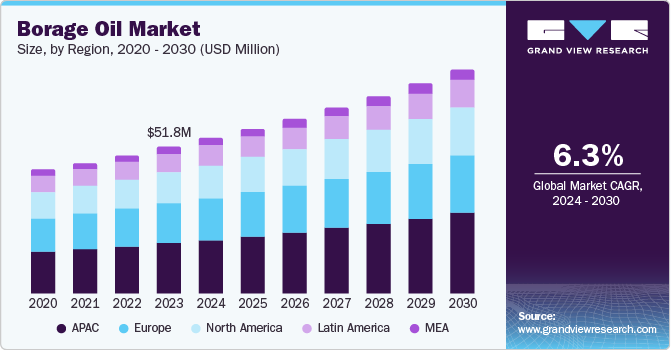 GLA is an omega-6 essential fatty acid which is required by the human body, but the human body is unable to produce the same on its own. Thus, the external supply of GLA is very much necessary. Direct or indirect supplementation of borage oil can be effective in treating and preventing health disorders related to fatty acid metabolism.
Earlier, borage crop was considered to be only a Mediterranean region plant but now is cultivated in many countries for its seed oil with UK, Canada, and New Zealand being the major producers. The borage oil market fluctuates widely with some years of under-supply and some years of overproduction.
The major reason being high fluctuations in Canada, which is a major borage seed producer. Borage growers in Canada can grow good quality seeds at a lower cost due to favorable weather conditions in the country. However, high risk of crop failure exists due to unpredictable early frost in the region. Therefore, borage seed production in the country varies between 500 to 2000 tons per annum, and the prices fluctuate between USD 2.5 to 4 per kg. Such high fluctuations in the raw material supply along with price variations is expected to be the key factor restraining the market growth.
Application Insights
Medical application segment accounted for over 35% of the total borage oil demand in 2015. Medical segment consumes it for curing serious diseases such as eczema, obesity, rheumatoid arthritis, premenstrual syndrome, heart disease, stroke, cough, depression, diabetes, asthma, etc.
Borage oil is also used in anti-inflammatory drugs & ointments along with nutraceutical applications where it is consumed directly or in combination with other base oils. Along with being the largest segment medical is expected to be the fastest-growing application, growing at an estimated CAGR of over 5% over the forecast period.
Due to its anti-inflammatory and antioxidant properties, it is widely used in cosmetic products which mainly include moisturizers, cleansers, anti-aging and skin care products, body care and hair treatment. Borage oil capsules are consumed directly for their health benefits. It is also used as a food additive with breakfast cereals, functional foods and meal supplement.
Regional Insights
Asia Pacific borage oil market led the global industry and accounted for over 30% of global demand in 2015. Increasing production levels of nutraceuticals, pharmaceutical drugs, and cosmetics has been responsible for the huge demand in the Asia Pacific region. European and U.S. based cosmetic manufacturers have been struggling to increase their profit margins from past few years. One of the key strategies applied by these manufacturers includes business process outsourcing.
Most of the cosmetic and pharmaceutical manufacturers have identified developing Asian countries such as China, India, Indonesia, etc. as their production hubs. This has triggered raw material demand in the region. Borage oil being mainly used in cosmetics and pharmaceuticals finds its major demand in the Asia Pacific region.
Increasing demand for natural and organic cosmetics is expected to drive borage oil demand in North America. North America starflower oil market is expected to grow at an estimated CAGR of over 5% from 2016 to 2024. Continuous efforts by research institutions to identify the medical potential of borage oil are expected to enhance further overall consumption levels over the forecast period. North America is also enhancing starflower oil consumption for food application including dietary supplements and functional food additives.
Europe is a key borage producing region on account of its favorable weather and soil conditions. UK grown starflower is considered to be the best quality seed on account of its high oil and GLA content. Europe is expected to witness high starflower oil demand from cosmetic application owing to the presence of large skincare and hair care manufacturers including L'Oréal and Unilever. These companies are focusing more on the bio-based cosmetic development which is ultimately expected to affect borage oil demand.
Competitive Insights
Global borage oil market is fragmented in nature due to the presence of numerous small-scale manufacturers. Borage oil quality depends on the GLA content and seeds obtained from the UK and Canada are considered to be the best quality. Borage oil manufacturers strive to obtain these good quality seeds so as to gain the competitive advantage as high-quality oil is preferred for premium applications.
Key borage oil manufacturers include Aromex Industries, Connoils LLC., Desert Whale Jojoba Company,K. K. Enterprise, Oilseed Extraction, Nordic Naturals, Soyatech International Pvt. Ltd., AOS Products Pvt. Ltd., and Icelandirect Inc.