Industry Insights
The global Capnography Device Market was valued at USD 262.2 million in 2015. The rising prevalence of respiratory diseases, such as pulmonary embolism, apnea, bronchospastic diseases, and congenital heart diseases, are anticipated to provide this market with a lucrative growth platform.
Consequentially, the increasing adoption of capnography in anesthesia administration in target applications, such as monitoring patients undergoing procedural sedation, intubated patients during patient transfer in hospitals, and in patient-controlled analgesia, is presumed to boost its demand over the forecast period. In addition, it has applications in surgical procedures such as hypoventilation, endotracheal tube placement, and esophageal intubation.
North America Capnography Device Market share, by technology, 2014 - 2024 (USD Million)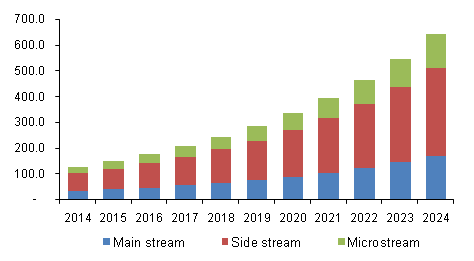 The aforementioned surgeries are accompanied with better patient outcomes that include faster detection of respiratory insufficiency, increased acceptance towards this technology due to higher sensitivity, and improved patient safety profile. These associated benefits are expected to increase the usage rate of this equipment in the coming years. Moreover, the rising geriatric population and susceptibility of geriatric population towards developing lung disorders are further anticipated to widen the consumer base for capnography procedures over the forecast period.
Technology Insights
The side stream technology segment held the largest industry share of over 50.0% in 2015 as a consequence of its wide usage in anesthesia monitoring. Side stream technologically enabled devices offer benefits, such as ease-of-connection, fewer problems in sterilization, and help in monitoring of non-incubated substances with the help of nasal adapters. These factors are responsible for the segment growth.
Product Insights
The handheld product segment held the largest share of over 59.0% in 2015 as a result of the increasing adoption rate due to the associated benefits of handheld capnographs. These majorly include high portability, facilitation of required oxygen saturation levels in operative procedures, high durability, and low associated costs. Multi-parameter products are expected to grow with a lucrative CAGR of over 18.0% in the next seven years owing to their increasing applications in emergency medicines and procedural sedation.
Application Insights
This equipment has wide applications in the treatment of procedural sedation in dentistry and is thereby expected to grow at a lucrative CAGR of above 19.0% over the forecast period. It offers non-invasive, real-time, and continuous measurement of etCO2 by producing capnograms, which help in assessing the present status of patient's circulatory and metabolic systems. These associated benefits are expected to increase the adoption of these devices, thereby providing growth to the overall market in the near future.
End-use Insights
The hospital segment held the largest share of over 60.0% in 2015. It is used as a preventive measure to tackle critical events in ICUs. The adoption of capnography procedures is increased in hospitals owing to their enhanced capabilities for calculating patient ventilators measurement, minimally invasive nature, and ease-of-usage. The industry is expected to register upward growth due to the rising incidences of cardiac arrest and thereby creating the need for the effective patient monitoring during the forecast period.
Moreover, organizations such as the American Society of Anesthesiologists and the Uruguayan Society of Anesthesiologists recommended capnography monitoring during anesthetics & procedural sedation. These guidelines support the importance of capnography equipment in hospital use. In addition, the high influence of the U.S. healthcare system on global health care industryhas further augmented the segment growth.
Regional Insights
In 2015, North America held the largest revenue share with a share of over 55.0%. The rising prevalence of respiratory diseases as a consequence of unhealthy lifestyles and high stress levels are the high impact rendering drivers for this industry. Furthermore, the incorporation of new reimbursement models for respiratory & monitoring solution procedures in this region and the stringent regulatory guidelines that are aimed towards medical efficacy, patients' safety, and clinical efficiency are expected to drive the demand in the coming years.
The Asia Pacific Capnography Device Market is anticipated to grow at a significant CAGR of 18.7% over the forecast period owing to the expeditiously improving healthcare systems, rising healthcare expenditure, and increasing awareness levels pertaining to the adoption of capnography technology.
Competitive Market Share Insights
Some key players of the Capnography Device Market are Smiths Medical, Dragerwerk AG & Co. KGaA., Welch Allyn, Inc., Masimo Corporation, Philips Healthcare, Medtronic, Inc., Nonin Medical, Inc., Nihon Kohden Corporation, CareFusion Corporation, and DiaMedica, Inc.
These players are incorporating strategies to capture a larger share of the industry including product launches, geographical expansions, collaborative agreements, and acquisitions. For instance, in 2012, Covidien acquired Oridion for the expansion of capnography segment, which resulted in the sales of USD 100 million in 2013. Moreover, Covidien launched Capnostream 20p, which enabled the company to strengthen its product portfolio.