"High weight to strength ratio makes CFRP a preferred material in aerospace and automotive applications"
The global carbon fiber reinforced plastic (CFRP) market size was USD 11.6 billion in 2015. Excellent damping properties, high strength & rigidity, lower density, etc. are expected to foster the global carbon fiber reinforced plastic market over the forecast period. Increasing need for lightweight materials from end-use industries is also projected to have a positive influence on the demand growth. Increasing penetration in the aerospace industry is likely to drive the global demand.
Fuel efficiency directly associates with the vehicular weight and automotive, and aircraft manufacturers have been focusing on weight reduction to increase product effectiveness and energy effectiveness. Use of CRP materials is the best suitable option to curb the overall weight.
U.S. Carbon Fiber Reinforced Plastic (CFRP) Market Revenue By Raw Material, 2014 - 2024 (USD Million)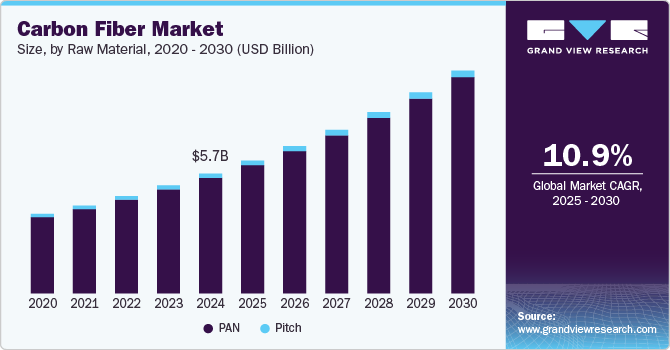 Different grades of carbon fiber reinforced plastic require for various applications. Carbon composite classes mainly depend on the raw material grade used and the manufacturing process. Thus, key manufacturers produce their raw materials in-house and utilize it to gain the competitive advantage.
Stringent regulations are imposed to increase fuel efficiency in Europe, and the U.S. has forced manufacturers to focus on automotive weight reduction which has lead to a direct impact on its demand. In spite of excellent benefits offered by carbon fiber reinforced plastic, its high cost has restrained its penetration across various application segments.
Involvement of key manufacturers in low-cost product development is expected to create new avenues for major participants over the next few years.
"Polyacrylonitrile is the key raw material used for CFRP production"
Critical raw materials include polyacrylonitrile (PAN) and petroleum pitch. Superior properties of PAN-based CFRP over pitch-based, are expected to drive polyacrylonitrile demand for CRP production over the forecast period.
PAN-based composite accounted for over 95% to the total volume in 2015. Existing excessive capacities of PAN-based CRP is projected to drive the segment over the forecast period and is expected to substitute the Pitch-based in few years completely.
"Superior properties of thermoplastic CFRP have been responsible for their higher market penetration"
By its product, carbon fiber reinforced plastic segments as thermosetting and thermoplastic. Thermosetting type holds the maximum share on account of its continued presence in the industry. The thermosetting resin is traditionally being used for CFRP production and thus hold significant market share.
However, the thermoplastic composite is expected to gain popularity on account of its superior properties over the other. Conventional CFRP used thermosetting resin hardens when reheated, requiring several minutes or hours to mold the desired shape, it is not suitable as a material for mass-produced automobiles.
This disadvantage can overcome by the use of thermoplastic CRP. This material softens when heated, making it suitable for molding. Higher demand for polymer composite molded parts is expected to foster the product segment over the forecast period.
"Aerospace & defense is expected to continue its dominance in the global market"
Aerospace & defense was the leading application segment for CFRP market and accounted for 30.4% of the total volume in 2015. Growing commercial aviation sector is expected to influence polymer composite demand from aerospace application segment.
Stringent government regulations regarding vehicular emission has forced automotive manufacturers to curb weight. Polymer composite usage in automotive production is the most desirable way to reduce the overall weight. Reduced weight also results in improved fuel efficiency. Automotive application segment is anticipated to emerge as the fastest growing application segment in upcoming years.
"Governmental regulations towards energy efficient & environmentally friendly products expected drive demand in North America"
North America dominated the global carbon fiber reinforced plastic market and accounted for over 35% of total volume consumed in 2015. North America is expected to lose some of its share to Europe by 2024.
The presence of key aircraft manufacturers such as Airbus in addition to defense equipment manufacturers such as MBDA, in the region, has triggered polymer composite demand in Europe.
The presence of automotive giants such as Volkswagen, Mercedes, Ferrari, BMW and Audi, etc. which emphasis on low weight high-performance cars has triggered the regional demand.
Stringent regulations in addition to the proactive efforts initiated from European automotive manufacturers are expected to foster the growth over the forecast period.
"Global CFRP market is oligopolistic in nature with top five players accounting for over 80% production in 2015"
Toray Industries, Inc., Zoltek Companies, Inc., Toho Tenax Co., Ltd., Mitsubishi Rayon Co., Ltd., and SGL Group, and Formosa Plastics accounted for around 80% of the total market in 2015.
Key industry players are concentrated within Japan and the U.S. on account of technology development as well as penetration in the initial phase. Extensive R&D activities in Japan have helped their several companies to develop carbon fiber manufacturing technology.
The manufacturers in the U.S. have tied up with Japanese technology providers. Various other manufacturers in the U.S. and Europe have recently developed this technology and have marked their presence in global carbon fiber market.