Industry Insights
China thermoplastic vulcanizates (TPV) market size exceeded USD 170 million in 2015. Rising demand for lightweight automotive components along with rising automotive sales is expected to remain the key driving factor for market growth over the forecast period. They are widely used in various end-use applications due to beneficial properties of thermoplastic in various end-use industries such as automotive industry, industrial, electrical, and appliances, building and construction, and packaging industry.
Thermoplastic materials are used at various levels and are preferred over the traditional products since they are durable, easy to replace, renewable, and cost-effective. Automotive applications dominated the global market owing to high demand for lightweight components intended to reduce overall motor vehicular weight and promote fuel savings, thereby reducing carbon emissions into the environment.
China thermoplastic vulcanizates (TPV) market revenue by application, 2014 - 2024 (USD Million)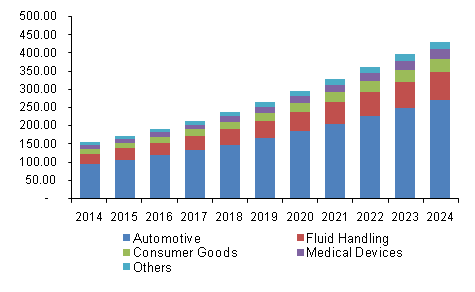 Major OEM's have shifted their manufacturing facilities to China due to favorable manufacturing conditions such as low capital investment, availability of skilled labor and cheap raw material availability. Government policies in terms of liberalizing foreign direct investment (FDI) are further anticipated to fuel automotive industry growth over the forecast period. The industry has grown at a rapid pace in the past few years, and the trend is expected to continue, in terms of both production and demand. The market promises a brisk growth driven by the consecutive increase in industrial output, trade activity, consumer spending, and capital venture for over two decades.
Specialty niche products, such as polyisobutylene (PIB), chlorinated olefins, and novel transparent TPVs, are increasingly gaining popularity in several automotive, construction, and consumer goods applications. Development of innovative products, such as Infuse by the Dow Chemical Company, allows manufacturers to produce enhanced products with flow, impact resistance, and compression characteristics that are able to compete with conventional materials.
TPV prices were only USD 3 per kg in 2014 and are expected to decline even further over the forecast period. Even slight price differences can have a huge impact on the profit margins. If rising raw material costs coincide with decreasing sale prices or if manufacturers only pass on or delay a proportion of increased costs, declining profit margins are inevitable.
Growing environmental concerns and stringent governmental policies are expected to boost investments in alternative bio-based resources and substitutes for plastics, rubber, and petrochemicals. The development of bio-based TPEs by major market participants, such as DuPont & ExxonMobil, further contributes to the declining market prices, since the majority of manufacturers are likely to adopt bio-based resources for production.
Application Insights
Automotive emerged as the leading application segment by accounting for over 60% of its overall volume in 2015. It is widely used in automotive seals, dust covers, air intake systems & ducts, pass-thru seals, and cooler hoses among other components. The material is rapidly replacing other rubbers such as EPDM in under the hood applications of vehicles owing to its better heat and fluid resistance.
Automotive was followed by fluid handling application segment which accounted for over 15% of the overall volume in 2015. It is also used as a fluid handling agent is utilized across a wide range of end-use industries such as oil & gas, petrochemicals, industrial manufacturing and foundry. Over the recent past, there has been a tremendous growth in these industries, particularly in Chinese market.
Consumer goods and medical applications collectively accounted for over 10% of the overall volume in 2015. They are gaining prominence in consumer appliances and medical devices due to their thermal and fluid resistance properties. Compounds formulated from TPV are gaining headways into electronic appliances sectors.
Competitive Insights
China thermoplastic vulcanizates (TPV) market as considerable presence of a large number of TPV processing companies also involved in polymer derivation and TPE/TPV production. Some of the key companies operating in the industry include ExxonMobil, Teknor Apex, RTP Company, Mitsui Chemicals, Jiangsu Jinling Opta Polymer Co.Ltd., Chemtura Corporation and Dexco polymers. Other industry participants operating in the market include DuPont Performance Elastomers, Solvay Engineered Polymers, Covestro, Zylog Plastalloys, Kraton Polymers, Changshu Huajie Plastic Co. Ltd. and Shenzen Zhongsuwang Plastic Products Co. Ltd.