Industry Insights
The global catheters market size was estimated at USD 26.38 billion in 2014 and is expected to grow at a CAGR of 9.7% from 2014 to 2020. Key factors driving the global market include rising demand for minimally invasive medical procedures, growing global base of geriatric population, and rising prevalence of lifestyle induced diseases such as obesity and diabetes. The introduction of technologically advanced catheters pushing higher efficacies is expected to support future growth of this industry.
Rising application scope favoring the demand for minimally invasive surgical procedures, especially from the Asian region and growing advent of technological advancements pertaining to develop catheter materials that prevent bio-film formation are expected to provide growth opportunities over the coming years. However, increasing rate of CA-UTI associated with healthcare acquired infection is expected to hamper the catheters industry growth.
U.S. catheter market revenue by product, 2012 - 2020 (USD Million)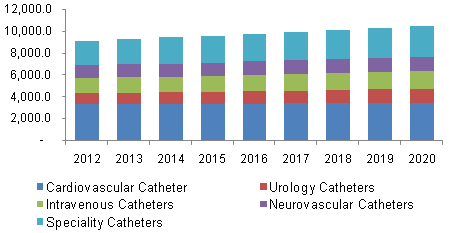 Promotional education sessions renewing CA-UTI awareness in hospitals and large scale initiatives for healthcare interventions coupled with favorable participant response are expected to attribute to the market demand.
Product Insights
Cardiovascular catheters accounted for the largest product segment for USD 10.17 billion of the overall market in 2014. Increasing incidence rates of cardiovascular diseases favoring the growth of cardiovascular interventional procedures are among the key factors accounting for its large share.
Furthermore, according to the data published by the American Heart Association, approximately 7.5 million cardiovascular intervention surgeries have been executed in the U.S. alone and this growth has been geared up due to the presence of technologically advanced products such as stents, guidewires, and PTCA balloons.
Urological catheters market segment followed cardiovascular segment and was valued at USD 2.84 billion in 2014 and is expected to grow at a CAGR of 12.1% from 2014 to 2020. The key factors for high growth rate include the introduction of technological advancements such as the use of antimicrobial coatings on catheters and growing prevalence of urological diseases such as incontinence.
These products are expected to witness elevated demand due to the introduction of technologically advanced products negating the risks such as needle-stick injuries and development of novel products such as Soundstar 3D capable of three-dimensional mapping & Stryker's AcuNav ultrasound.
Regional Insights
North America was the largest regional market, owing to the presence of sophisticated infrastructure and relatively high volumes of catheterization in medical procedures. Furthermore, high healthcare expenditure and high patient awareness level in the region is expected to support industry growth over the coming years.
Asia Pacific is expected to register the highest increase in revenue share during the forecast period. Growing penetration rates of urology & neurovascular devices and improving healthcare infrastructure is expected to groom the economy of these regions over the forecast period. Improvements in life expectancy and increased immunization rates through favorable government initiatives with an aim to combat the prevalence of infectious diseases, such aforementioned factors are expected to drive the industry.
Competitive Insights
Boston scientific Corporation, Abbott Laboratories, and Johnson & Johnson dominated the global market share, accounting for over 70% demand in 2013. Boston Scientific Corporation was the largest industry player in 2013 and they develop an array of products which cater to numerous surgical applications.
Key business strategies adopted by major players include innovations in product development with superior quality and aim to acquire worldwide expansion through enhancing distribution networks. The emergence of effective R&D processes prior to product launches to curb high expenses and involvement in collaborations with major companies, also account for key strategies implemented by the players.
In October 2014, CR Brad announced the launch of Lutonix 035 drug, a coated balloon catheter used in angioplasty that restores blood circulation in peripheral artery disease. Furthermore, the company is involved in constant product development to combat the effect of target diseases.