"Demand for high quality and cost-effective healthcare packaging is anticipated to augment growth"
The global cold form blister packaging market size was USD 4.80 billion in 2015 and is expected to witness high growth over the forecast period. Increasing demand for advanced medical facilities from the middle-class population and adoption of various healthcare programs by government authorities in developing countries is anticipated to boost industry growth.
Companies are considering high quality and cost effective alternatives for manufacturing innovative, convenient packs for end-users. The cold form foils are extensively used in healthcare due to its high-efficiency rate and provide extended shelf life. Advanced cold form sealing packs have also led to discovering new raw material sources with fine superior quality and easy to use. Thus, the cold forming market is projected to witness substantial growth in the next eight years.
U.S. cold form blister packaging market revenue by application, 2014 - 2024 (USD Million)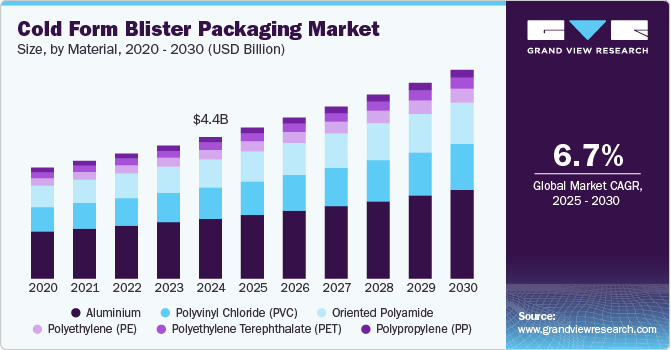 Cold forming is aluminum based laminate film, which is made by pressing into a mold by using a stamp. The aluminum sheets remain lengthened and maintain its formed shape. These are known as cold-form foil (CFF) blisters in end-user industries especially in the healthcare sector. Due to rising environmental concerns, stringent regulatory policies are imposed by World Packaging Organization (WPO) and Food and Drug Administration (FDA) regarding sealing and labeling, which are predicted to reinforce further market growth.
The key benefit of cold form blisters is that it provides an impermeable barrier to moisture, light, oxygen, and gasses, show long-term delamination resistance and offers a complete optimal protection by extending product shelf life. Similarly, slower production speed capacity as compared to thermoforming, larger size of the blister packs, and the lack of translucency of the package are some of the drawbacks of the cold form blister packaging products.
Most of the companies are engaged in the development of innovative blister packs by implementing advanced technologies and offer tailored solutions to customers as per their requirements. The development of new cold forms of the blister pack is rapidly emerging and has recently gained momentum in mainstream commercial applications, mainly in, pharmaceutical, electronics, and food sectors.
"Healthcare segment recorded large demand"
The healthcare segment consists of packaging products required by pharmaceuticals and medical devices and recorded the largest demand in 2015. Packaging companies have developed a wide range of products like push-through, peelable, peel-push, tear-open, and child-resistant that are based on the requirements of pharmaceutical customers. Such product portfolio is offered by multinational packaging companies such as Amcor Ltd and Bemis Company Inc.
Companies have been implementing new technologies and methodologies coupled with product advancements, such as pre-fillable syringes and parenteral vials, to fulfill easy-to-use requirements of patients. Tamper evident, senior-friendly and anti-counterfeit packaging are in high demand worldwide. Such provisions trigger the need for protective sealing that controls the damage of shelf life and efficiency of drug products.
"Europe was the leading regional market, followed by North America"
Europe dominated the cold form blister packaging market in 2015. The market was valued at USD 2.3 billion in 2015 and is projected to grow at the CAGR of 7.2% from 2016 to 2024. The growth in this region is driven by the increasing availability of raw materials and increasing pharmaceutical, electronics & semiconductors, and consumer care packaging sector. France, Germany, and the U.K. are projected to experience strong growth in the next coming years.
Asia Pacific is the fastest growing region and is projected to grow at the highest growth rate from 2016 to 2024. Increasing awareness of the health benefits associated with the product is projected to boost demand. Cost effectiveness related to manufacture and processing of healthcare products is expected to drive the demand.
Growing disposable income coupled with rising demand is anticipated to boost demand in emerging economies such as China and India. These countries along with Korea, Taiwan, and Japan are expected to create significant opportunities for cold form packaging manufacturers owing to its increasing demand for electronics, semiconductors, and other industrial durable applications.
Central & South America is anticipated to have moderate growth over the coming years. Rising consumer's necessity for convenience and better sealing features improved environmental standards along with considerable economic growth in countries, such as Venezuela, Argentina, Brazil, and Colombia, is expected to spur demand in the region over the forecast period.
"Amcor Ltd, Essentra Plc, and Bemis Company Ltd. are prominent players in the industry"
Companies have invested in enhancing their production efficiency and product offerings. They have introduced advanced packaging products with high quality and extended product expiry which are gaining preference in the healthcare sector. In June 2016, Amcor acquired Alusa S.A., a flexible packaging company in South America. This acquisition helped Amcor to expand its cold form blister operations in the South American region besides Europe and Asia.
Key players include Sonoco Co. Products, Bemis Company Ltd., E. I. du Pont de Nemours and Company, Constantia Flexibles Group GmbH, ACG Pharmapack Pvt Ltd, Essentra PLC, Dow Chemical Company, Tekni-Plex, Inc., and Honeywell International, Inc.