Industry Insights
The commercial refrigeration equipment market was estimated to exceed USD 31 billion in 2015. Increasing demand for packaged food and beverages with high growth in hospitality industry has led to significant industry growth. Furthermore, increasing trend towards consumer dining out and ongoing expansion of retail chains across the globe including Europe and Asia Pacific is contributing to the overall industry growth.
Recently, the food industry has started formulating the seafood exports, globally owing to the reduction in overall meat consumption in the Europe and North America owing to environmental and sustainability impacts. It offers manufacturers with immense opportunities for growth by developing efficient and advanced refrigeration equipment to handle extra seafood.
Europe Commercial Refrigeration Equipment Market By Product, 2014 - 2024 (USD Million)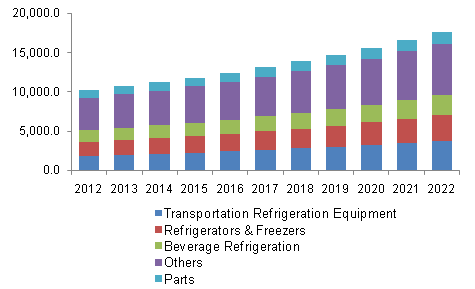 Stringent regulations and increasing concern over the use of refrigerants with high global warming potential are expected to provide several growth opportunities for advancement in commercial refrigeration technology. For instance, magnetic refrigeration system is a green technology that requires low maintenance cost and has higher energy efficiency, saving up to 30% of the total energy consumption as reported by the U.S. Department of Energy. Moreover, Zero emission of hazardous gases and decreased operational costs are some of the other factors driving demand for this technology over the conventional cooling technologies.
However, rising crude oil and fuel prices is expected to hamper the industry growth. The transportation refrigeration segment accounted for a majority of the market and is expected to decline due to rising fuel prices. However, the development of zero-emission technologies delivering environmental benefits without burdening operators with additional costs and lower fuel consumption is expected to provide avenues to transportation refrigeration vehicles.
Product Insights
The transportation refrigeration equipment segment dominated the industry with the 19% revenue share in 2015, and is expected to be the fastest growing segment over the forecast period. Rising international trade to transport perishable products to the end-users in distant locations is expected to surge the segment growth. Innovations such as hybrid electric systems and products that utilize natural refrigerants such as carbon dioxide (CO2) are anticipated to increase the sales.
Retail Channel Insights
Hypermarkets accounted for over 35% revenue share in 2015, which is expected to grow further with a CAGR of over 6.5% from 2016 to 2024. Owing to the consumer demand for convenience, the trend is rapidly shifting towards hypermarkets and supermarkets from individual retailing. Supermarkets and hypermarkets are increasingly spending on latest technologies to reduce infrastructure costs and eliminates the redundant maintenance cost such as refrigerant leaks and emergency service repairs that allows retailers to increase profitability. Retailers are undergoing mergers & acquisitions, joint ventures and strategic partnerships to extend their reach across the regions. For instance, in 2014, Tesco and India's Tata Group closed a joint venture agreement to extend its presence in the Indian market.
Application Insights
The food services sector is expected to witness a significant growth at a CAGR of over 6.5% from 2016 to 2024. Rise in international food trade is producing the demand for frozen foods, chilling of sea food, and processed foods across the regions, which is expected to increase volume growth in food & beverage distribution application segment. Changes in consumer spending, globalization in food trade patterns encouraged by development of motorway networks coupled with unrivalled levels of flexibility offered by roadways is poised to increase the penetration of refrigerated vehciles.
Regional Insights
North America dominated the industry with the revenue share of over 35% in 2015 and is expected to grow at a CAGR of nearly 5.5% over the forecast period. Stringent regulatory scenario is expected to increase the demand for advanced and energy saving equipment, in order to reduce their power usage. For example, the U.S. and Western Europe, prohibit the refrigerants with flourocarbons that have potential to affect ozone layer is expected to encourage consumers to purchase cutting-edge optimized equipment. Moreover, improved macroeconomic outlook, with rising consumer spending is projected to boost food industry participants to expand the number of retail outlets and restaurants in the U.S.
Asia Pacific is anticipated to witness significant progress growing at a CAGR of over 6.5% from 2016 to 2024. Factors compelling regional growth include continuous evolving technology, rising international food trade, processed food exports & emergence of supermarkets, changing food consumption trends and rise in horticulture & seafood.
Competitive Insights
Key companies in the commercial refrigeration equipment market include Carrier, Electrolux AB, Illinois Tool Works Inc., Ingersoll Rand plc, Hussmann Corporation Johnson Controls Daikin Industries, Dover Corporation, Standex International, United Technologies Corp., Whirlpool Corporation, Manitowoc Company, Lennox International, AHT Cooling System, and Panasonic Corporation. Manufacturers are focusing on developing refrigeration products, which helps to minimize the greenhouse gas emission and reducing energy consumption. Therefore, the players are switching to green refrigerants including CO2, ammonia, and water vapor to develop the products.