Industry Insights
The global conductive ink market size exceeded USD 3.00 billion in 2015. Applications such as consumer electronics coupled with the need for cleaner energy have surged the demand, and the industry is expected to follow the same trend over the next eight years. It is likely to replace bulky circuits and energy consuming wires in the coming years.
Due to properties such as smaller size, better energy efficiency, and better durability, these inks can be used as a substitute for traditional wire circuits. Rising concerns regarding high carbon dioxide emissions have threatened the government agencies to shift toward low carbon alternatives. This has resulted in more investment opportunities for solar photovoltaic systems, which, in turn, would assist the overall demand over the forecast period.
Conductive silver ink is widely used in various applications owing to its high thermal conductivity and printability. However, manufacturers are finding alternatives for silver due to its high cost and scarcity. As a result, copper, which is inexpensive & exhibits high electrical conductivity, has been identified as a good alternative for silver.
Some of the conductive inks also contain polymeric conduction compounds. These inks, when compared with traditional standards such as etching copper and copperplate substrates, provide an economical means to set up modern conductive traces. The major propellant in the conductive ink market is the surging demand for efficient and miniaturized consumer electronics. They cater better durability, reliability, and energy efficiency in portable devices. Conductive ink also finds applications in fuel cells and batteries.
Research initiatives are being undertaken to develop cheaper raw material types, such as carbon and graphene, which comprise almost similar properties such as silver. Both company manufacturers and government are planning to unlock potential applications associated with conductive inks. This factor is further anticipated to aid the global market over the forecast period.
U.S. conductive ink market revenue by product, 2014 - 2024 (USD Million)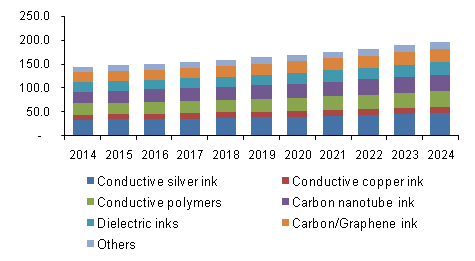 Product Insights
Conductive silver ink accounted for over 20% of the total revenue in 2015. Silver-based conductive ink is widely used owing to its excellent conductivity, durability, thermal stability, and reliability. Although silver-based inks have experienced a fluctuation in prices in recent past, manufacturers are opting to produce products that contain minimal silver formulations in it. ABLESTIK ECIV-1001 produced by Henkel is one such product, which has less silver content and has found its usage in automotive sensor application.
Carbon or grapheme base provides the conductive ink with an added flexibility and performance. Carbon-based inks are increasingly being used in the fabrication of nanomaterials. Owing to their low cost and customizable rheology, they are widely used in complex devices such as touch screen and sensors. They are also widely used in contact pad manufacturing that finds its usage in remote controls, mobile phones, and printed circuit boards.
Application Insights
Conductive ink is widely used in automotive industry and accounts for approximately 15.2% of the total market revenue. In the recent past, the growth rate for this application segment has been almost constant. Innovation in areas such as rear window and windshields containing conductive ink traces are presumed to lead the market growth for the automotive application segment, which, in turn, would aid the market demand.
Conductive inks also find their usage in smart packaging applications, which provide protection from counterfeits, determine shelf life, and track the details of importers and exporters. The popularity of smart packaging often referred to as active or intelligent packaging, has increased in pharmaceutical and food product industry in the recent years, which, in turn, is expected to propel the growth of conductive ink market in the FMCG sector.
Regional Insights
Asia Pacific conductive ink market led the global industry and accounted for over 70% of total market revenue in 2015. Emerging countries such as China and India accounted for a large share of the overall conductive ink market. Investments taken in China and India to set up solar photovoltaic have taken a surge for conductive inks market as they considered to emit enormous solar energy. This would be an opportunity for the replacement of nonrenewable energy.
Competitive Insights
The global conductive ink market is fragmented in nature with many global as well as regional companies participating and accounting for a major part of the overall market. Major industry participants are Poly-ink, Novacentix, Creative Material INC, Parker Chromerics, Applied Nanotech, Pchem Associates INC, and Johnson Matthey Color Technology.