Market Size and Trends
The global fuel cell market size was valued at USD 3.21 billion in 2015. Favorable government regulations, ability to cut down emission rates and capability to make use of domestic sources of energy such as natural gas are some of the key factors likely to propel the demand for hydrogen power plants during coming eight years.
Global fuel cell market revenue by product, 2014 - 2025 (USD Million)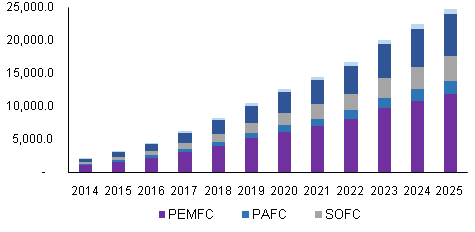 Furthermore, rising emphasis by the regional government in the matured economies such as U.S. and Europe to reduce the emissions and inclination towards a technological shift to support or to some extent even replace the aging electric grids is likely to foster the growth over the forecast period.
The industry is expected to witness an increasing number of a public-private partnership to facilitate cost efficiency and provide a suitable platform for an economically viable technological shift. Mergers & acquisitions, business reorganization, etc. is expected to be the key strategy followed by industry players to expand the end users.
Product Insights
PEMFC was the most dominant form of the fuel cell and accounted for over 65% of global shipments in 2015. The high share is primarily due to the wide applications such as in forklifts, automobiles, telecommunications, data centers, primary systems, and backup power systems. Their ability to suit a wide variety of applications ranging from portable to large scale power systems is a major factor slated to bolster their demand in upcoming years.
SOFC is likely to emerge as the fastest growing segment and is expected to grow at an estimated CAGR of over 20% in terms of revenue over the forecast period. All the components in SOFC are solid and hence the need for electrolyte loss is negated. Also, their ability to operate at high temperatures reduces the need for costly catalysts such as ruthenium.
MCFC are used in large stationary power plants and hence have high installed capacity making it the second largest segment for installed capacity. These are also expected to witness the steady growth in coming years.
Application Insights
Stationary hydrogen power plants are expected to emerge as the largest application segment and are expected to account for over 70% of the total shipments. Factors such as the flexibility to use different fuels, high efficiency and utilization of direct current are the key factors expected to propel the stationary power plant demand.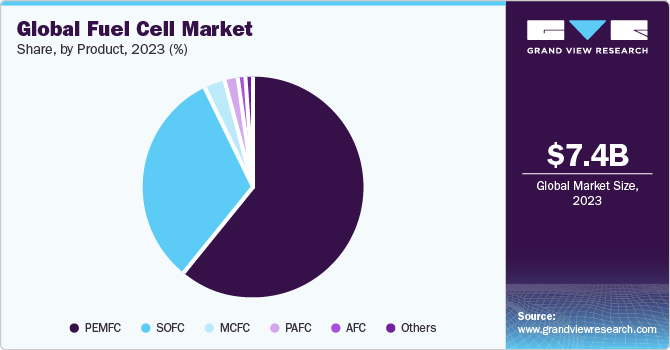 Transportation segment is expected to emerge as the fastest growing segment owing to increasing demand for this type of hydrogen powered forklifts and also increasing research and development activities in regions such as Europe to develop hybrid vehicles powered by hydrogen. Although the use of fuel cell technology in transportation is still not very popular, however, with the continuous research and development by various organization spread across the globe, the hydrogen powered vehicle industry is likely to grow rapidly during the forecast period.
Portable power plant applications include personal electronics, APU, portable products and consumer products such as laptops, mobile phones, and other portable devices. Their demand is expected to increase especially for remote power applications. This application segment is expected to grow at an estimated CAGR of over 35% from 2016 to 2025 in terms of revenue.
Regional Insights
North America is likely to emerge the largest market for fuel cells in terms of installed capacity owing to the regulatory scenario in the region and advancements in technology. The region accounted for around 50% of global installed capacity in 2015 and is expected to maintain leadership over the next six years owing to the commercialization and adoption of hydrogen-powered commercial vehicles. North America is expected to grow at an estimated CAGR of over 25% from 2016 to 2025.
U.S. fuel cell market revenue by application, 2014 - 2025 (USD Million)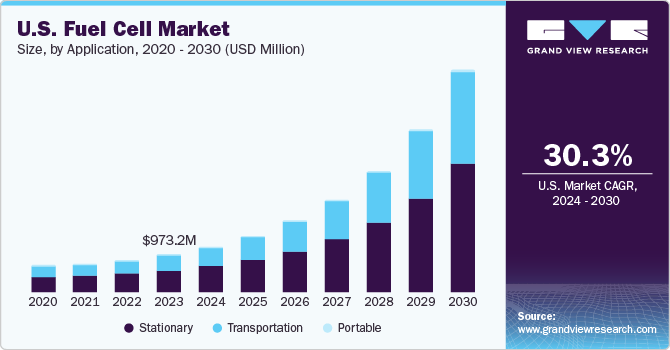 Asia Pacific is expected to emerge as the largest sector in terms of unit shipment. Japan is the major participant within Asia Pacific dealing in fuel cells followed by South Korea. Due to the large demand of Combined Heat and Power systems in Japan and other countries in this region, the market for hydrogen power plant is slated to register a robust growth rate.
European countries to facilitate a smoother technological shift will focus on encouraging public-private partnership. This will enable Europe to achieve their target of developing a low carbon economy and also maintain a competitive edge over rapidly growing regions such as China, Japan, etc.
Competitive Market Share Insights
The fuel cell industry is highly consolidated with the top five companies accounting for over 80% of industry demand. Hydrogen energy is anticipated to maintain a strong position in the industry owing to continuous impetus on product development and increasing research and development expenditure.
Key market players will focus on mergers & acquisition, business re-organization, and strategic alliances to expand the end user product offering in different industries. Companies such as Toyota, Honda, General Motors, and Samsung are some of the leading companies with the highest number of fuel cell patents.
Other notable players in the industry include Plug power, Ballard Power Systems, Hydrogenics Corporation, Ceramic Fuel Cells, Ltd., SFC Energy AG, etc.
Fuel Cell Report Scope
| | | | |
| --- | --- | --- | --- |
| Attribute | Details | Customization Offer (15% free)* | Additional Cost |
| Base year | 2015 | NA | NA |
| Historic | 2014 - 2015 | Extended historic data (2012 to 2015) | Free |
| Forecast | 2016 - 2025 | Extended Forecast data (2025 – 2028) | Free |
| Report details | Market size, company market share, competitive Landscape, growth factors, trends | Contact us for specific market information not available in this report | Quotation to be shared post feasibility |
| Market representation | Units, Mega Watt, USD Million | NA | NA |
| Geographic coverage | Global & Regional (by country) | Information on up to three additional countries | Free |
| Company profiles | All major market players | Profiles of 10 additional companies | Free |
* 15% free customization - The 15% report customization is equivalent to work done by one research analyst for 5 working days.
Market segments covered in the report
This report forecasts volume, capacity & revenue growth and provides an analysis on the trends in each of the sub-markets from 2014 to 2025. For the purpose of this study, Grand View Research has segmented the fuel cell market on the basis of product, application and region:
Product Outlook (Volume, Units; Capacity, Mega Watt; Revenue, USD Million, 2014 - 2025)

PEMFC

PAFC

SOFC

MCFC

Others

Application Outlook (Volume, Units; Capacity, Mega Watt; Revenue, USD Million, 2014 - 2025)

Stationary

Transportation

Portable

Regional Outlook (Volume, Units; Capacity, Mega Watt; Revenue, USD Million, 2014 - 2025)

North America

Europe

Asia Pacific

Middle East and Africa

Central & South America