Industry Insights
The global fuel cell market size was valued at USD 3.21 billion in 2016 and is projected to expand at an estimated CAGR of 20.9% over the forecast period. Growing demand for unconventional energy sources is one of the key factors fostering market growth. Fuel cells are one of the fastest growing alternative power storage and backup options, primarily due to their ability to generate electricity using a variety of fuels. In addition, they are eco-friendly as their by-product doesn't pose a threat to environment, unlike conventional sources.
The market is likely to witness aggressive strategic alliances wherein key players are looking to expand their end-user segments in emerging regions. Progressive private-public partnerships are predicted to be essential for attaining an economically viable technological shift. Introduction of cleaner technologies to substitute the existing methodologies is anticipated to lead to higher costs. This is projected to challenge the innovations carried out by key market players.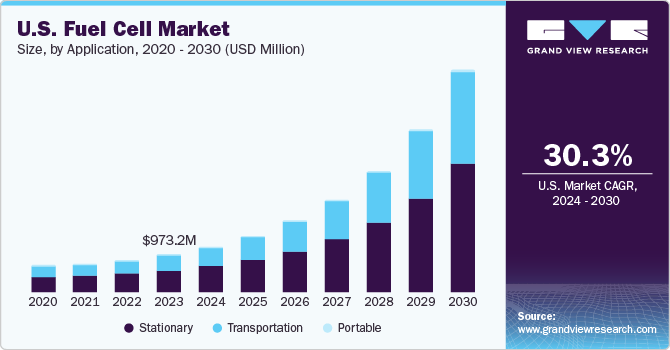 Concerns regarding operating cost, sourcing of raw materials, and hydrogen infrastructure are few other obstacles faced by the current market dynamics. However pacing energy security provisions for alternative energy in emerging and developed economies are expected to break the barriers and foster growth over the forecast period.
In 2016, the U.S. market size was estimated at 8,205 units. Proton Exchange Membrane Fuel Cell (PEMFC) dominated the market and accounted for over 76% of the U.S. units shipped in 2016. High share is primarily due to the wide applications in automobiles, telecommunications, forklifts, primary systems, data centers, and backup power systems across the region.
Molten Carbonate Fuel Cells (MCFC) are used in large stationary power plants. They are expected to witness steady growth in coming years. In terms of shipped units, Solid Oxide Fuel Cell (SOFC) is likely to emerge as the fastest growing segment. It is expected to expand at an estimated CAGR of 39.3% during the forecast period in the U.S. alone.
Energy crisis has been a long-standing global issue and governments around the world are supporting technological developments to tackle it. SOFC are rapidly catching on as an attractive option for energy-efficient power generation. This has resulted in a rising demand from combined heat and power generation sectors.
Product Insights
MCFCs are developed for natural gas as well as coal-based power plants for military applications, electrical utility, and industrial applications. These systems do not require precious metals thus resulting in reduced system costs. Major disadvantage of these systems is low durability owing to corrosion and component breakdown.
Healthy investment and rapid growth of end-use industries is anticipated to bode well for the demand for MCFCs over the forecast period. In upcoming years, manufacturers are expected to focus on technology packaging to bring down overall cost of Fuel Cell Electrical Vehicles (FCEVs).
Technology packaging will facilitate manufacturers to install fuel cell power train on the same chassis used for conventional cars. Rising commercialization and production of fuel cell systems and hydrogen storage tanks are anticipated to reduce cost of FCEVs as compared to plug-in hybrid vehicles.
Application Insights
Stationary hydrogen power plant is expected to be the largest application segment and account for over 70% of market in terms of shipped units. Factors such as high efficiency, flexibility to use different fuels, and utilization of direct current are expected to propel the demand.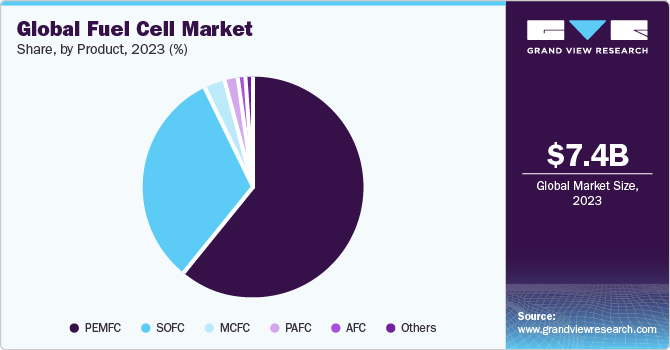 Portable fuel cells applications include Auxiliary Power Unit (APU), portable products, personal electronics, and consumer products such as mobile phones, laptops, and other portable devices. Demand for these products is expected to increase especially from remote power applications.
The existing market for power generation and heating is dominated by gas-based power generation based on internal combustion engines. In recent years, governmental regulations have been pressing on reduction of greenhouse gas emissions. Utilization of fossil fuels by means of high-efficiency power generation systems in short term and implementation of new power generation systems is expected to propel demand for solid oxide fuel cells in micro-CHP units.
Regional Insight
North America is witnessing a range of forward moving partnerships of solid oxide fuel cell manufacturers with end-use consumers. Industry players from heavy industries, automobile, shale gas, and pharmaceutical among others along with data service and technology players are increasingly acquiring companies pioneering solid oxide fuel cell technology.
Since the past five years, U.S. is engaged in advancing its hold on fuel cell technology by actively entering into collaborations with government bodies such as the U.S. Department of Energy and Environmental Protection Agency (EPA). In Canada, private players along with government energy bodies are encouraging fuel cell induced energy generation. They are considering it as a prime source of energy security for future.
In U.S. major businesses such as eBay, Coca-Cola, Walmart, and Google have pledged to adopt fuel cell for internal consumption. Adoption of this technology for operations is expected to reduce electricity utilization cost of data centers by a significant margin.
Dominance of Asia Pacific over fuel cell market is expected to increase over the forecasted period. The market is likely to witness the fastest CAGR in near future. Asia Pacific is anticipated to account for more than 51% of global capacity demand in the coming years, with Japan being the epicenter of this demand. Fuel cells find wide scale application in stationary segment in Asia Pacific. Apart from commercial, automotive, and residential sectors; telecom industry is one of the major avenues accounting for SOFC demand.
Fuel Cell Market Share Insights
In recent years, commercialization of SOFC systems has started with specific niche markets such as small-scale CHP in Japan, on-site power generations especially for data centers and military applications in the U.S. Majority of market participants have focused their research and development activities to develop SOFC for multiple applications. As a result, the market is witnessing a number of public-private partnership, for instance, Honda has collaborated with Ceres Power, Volkswagen.
Department of Energy Solid State Energy Conversion Alliance (SECA) program. Protonex, which has received funding from U.S. Department of Defense and the U.S. Navy has developed FC units which serve as adequate power sources for small batteries, sensors, and others.
Major companies operating in the SOFC market are gaining additional financial support to increase their capability owing to various ongoing and proposed fundraising activities. Private and public investment firms are investing a huge amount of money in through Over-The-Counter (OTC) and venture capital investments. Furthermore, many companies have also raised funding for their operations by entering into long-term loan facilities or credit agreements.
Manufacturers have reported more profits and growth in the period 2016 to 2017 in comparison to 2015 to 2016 revenue generation. In 2014 to 2015, majority of the companies suffered significant losses owing to unsettling operating costs and cancellation of service contracts. Most contracts lost by manufacturers were from oil and gas industries owing to disappointing market scenarios during that period.
Segments Covered in the Report
This report forecasts revenue growth at global, regional, and country levels and provides an analysis of latest industry trends in each of the sub-segments from 2014 to 2025. For the purpose of this study, Grand View Research has segmented the global fuel cell market report on the basis of product, application, and region:
Product Outlook (Volume, Units; Capacity, Mega Watt; Revenue, USD Million, 2014 - 2025)

PEMFC

PAFC

SOFC

MCFC

Others

Application Outlook (Volume, Units; Capacity, Mega Watt; Revenue, USD Million, 2014 - 2025)

Stationary

Transportation

Portable

Regional Outlook (Volume, Kilotons; Capacity, Mega Watt; Revenue, USD Million, 2014 - 2025)

North America

Europe

Asia Pacific

Central & South America

Middle East & Africa