Industry Insights
The global consumer electronic sensors market size is expected to exceed USD 34 billion by 2022. New product developments and investment in research & development are anticipated to contribute to market growth over the forecast period. Factors, such as small size and lower power consumption, may give a competitive edge to industry players. The increasing popularity of wearable technology is expected to boost the demand of the consumer electronic sensors industry.
Demand for multimedia devices with features such as motion stabilization and indoor navigation is expected to favor global demand. Increasing adoption of security and surveillance solutions along with growing entertainment and gaming applications may provide growth avenues. Increasing gaming applications are expected to accelerate demand for motion sensing, which may further contribute to overall revenue.
Germany consumer electronic sensors market by application, 2012 - 2022 (USD Million)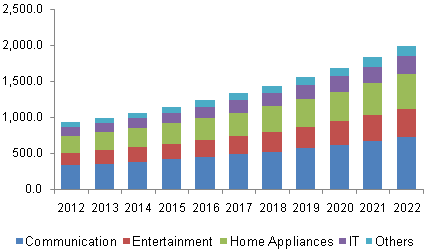 Accelerating demand for Micro Electro Mechanical System (MEMS) for communication, entertainment, and home appliances is expected to fuel the market. They are primarily used in smartphones and tablets owing to increased efficiency and compact size. They are used for improved communication, visual, sound, navigation & control, and tactile interface experiences. Lack of product differentiation and price pressure may hinder industry growth over the next seven years.
Application Insights
Communication is expected to be the key application segment over the forecast period owing to the high demand for PDA and mobile phones. Growing demand for gaming services is expected to positively contribute to entertainment applications. The industry is characterized by preference towards smart features in washing & drying machines, dishwashers, cooking, and air-conditioning appliances. The entertainment segment accounted for over 15% of the global revenue in 2014.
Application areas are expected to witness evolution over the next few years, with industry participants aiming to augment their product offerings. For instance, Samsung has deployed UV sensors for environmental and health applications in Note 4, as well as products to sense pulse and humidity in the Galaxy S5 and the Galaxy S4, respectively.
Product Insights
Image sensors market is expected to remain the dominant product segment over the next seven years, primarily due to increasing demand for mobile phones and tablets. Motion and temperature segments are increasingly finding applications in home appliances for efficient energy usage and smartphones to enhance user experience.
The pressure sensors market is expected to grow at a CAGR of over 9.5% from 2015 to 2022; they are used in mobile phones, GPS monitoring systems, and home appliances. For instance, LPS331AP from STMicroelectronics enables enhanced GPS in portable devices and 3D indoor positioning.
Regional Insights
Asia Pacific is anticipated to be the key region over the next seven years primarily due to increasing demand from application areas in China and India. Increasing disposable income may positively impact the demand for consumer electronics. Smartphones are continuously equipped with various features to enhance user experience; for instance, primary and secondary cameras to enable video calling and related services.
The integration of webcams in laptops is also expected to drive market growth on the regional and global levels. Trends such as sharing images over social networking websites and the presence of first-time buyers of digital cameras are expected to result in increased product demand in Asia Pacific. The North America consumer, electronic sensors market, may be driven by a preference for replacement of electronic devices such as mobile phones and tablets for technologically advanced features.
Consumer Electronic Sensors Market Share Insights
Sony Corporation, Aptina Imaging, Synaptic, Bosch, STMicroelectronics, Samsung Electronics, Panasonic Corporation, and Toshiba Corporation dominate global consumer electronic sensors market share. The industry may witness a large number of collaborations and partnerships across the value chain. In March 2015, AMS, an Austrian company acquired German-based ASIC maker ACAM to strengthen its product portfolio. In March 2015, NXP Semiconductors N.V. signed a merger with Freescale Semiconductor Inc. for USD 40 billion to capitalize on the growing opportunities created by the accelerating demand for security, connectivity, and processing.
In April 2015, Sony Corporation announced to invest in increasing the production capacity of CMOS image sensors from 60,000 wafers per month to 85,000 wafers per month. In June 2015, the company also announced the introduction of its new A&R 11 camera with an interchangeable lens. In 2013, Samsung Electronics launched ISOCELL with features such as increased light sensitivity and higher color fidelity even in poor lighting conditions.