Report Overview
The cosmetic dentistry market was estimated to be USD 15.8 billion in 2015. This growth is fueled by growing significance of dental esthetics and cognizance of such procedures coupled with growing middle class and increasing disposable income in developing countries. Dental tourism on a whole has rapidly grown, allowing new markets to emerge and, in the process, built a strong base for cosmetic dentistry. The use of CAD/CAM to improve the designing and creation of dental restoration and dental prosthetics has allowed this industry to flourish further.
Development of minimally invasive cosmetic dental procedures has allowed a lot of patients to undergo treatments that they did not prefer earlier. Technological advances have also enabled the utilization of novel techniques, and they are being used extensively. Improved emphasis on new products being launched by the key players is another factor that has allowed the industry to prosper further.
Cosmetic dentistry market, by region, 2013 - 2024 (USD Billion)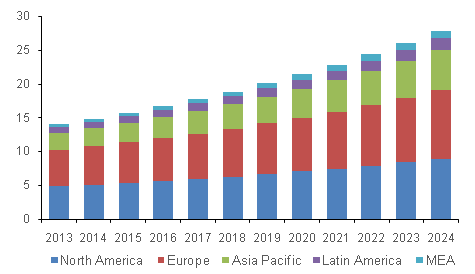 An increasing need for more esthetic appeal in the field of dentistry is being observed globally. This has triggered the development of a wide range of techniques and procedures that cater to specific needs of the patients. Escalating demand for dental implants and orthodontic appliances in the developing markets has caused a growth spurt in dental tourism.
The major restraints that are hindering the growth of the cosmetic dentistrymarket are lack of reimbursement options and high cost of dental imaging. Cosmetic procedures are used to improve esthetics, hence, do not qualify as vital procedures. Thus, insurance companies and government agencies do not provide favorable reimbursement options to individuals opting for these procedures. Dental imaging requires expensive instruments and equipment, which limits access to all due to financial constrains.
Product Insights
Based on the products, the industry is segmented into dental systems and equipment, dental implants, dental bridges, dental crowns, dental veneers, orthodontic appliances, bonding agents and inlays & onlays. Dental systems and equipment accounted for the largest market share due to a wide range of applications. These systems include a variety of arrangements like dental chairs, dental handpieces, light curing equipment, dental scaling units, dental CAD/CAM systems, dental lasers, and dental radiology equipment. With an increasing inclination of people toward improving their esthetics, the use of orthodontic appliances, either fixed or removable, has increased rapidly. Dental implants, composed of titanium and zirconium, are also used on a large scale in individuals who have been disfigured by accidents or have congenital deformities.
Regional Insights
The major regions studied in this report are North America, Europe, Asia Pacific, Latin America, Middle East, and Africa. The cosmetic dentistry market is led by the Europe, owing to the technological advances and increasing number of individuals opting for cosmetic dental procedures, followed by North America. The region set to show tremendous growth is the Asia Pacific region, with the highest growth rate in the forecast period. This is mainly due to the increasing amount of disposable income that is being generated in developing countries like India and China. As a result of huge population, the proportion of individuals undergoing cosmetic dental procedures is much higher in this region. The wide range of dental procedures being offered in this region has allowed propagation of dental tourism, adding to the industry's market share.
Competitive Market Share Insights
Some key players of the cosmetic dentistry market are Danaher Corporation, Align Technology, Inc., Dentsply International, Inc., 3M Company, Zimmer Biomet Holding, Inc. Institut Straumann AG, Sirona Dental Systems, Inc., Biolase, Inc., Planmeca Oy, and A-dec, Inc. Most of these companies are involved in the modification of already launched products, thereby enhancing their individual product portfolios. Consolidated partnerships between companies in this industry are a frequent phenomenon to keep ahead of other competitors.
Frequently Asked Questions About This Report