Industry Insights
Global STD diagnostics market size was valued at over USD 17 billion in 2014. The increase in patient awareness such as education campaigns and growing government initiatives are anticipated to drive market growth. Furthermore, the increasing population having multiple casual sex partners is also fueling the market growth.
STD diagnostics industry is estimated to witness lucrative growth over the forecast period majorly due to a rising number of technologically advanced products in the field of diagnostics, providing more precise testing results. Moreover, there is a significant shift observed from traditional laboratory testing to a rapid point of care testing, which fuels the growth with a technologically advanced product range including diagnostic kits, instruments, and reagents.
Global STD diagnostics market, by types, 2012-2022, (USD Billion)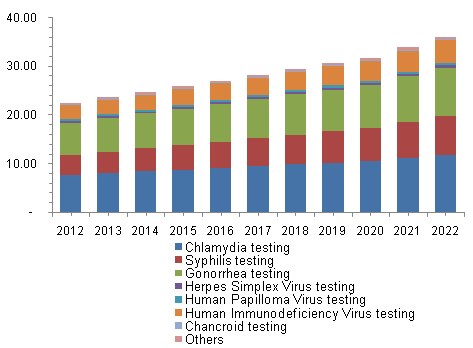 The introduction of government reforms targeted towards the betterment of healthcare infrastructure, especially in the emerging countries of Asia-Pacific and MEA, is expected to boost the sexually transmitted diseases diagnostics industry growth over the forecast period.
Improvement in the healthcare infrastructure worldwide and rising per capita income are the factors driving the healthcare reform supporting STD diagnostic industry growth. The introduction of novel diagnostics and betterment in infrastructure for testing services provide faster and precise testing results facilitating better treatment for sexually transmitted diseases.
Types Insights
The STD diagnostics industry is estimated to experience growth majorly due to the rising prevalence of various infections such as chlamydia, syphilis, gonorrhea, herpes simplex virus, human papillomavirus, human immunodeficiency virus, chancroid, and other infections including trichomonas vaginitis and vaginitis.
Bacterial STIs include gonorrhea, chlamydia, and syphilis while viral STIs include genital herpes, HIV, genital warts (HPV), and hepatitis. The microorganisms causing STIs reside in the blood, semen, and vaginal fluid.
STDs caused by chlamydia dominated the overall market in terms of revenue and was valued at around USD 6.00 billion in 2014. However, the diagnosis of sexually transmitted diseases caused by syphilis is rising and is estimated to account for over 20% of the market by 2022, growing at a healthy CAGR over the forecast period due to the increasing prevalence of syphilis infections worldwide.
Location of Testing Insights
This industry is segmented on the basis of the location of testing into laboratory testing and point of care testing. Laboratory testing is a tedious though more precise method involving commercial/private labs and public health labs. Though the point of care testing including testing kits is more rapid, the results may not be very precise.
However, bedside testing or mobile testing facilitating rapid healthcare provision for the patients is grabbing the market share with a lucrative CAGR of over 10%. There is an observed significant shift from traditional laboratory tests to a quick and easy point of care tests due to the advantages offered by the point of care testing devices.
Testing Devices Insights
The testing devices used for STD diagnosis are segmented on the basis of laboratory devices and point of care testing devices. The laboratory devices include thermal cyclers—PCR, lateral flow readers, flow cytometers, differential light scattering machines, and absorbance microplate reader—Enzyme-linked Immunosorbent Assay (ELISA). PCR for STD diagnosis is expected to grow with a lucrative CAGR of over 8% over the forecast period.
The point of care testing devices segment includes phone chips (microfluidics and ICT) and portable/bench top/rapid diagnostic kits. Technology innovations in the point of care testing devices lead to more precise and trustworthy results. The market for portable POC testing devices is expected to reach over USD 17 billion by 2022.
Regional Insights
This industry is segmented on the basis of the region into North America, Europe, Asia-Pacific, Latin America, and MEA. Industry growth is represented by an increase in the adoption of technologically advanced products. Furthermore, the emergence of novel POC testing concepts, public health laboratories providing sound utilities for STD testing, and provision of insurance coverage are driving industry growth over the forecast period.
The global sexually transmitted diseases diagnostics market is dominated by North America owing to the presence of public healthcare insurance plans fostering healthcare consciousness amongst people. Furthermore, the availability of FDA-approved advanced sexually transmitted diseases testing devices boosts the market growth.
Asia Pacific accounted for over 22% share in 2012. Driving factors include increasing the prevalence of sexually transmitted infections in the underdeveloped countries of Asia Pacific as well as the economic prosperity in these regions that support the growth of sexually transmitted diseases diagnostics.
Competitive Insights
Major companies operating in the STD diagnostics arena include Roche Holdings AG, Abbott Laboratories, Becton Dickinson and Company, Hologic Inc., Danaher Corporation, Affymetrix, bioMerieux, Cepheid Inc., Alere Inc., DiaSorin, and Orasure. These companies focus on the partnership and product/technology licensing opportunities in the sexually transmitted diseases diagnostics industry.