Industry Insights
Technological advancements and an increasing number of application areas are expected to drive the distributed control system market size over the forecast period. Growing demand across several industries including water & waste water management, oil & gas, chemicals, power generation, pharmaceuticals, and paper & pulp is further expected to drive demand. The system has the capacity to process several I/O points; it also has networking capabilities, which are useful in process management.
North America DCS market by product, (USD Million), 2012 – 2020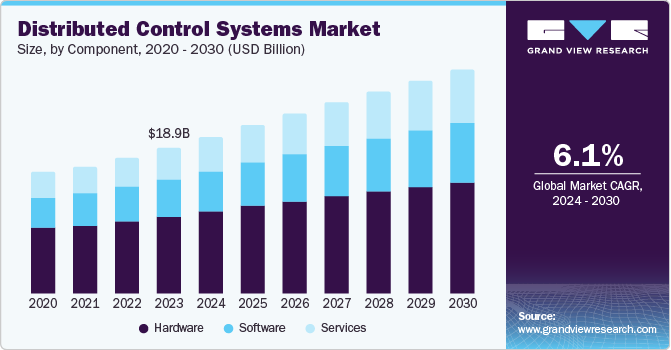 The surge in demand for energy-based sales and retrofits may provide viable growth opportunities over the forecast period. Further, the internet-based system helps in easy integration and improves the functionality through easy remote access. DCS has the capacity for processing a large number of I/O points; it also has networking capabilities, which are useful in process management. The DCS, I/O subsystem, has the ability to input different process measurements and other inputs into the system and providing output in the form of control signals to various actuators, valves, motors, and other control elements. I/O forms a significant cost element.
Suppliers work towards reducing the cost of I/O through the integration of more programmability into the devices. Further, owing to the competitive environment, process industries are under constant pressure to produce products economically with the latest available technologies. These solutions help in achieving low costs coupled with quality through optimum utilization of equipment, raw material, and man power.
Product Insights
Software segment is estimated to emerge as the largest product segment and dominated the global market accounting for over 60% of the overall market share in 2013. The need to upgrade existing systems is expected to be the key factor that drives the demand. Rise in a number of Greenfield projects, particularly in Asia Pacific is expected to fuel the hardware segment demand over the forecast period.
Application Insights
Demand for distributed control systems has been increasing due to its applications in wide range of industries such as chemical, metal & mining, pharmaceutical, oil & gas, pulp & paper, power, and water & waste water treatment. Oil and gas emerged as the dominant end-use industry in 2013 and accounted for over 24% of the overall market share. There is a high demand for advanced systems that control and monitor activities, enabling higher production.
The power industry is expected to witness significant growth over the forecast period as these systems enable elimination of human errors during power generation process as well as increase power generation speed. Rapid industrialization, cost-effectiveness, development of open source systems, and customer migration strategy are expected to be major demand drivers.
DCS offers numerous solutions for controlling and monitoring production activities, which are widely adopted across process industries owing to the growing demand for automation. In addition, these systems comprise intelligent command capability that enables effective and easy plant supervision. Further, these solutions help in reducing human errors through provision of high-end advanced technology. Threat to human life in hazardous environments can be reduced significantly through adoption of these solutions.
DCS controllers have high computational capabilities and in addition they support neural networks and fuzzy applications, thereby finding wide industrial applications. The popularity and demand for these solutions is on rise across various industry applications owing to its ability to automate, monitor, and control numerous processes or activities across aforementioned industries.
Regional Insights
Asia Pacific and Middle East are expected to witness high demand due to rising manufacturing activities in these regions. However, North America and Europe may witness moderate growth owing to decline in Greenfield investments and development of new technologies.
Competitive Insights
Key industry players focus on mergers, acquisitions, contracts, and agreements as a part of their growth strategy. A few key players include Honeywell International Inc., Bharat Heavy Electrical Ltd., GE Electric, Toshiba International Corp., ABB Ltd., Siemens AG, Emerson Electric Co., Rockwell Automation Inc., and Invensys Plc. ABB Ltd. accounted for significant distributed control systems market share closely followed by Siemens AG and Honeywell. Manufacturers focus on developing innovative, technologically-advanced, and cost-effective manufacturing processes in order to attain competitive advantage on the basis of product differentiation.