Industry Insights
Europe polyurethane (PU) market was valued at USD15.75 billion in 2015. Stringent regulations pertaining to energy efficiency and carbon emission reduction in the region is anticipated to be the major driving factor over the forecast period.
The industry in Europe expected to be driven by growing investment in construction across the UK, Germany, Poland, and Sweden. Total construction spending in the European Union amounted to EUR 1.37 trillion in 2014, a 7% increase as compared to the spending in 2013.
Germany polyurethane (PU) market revenue by product, 2010 - 2024, (USD Million)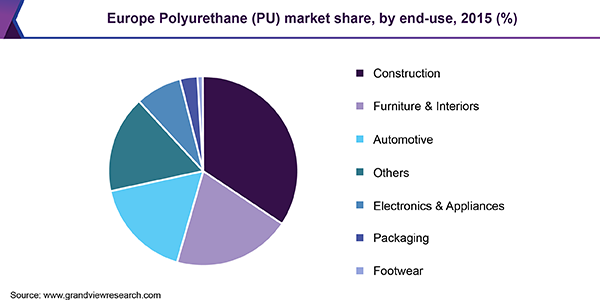 Since 2012, Germany, France, and the UK have been the three largest construction markets in Europe. These countries represent 54% of the total construction investment recorded in 2014.Polyurethane (PU) discovery dates back to over eight decades by Otto Bayer and his co-workers at I.G. Farben laboratory in Germany.
They form a group of plastics that can be either thermosetting or thermoplastic and can be tailored to become either rigid or flexible forms. Therefore, making it a material of choice for numerous end-use industries such as building insulation, refrigerators & freezers, furniture & bedding, automotive components, and coatings & adhesives.
As per ISOPA, the European Diisocyanate & Polyol Producers Association, buildings currently waste a large amount of the energy being provided to them resulting in heating up of the earth instead of homes. Polyurethane contributes majorly towards resources as well as energy conservation in buildings owing to its superior insulation properties. Durability and abrasion resistance are its inherent characteristics providing long life to the products.
Eastern European countries such as Hungary, Poland, and Slovakia are anticipated to witness significant growth regarding construction spending which in turn is expected to drive rigid polyurethane foam demand. Recovery of automobile sector in countries such as Germany, Italy, Spain and France is another factor expected to compliment demand.
Polyurethane consumption is expected to be driven by its versatility as a product in new applications and its uses and characteristics such as sustainability and light weight coupled with the growth of major end-use industries such as automotive components and construction particularly in the UK.
Product Insights
Flexible PU foam accounted for over one-third of the overall volume in 2016. Flexible foam is a widely used material because it provides a unique combination of form and function. Foam can easily be cut or molded to almost any shape. It is expected to gain market share and accounts for 35.0% by 2024.
Rigid polyurethane foams accounted for 30.6% of the total market volume in 2016 and is expected to gain market share over the forecast period. Rigid polyurethane foam is one of the most efficient, high performance insulation material, enabling effective energy savings with a minimal occupation of space.
In addition to the low thermal conductivity, rigid polyurethane foam is stable and durable. Increasing regulatory intervention regarding insulation in buildings along with wide application scope in refrigeration industry is anticipated to drive industry growth over the next seven years.
End-Use Insights
Construction emerged as the leading end-use segment in 2015 accounting for over 35.0% of the overall volume. Stringent regulations about inculcating energy efficient parts in the buildings are expected to drive construction industry in the region.
The 2020 Action Plan undertaken by the European Union to curtail its GHG emission levels is anticipated to drive construction further in the region. Superior insulating properties make PU foams ideal for roofs and walls in new houses. Foams used in houses helps to maintain uniform temperature and reducing noise levels. This property helps in a lot of energy consumption and saves money in extreme temperature regions.
European furniture industry promises considerable growth over the forecast period owing to its creative capacity for new designs and responsiveness to increasing demand. Two out of every three furniture products sold across the globe are manufactured in Europe. Increasing migration in the region towards Nordic countries is has prompted the need for furniture. Such trend is expected to positively impact PU demand over the forecast period.
Regional Insights
Germany was the second largest market with over 17.0% share in 2015, which is anticipated to lose some share to other emerging nations in the region. Russia is anticipated to emerge as the fastest growing region with CAGR of 4.5% over the forecast period. The region is expected to take advantage of low crude oil prices and a recovery in its economic growth in recent years. The government has also introduced schemes to improve existing infrastructure and networking to improve trade.
Italy offers a well-established economic and social climate in which to invest. Italy is considered to be a strong economy and as a member of the G8 industrialized nations. Despite a relatively stagnant economy in recent years, the region is finally witnessing growth with the plunge in oil prices, which is bringing some relief to impoverished Italian households. The government has also set up an ambitious reform agenda for tackling structural deficits within the economy, which is expected to boost investments.
Competitive Insights
The presence of a large number of manufacturers, as well as distributors in Europe, makes it a highly competitive market with innovation as the key to sustainability. Key companies operating in the market include Covestro, Huntsman Corporation, British Vita Limited, BASF, DuPont and The Dow Chemical Company. Some of the independent distributors include Ellsworth Adhesives, Stepan Co., IMCD, and Archway Sales, Inc.