Industry Insights
The global fluid dispensing equipment market size was USD 6.25 billion in 2015. High demand for sustainable manufacturing practices to reduce material wastage, and also optimize efficiency and accuracy of processes is a key growth driving factor. Technological innovations aimed at automation of industrial processes is also expected to play a vital role in shaping the industry future.
With the advent of highly advanced technologies that can control fluid amounts & patterns, manufacturers are now able to meet specific industrial & consumer criteria, which has fostered product demand in various verticals. Furthermore, end-use industries such as automotive, aerospace, electrical & electronics, and construction are positively growing, particularly in the markets of Asia.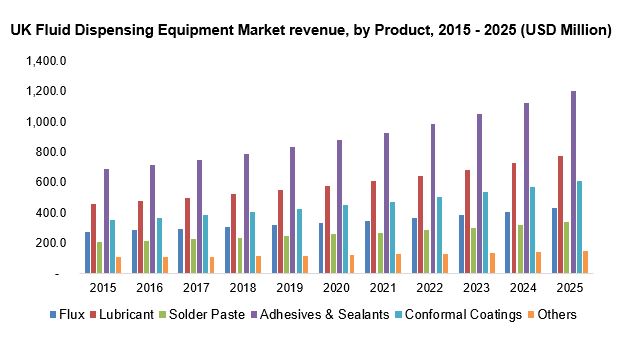 These regions are touted to provide opportunities for equipment manufacturers to increase their foothold. Apart from high growth of these industries, companies such as automotive OEMs and semiconductor manufacturers are considerably increasing their capital expenditures to procure new machinery and upgrade existing technologies. This trend is likely to boost fluid dispenser sales in the future.
Product Insights
Dispensing equipment is widely used in the application of fluids such as lubricants, adhesives, sealants, underfill, solder paste, coatings, and flux. The level of usage of the equipment designated to the particular fluid is highly dependent on the end-use. In that sense, lubricants, adhesives, sealants, and coatings are widely used across automotive component manufacturing applications. While solder paste, epoxy underfill, flux and epoxy adhesives find greater scope in electronic components manufacturing.
Adhesives & sealants were the leading product segment and accounted for nearly one-third of the overall revenue in 2015. Favorable outlook on future automotive and electronics manufacturing landscapes is expected to drive adhesive consumption; this trend is primarily a growth driving factor for dispensing equipment in the product category.
Epoxy underfill usage in flip chip device manufacturing and the growing requirement for the latter in IC chips, and microelectro mechanical systems will be a factor in further propelling industry growth. Asia Pacific is projected to be the fastest-growing region for epoxy underfill dispensers due to the presence of leading semiconductor manufacturers & their high CAPEX on machinery.
Application Insights
Transportation and electrical & electronics are the major applications for fluid dispensing equipment, and together they accounted for over 65% of the market value in 2015. These industries are characterized by the high usage of fluids across various production stages that include metalworking, joining and component assembly.
Recovery of automotive manufacturing in the U.S. and high potential for China, India, and South east Asia as regional automotive hubs is a key driving factor for the market growth in the application segment. Transportation is projected to grow at a CAGR of 6.0% from 2016 to 2025.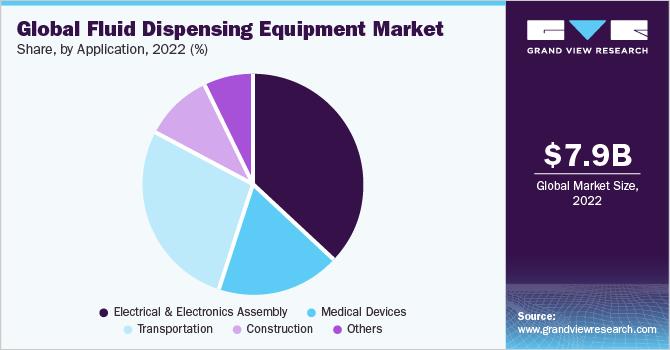 The infrastructure sector offers huge growth potential considering the evolution of construction practices over the recent past. The advent of prefabricated structures, use of high-tech systems for accurate measurement of structural components, and reduced activity of masonry on the site have changed the basis of construction from a labor-intensive practice to an assembly line process.
This change at the operational level has ushered in the increased usage of robotic systems and machinery, particularly in heavy infrastructure works such as reservoirs, high-rises, pavements, bridges, and other steel structures. Fluid dispensing equipment revenue in construction is expected to exceed USD 1 billion by 2025.
Regional Insights
North America and Europe are regions of high importance for the industry. These regions are characterized by the presence of multinational dispensing equipment suppliers such as Nordson, Henkel, and ITW Dynatec. Furthermore, these regions are, in the context of equipment, technologically advanced compared to Asia, Latin America, and the Middle East.
European fluid dispensing devices market is expected to grow at a moderate pace due to a weaker macroeconomic environment and high maturity of the industry. Parallel to Europe, Asia Pacific, and South American markets are expected to provide greater growth scope considering the industrial output and growing investments in manufacturing.
The Asia Pacific market growth is likely to be spurred by rapid expansion of the healthcare industry, as hospital, medical & dental service industry revenues have been rising at a rapid rate in recent years. Soaring demand for medical and surgical equipment and many new hospital construction projects have also fostered regional growth. Following the introduction of 4G LTE services in 2014, Asian consumers are increasingly subscribing to it, taking advantage of higher speeds for their daily routines. Furthermore, major regional electronics players are introducing ground-breaking designs, with brands such as Xiaomi & Asus making great innovations in the lower end and flooding the marketplace with value-for-money gadgets & devices. These factors are driving the demand for precision fluid dispensers in the electrical & electronics industry.
Fluid Dispensing Equipment Market Share Insights
Nordson, Henkel, and Graco together accounted for over 40% of the overall fluid dispensing equipment market share in 2015. The global industry is however characterized by presence of small-scale dispensing equipment, predominantly semi-automatic & manual equipment, companies who operate on a local scale. These companies represent nearly half of the overall dispensing system sales. Other key players include Speedline Technologies, Musashi, ITW Dynatec, Valco, Dymax, GPD Global, Fisnar, Henline Adhesive Equipment, IVEK Corp., and Sulzer Mixpac.