Industry Insights
3D printing facilitates the production of three-dimensional physical items from a digital file which is achieved by using additive processes. 3D printing technology has evolved from prototyping in various applications for the development of actually usable parts and products. The healthcare 3D printing market provides significant opportunities for hearing aids, dental implants, prostheses, and contact lenses that are customized to the individual. Personalized digital data is providing the blueprint for future healthcare 3D printing market solutions, from hip and knee implants to dental crowns, from hearing aids to prosthetic limbs and orthotic footwear. Some driving factors for the healthcare 3D printing market are increasing geriatric population as age is considered as the greatest risk factor for the development of various disorders such as orthopedic, cardiovascular, and others and increasing healthcare demands in the developing world. The Healthcare 3D printing market is expected to witness significant growth, owing to the intervention of the government for improving healthcare infrastructure and increasing investments in the R&D sector. In addition, healthcare professionals increasingly explore 3D printing because it reduces the risks associated with anesthesia during long surgeries and improves healthcare.
Application Insights
The Healthcare 3D printing market includes applications such as surgical guides, implants, surgical instruments, and bioengineering. Surgical guides include orthopedic, craniomaxillofacial, and dental surgical guides. Implants consist of orthopedic, craniomaxillofacial, and dental surgical implants. Medical implants healthcare 3D printing market is expected to register the highest growth rate during the forecast period as most of the doctors in the U.S. are using medical implants to replace most of the man's skull.
Healthcare 3D Printing Market, by Technology, 2012 – 2020 (USD Million)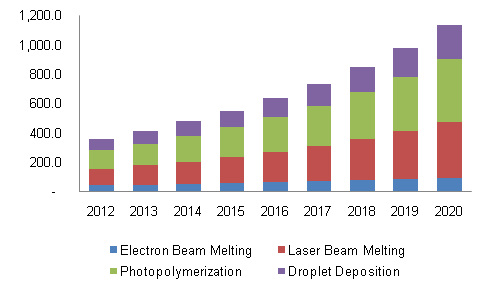 As per the Oxford Performance Materials report, 75% of an American patient's skull was replaced with an implant from an Oxford Performance Materials 3D printer. Arcam has a strong position in medical implant manufacturing as customized orthopedic implants perform much better and their use reduces surgery times and tailoring 3D-printed parts is much simpler, faster, and less expensive than other approaches. Direct dental implants and lower volume of bespoke surgical implants market is expected to grow during the forecast period. The use of dental 3D printers is helping to advance the growing field of digital dentistry by providing finished dental prosthetics in metal, along with outstanding, smooth-surface wax-ups that can be conventionally cast or pressed. It also makes the process less invasive and more accurate and cheaper.
Technology Insights
Major healthcare 3D printing market technologies include electron beam melting, laser beam melting, photo-polymerization, and droplet manufacturing. Droplet deposition manufacturing includes inkjet printing, multiphase jet solidification, and fused deposition modeling. Inkjet printing can be used for bioprinting which is the process of printing living tissues and the printer uses bio-ink which is a mixer of living cells. It builds a structure from biological cells to create human tissue. Researchers are testing this technology for skin grafting, small heart valves & knee cartilage, and creating organs for the individual's body.
Raw Material Insights
Major raw materials for the healthcare 3D printing market include metals, ceramics, polymers, and biological cells. Polymers led this market in terms of share in 2013 majorly owing to high usage rates. Moreover, the introduction of technological advancements in this frontier is expected to help this segment grow at a lucrative CAGR during the forecast period.
Regional Insights
The overall healthcare 3D printing market is segmented into North America, Europe, Asia-Pacific, and RoW. North America dominates the global healthcare 3D printing market due to increasing healthcare expenditure, sophisticated healthcare infrastructure, and increasing investment in R&D facilities for the development of 3D technologies. Asia Pacific market is expected to grow at a rapid pace during the forecast period owing to increasing adoption rates of 3D and 4D technologies like a bionic hand by Youbionic, which adds values to the overall experience, constantly improving healthcare infrastructure and rising health care expenditures in emerging countries such as India and China.
Competitive Insights
Key players of the healthcare 3D printing market include Envision TEC, Stratasys Inc., Materialise NV, 3D Systems Software, Bio-Rad Laboratories, Organovo, SOLS, Simbionix, Metamason, RegenHU Ltd., Youbionic, Bio3D Technologies Pte Ltd, 3D Matters Pte Ltd., 3D Systems Corporation (3DS), Ekso Bionics, Roche Pharmaceuticals, Renishaw plc., Robohand, Delcam India, Worrell, mobile CT, Archam, Rainbow Biosciences, ALD Vacuum Technologies, 3T RPD Ltd and others.