Industry Insights
The global hemoglobinopathies market size was valued at USD 4.2 billion in 2014. The increasing prevalence of hemoglobinopathies, especially in underdeveloped countries such as South East Asia, Arab nations, and Africa is one of the major drivers of the market. The presence of high unmet needs for diagnosis and treatment of such rare diseases generates huge untapped opportunities in the hemoglobinopathies market.
Major reasons for the rising prevalence of the disease include lack of patient awareness about these diseases coupled with high unmet needs for treatment of such diseases due to lack of treatment alternatives and absence of permanent cure for these diseases. The prevalence of thalassemia is around 0.28 million patients worldwide, while sickle cell disease has even higher prevalence of around 25 million worldwide.
U.S. sickle cell disease market, by therapy, 2012-2022, (USD Million)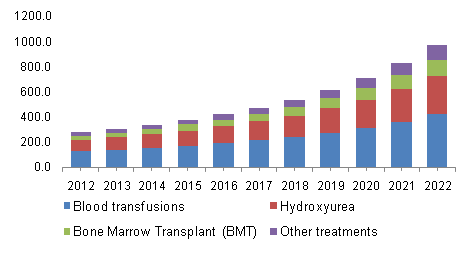 Lack of awareness about these diseases leads to increase in death to survival ratio for patients suffering from SCD and thalassemia. However, increasing government and company initiatives for spreading awareness pertaining to hemoglobin variants diseases such as implementation of the Registry and Surveillance System for Hemoglobinopathies (RuSH) project in 2010 by the Centers for Disease Control and Prevention are expected to boost market growth over the forecast period.
Type Insights
The market is segmented into thalassemia (alpha and beta), sickle cell diseases, and other hemoglobinopathies such as hereditary elliptocytosis. Gene mutations encoding the globins generate a variety of hereditary conditions producing blood disorders such as thalassemia and Sickle Cell Disease (SCD). These types of hemoglobin disorders collectively account for the hemoglobinopathies market.
In 2014, SCD was the largest segment with revenue estimated at over USD 2,100 million. The diagnostics and therapeutic thalassemia market on the other hand is expected to grow at a healthy CAGR of 7.6% over the forecast period owing to, the increasing efforts in improvement of patient awareness about the disorders and subsequent improvement in diagnosis and treatment.
Therapy Insights
Hemoglobinopathies therapy includes blood transfusion, iron chelation therapy, bone marrow transplant, and hydroxyurea.
In 2014, blood transfusion therapy held the largest share of over USD 1,400 million. The rise in government initiatives for increasing the number of blood donations is the high impact rendering driver for hemoglobinopathies market.
Permanent cure for hemoglobinopathies is the biggest requirement. The promising pipeline drugs kept on accelerated approval process are expected to fulfill the market requirement in the near future. For instance, the expected launch of HQK-1001 at the end of 2017 is expected to drive therapeutics market growth.
Various initiatives are taken by regulatory agencies in an attempt to accelerate the launch of awaited therapeutics. For instance, the FDA has initiated a 5-year program known as Patient-Focused Drug Development to understand the impact of diseases on patient's daily lives.
Diagnosis Insights
Blood testing segment dominated the market in 2014 with a share of over 85.0%. The fact that blood testing is mostly used as the first-line screening method is expected to contribute towards the aforementioned conclusion.
Genetic testing for diagnosis of SCD is expected to be the fastest growing market segment over the forecast period due to its efficiency in precise diagnosis and monitoring. However, Pre-implantation Genetic Diagnosis (PGD) is expected to be the fastest growing segment for thalassemia diagnosis due to advantages associated with the diagnostic technique such as genetic monitoring of In-Vitro Fertilization (IVF).
Regional Insights
North America dominated the overall hemoglobinopathies market in 2014 with a revenue share of over USD 1,200.0 million due to rising R&D investments by the key players, better reimbursement scenario, and presence of high-quality healthcare infrastructure.
Asia Pacific is expected to grow at the fastest CAGR of 10.5%. Introduction of indigenously-manufactured and low-cost thalassemia and sickle cell diagnostic kits in Asia Pacific region coupled with rising patient awareness level is expected to provide manufacturers with lucrative future growth opportunities.
Competitive Market Share Insights
Key industry participants include Gamida Cell, Alnylam Pharmaceuticals, Biogen Idec, Sangamo BioSciences, Genetix Pharmaceuticals Inc., Global Blood Therapeutics, Mast Therapeutics, Emmaus Medical, Inc., Prolong Pharmaceuticals, Calgene Corporation, Invenux LLC, Optinova Ab, Anthera Pharmaceuticals, HemaQuest Pharmaceuticals, and Acceleron Pharma.
Key players are focusing on the collaboration and licensing deals for sharing the research and development platform. For instance, in January 2014, Sangamo BioSciences, Inc. and Biogen Idec announced global collaboration agreement that targeted the therapeutics development for hemoglobinopathies.
Analyst Perspective
The scope of the study encompasses diagnosis and therapeutics for various types of hemoglobinopathies. Attributes provide insights to research pipeline, government regulations, existing market players, and scope for new entrants in the industry.
Source: WHO, U.S. CDC, FDA, NIH Journals, Investor Presentations, Primary Interviews, Grand View Research
The above illustration of market impact vs. market opportunities represents the unmet needs in the hemoglobinopathies market based on prevalence, treatment efficacy, and therapeutic need gap.
Currently, lack of clinical evidence for permanent cure of these diseases is the biggest restraint for the market growth. However, huge R&D investments and expected launch of fast track drugs are expected to increase industry growth over the next five years.
The forecasts are dependent on industry analysis via more than three approaches or models. Commodity flow approach including diagnostics and therapeutics flow from manufacturing companies to patients along with need gap analysis and demand forecasting was carried out in an attempt to derive the market estimates. Furthermore, for growth calculation; QFD model based variable analyses were implemented.