Industry Insights
The global high temperature insulation market size was valued over USD 3.84 billion in 2016 and is expected to exhibit an estimated CAGR of 7.5% from 2013 to 2020. The market for high temperature insulation (HTI) is gradually moving toward consolidation as product manufacturers continue to integrate business processes to reduce overall cost of manufacturing and increase the material's thermal resistance so as to maintain constant temperatures over an extended period of time.
Increasing necessity to bring down energy consumption and emissions has particularly encouraged the development of advanced high temperature insulation products that use metal oxides such as alumina, silica, and zirconium and non-oxides such as carbides as raw materials. Due to the explosive nature of some of these raw materials, manufacturers need the approval of annual quota from the government.
Raw material suppliers also have a crucial role to play and have a significant impact on business supply and profitability. Additionally, high R&D spending in the market for developing sustainable, safer, and more durable products is also expected to result in horizontal as well as vertical integration, thereby increasing market concentration.
In 2012, the North America market was valued at USD 953.7 million. Ongoing growth in the manufacturing sector, high energy consumption, and increasing environmental concerns are acting as drivers for the North American HTI market. However, the market in this region is relatively saturated and presents a high level of barriers for new entrants.
HTI products are typically used in hot and cold face furnace applications in different industries such as petrochemicals, iron and steel, ceramics, refractory, and powder metallurgy. The petrochemical industry accounted for 33.8% of the global volume demand in 2012 and was one of the most significant application segments for high thermal insulation materials.
HTI products help petrochemicals, iron and steel, and glass industries reduce energy consumption, which accounts for 40% of the manufacturing cost. Cost-effective and energy-intensive high temperature insulation products are the need of the hour. Fossil fuel consumption in industrial processes worldwide generates more than 30.0% of emissions from all sources.
The industrial sector accounted for over 30.0% of the global fuel consumption. Close to 25.0% of the total energy used in industrial processes is wasted due to various factors. Poor heat management in conversion processes accounts for up to 50.0% of the total energy loss in these processes.
Product Insights
Key product segments include calcium silicate, insulating firebrick, ceramic fiber, and other HTI products. Ceramic fibers led the overall demand and accounted for 60.5% of the total market volume in 2012.
Ceramic fibers are used as a replacement for asbestos for high temperature insulation in furnace linings and kilns. This material is produced in the form of bulk fibers, blankets, boards, felts, paper, cast shapes, and textile products. In addition to thermal shock resistance, the light weight, flexibility, and strength of this material makes it useful in a number of industries such as petrochemicals, ceramics, refractory, and aluminum.
Advantages offered by insulating firebrick include high pressure and temperature resistance, security from electrical shorts and shocks, speedy periodic operations, low operating costs, and low heat escape. Insulating firebricks are also used for economical attainment of maximum operating temperature.
Application Insights
Petrochemical accounted for over 30.0% of the production in 2012 and emerged as the leading application segment within the high temperature insulation market. Rise in demand for several secondary and primary petrochemicals, along with need for energy conservation, has triggered the growth of high temperature insulation materials in the petrochemical industry.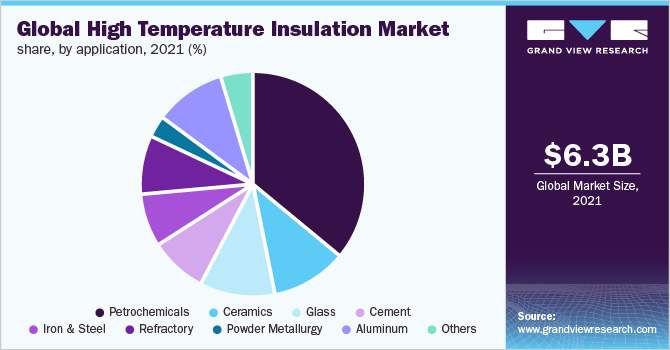 On an average, five to six kilos of HTI products are required for producing 1 metric ton worth powder metallurgy products, including biomedical implants, magnets, cutting tools, wear parts, filters, gears, bearings, automotive and aerospace engine parts, and pump parts. High temperature insulation is employed to enable efficient temperature control while ensuring minimal impurities.
Products such as insulating firebricks and ceramic fibers - primarily used in boilers, fired heaters, sulfur recovery units, and fluid catalytic cracking units (FCCUs) - provide a uniquely effective solution for the petrochemical industry's energy management needs. HTI products rationalize production costs by ensuring proper heat management at the point of manufacturing.
Cement production emits 5.0% of the global greenhouse gas emissions. Use of HTI products in the manufacturing process reduces greenhouse gas emission up to 20.0%. This factor is expected to drive the cement application segment.
HTI products significantly lower overall cost of production by preventing heat loss and saving energy costs. The vast revenues generated and overall growth rate of the iron and steel industry are driving market growth. Refractory materials are produced from nonmetallic minerals. These heat - and pressure-resistant materials are used as insulating and fireproof lining in furnaces and kilns in different industries such as iron and steel, glass, and cement.
Regional Insights
Growth in the manufacturing sector, high energy consumption, and increasing environmental concerns are acting as drivers for the North American market. However, the market in this region is relatively saturated and hence, also presents a high level of barriers for new entrants.
North America is the most significant consumer of energy in the world, requiring as much as 1,908 million tons oil equivalent (Mtoe) per year, out of which industries in the region account for approximately 31.2% of the energy consumption and the highest emitter of GHG industries in North America account for 43% of the region's GHG emission.
Europe offers substantial growth potential to market players due to its large industrial base. Iron and steel industries are primary applications for HTI products, and market growth is directly related to the growth in these industries.
High Temperature Insulation Market Share Insights
High temperature insulation products find application in the manufacturing of petrochemicals, iron and steel, ceramics, cement, refractory, glass, aluminum, solar equipment, and powder metallurgy. Fire protection and aerospace are new and emerging applications of high temperature insulation. Profit margins in the application of HTI products are dependent on cost of manufacturing, which in turn, is dependent on energy costs.
Additionally, high temperature insulation products are increasingly gaining recognition to reduce usage of natural resources, minimize emissions linked with energy use, and optimally decrease utility and manufacturing costs. Most HTI materials are used within the application temperature range from 1,000 degrees Celsius to 1,300 degrees Celsius.
There are a large number of suppliers available in the HTI market, especially in emerging regions. There persists a credible threat of forward integration from suppliers, as HTI manufacturing is not technology-intensive. Raw material supply is likely to remain a critical challenge for manufacturers, with the market being characterized by backward integration and long-term supply contracts.
Segments Covered in the Report
This report forecasts revenue growth at global, regional, and country levels and provides an analysis of latest industry trends in each of the sub-segments from 2012 to 2020. For the purpose of this study, Grand View Research has segmented the global high temperature insulation market report on the basis of product, application, and region:
Product Outlook (Volume, Kilo Tons; Revenue, USD Million)

Ceramic Fiber

Insulating Firebrick

Calcium Silicate

Other

Application Outlook (Volume, Kilo Tons; Revenue, USD Million)

Petrochemicals

Ceramics

Glass

Cement

Iron & Steel

Refractory

Powder metallurgy

Aluminum

Others

Regional Outlook (Volume, Kilo Tons; Revenue, USD Million)

North America

Europe

Asia Pacific

Rest of the World