Industry Insights
High temperature insulation products are materials used in applications requiring high temperatures (generally more than 10000C) across various end-use industries. New emerging applications of high temperature insulation include aerospace and fire protection. Growing need to conserve energy across various industries is expected to be a key driver for the market. Additionally, stringent regulations imposed on cement, oil & gas and metal producers to reduce greenhouse emissions has also had a significant impact on developing market demand. Additionally, these products can be made available as blankets, boards, castables, and insulating bricks, which can be modified for use in furnaces, kilns, and kiln cars. This customizable nature of HTI products is expected to have a positive impact on product acceptance over the next six years.
However, the carcinogenic content in high temperature insulation materials is expected to be a key challenge for market participants. Insulation materials contain inorganic compounds such as alumina and silica, which are carcinogenic in nature and are known to cause skin and respiratory diseases. Also, thermal properties of HTI products erode over time, with continuous heat exposure causing shrinkage and heat leakage. This results in average product life being only two to three years. Frequent replacements which increase cost is expected to be a key issue for the market in the coming future. To reduce reliance on synthetic insulation materials, industry has shifted its focus towards developing bio-based alternatives for high temperature materials. The emergence of bio-based insulation materials has given rise to novel applications for high temperature insulation materials in commercial and residential sectors.
Product Insights
Key product segments analyzed and reported in this study include ceramic fiber, insulating firebricks, calcium silicate, and others. Ceramic fibers are the largest used materials for high temperature insulation, accounting for 62% of the HTI market volume in 2012. High temperature resistance, superior tensile strength, and better flexibility are some of the key characteristics that have made ceramic fibers popular across various application segments. Ceramic boards and blankets are used in shipbuilding as lagging for general heat containment and to prevent fires from spreading. They also find applications for furnaces with temperature up to 1400o C.
Global HTI products volume, by application, 2012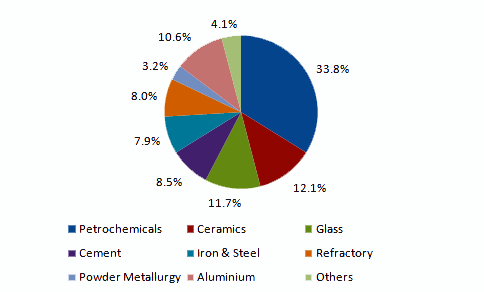 Insulating firebricks (IFBs) are soft, light-weight materials made of alumina (37%), silica (61.1%), and ferric oxide (1.6%). IFBs have low thermal conductivity and are specially designed for heat containment applications in ceramic and aluminum production. Global demand for insulating firebricks was estimated to be 119.8 kilo tons in 2012 and is expected to grow at a CAGR of 4.8% from 2013 to 2020. Insulating firebricks also offer protection from electrical shock and enable cost reduction through thinner furnace linings compared to other insulation materials. Global market revenues for calcium silicate HTI materials were estimated to be USD 323.7 million in 20120 is are expected to reach USD 537.4 million by 2020.
Application Insights
Key application segments for HTI analyzed and reported in this study include petrochemicals, ceramics, glass, cement, steel, refractory, metallurgy and aluminum industries. Petrochemical industry was the largest application segment for HTI materials, accounting for 33.8% of global volume demand in 2012. The global petrochemicals industry was estimated to be over USD 3 trillion in 2013. With average petrochemical prices rising by over 3.5% in 2013, the need to conserve energy to reduce cost is expected to drive HTI demand for these applications over the next six years.
Ceramic material manufacturing requires heat treatment in kilns; where temperatures can reach up to 12000 C. Key HTI products used in the industry include ceramic fibers for refractory or ceramic kilns and low-mass kiln car applications, where they minimize any possibility of heat loss through kiln walls and ensure the safety of operation. Global HTI market revenues from the ceramic industry were estimated to be USD 345.1 million in 2012. On an average, 5 to 6 kilos of HTI products are required for the production of 1 metric ton of powder metallurgy products including automotive and aerospace engine parts, bearings, gears, filters, pump parts, cutting tools, magnets, biomedical implants, and wear parts. HTI enables efficient temperature control while ensuring minimal impurities, HTI product demand for powder metallurgy applications is expected to reach 27.2 kilo tons by 2020. HTI product demand for aluminum and refractory industries is expected to grow at a CAGR of 5% and 5.6% from 2013 to 2020 respectively.
Regional Insights
Asia Pacific is the largest consumer of high temperature insulation products, accounting for over 48% of global volumes in 2013. However, in terms of revenue, the region accounted for only 21% of the global market, owing to the significant price difference with the U.S. and European markets. Asia Pacific HTI material costs are expected to remain low due to relatively low energy cost and cost of raw materials such as alumina, silica, calcium, and magnesium. Asia Pacific ceramic fiber market revenue was estimated to be USD 376.3 million in 2012 and is expected to grow at a CAGR of 9.4% from 2013 to 2020. Petrochemicals and ceramics were the most dominant application segments in the Asia Pacific HTI market, accounting for 46% of total regional HTI volume in 2012.
North America and Europe offer significant opportunities for HTI market participants, on account of favorable regulatory scenario and incentives offered for energy conservation and sustainability. European demand for HTI products is expected to reach 157.9 kilo tons by 2020. Although there are over 100 companies catering to the European market, much of the regional demand is still met by Chinese suppliers due to competitive prices offered by them. North America HTI market revenue was estimated to be USD 953.7 million in 2012, with U.S. being the dominant regional market, accounting for over 80% of the total demand.
Competitive Insights
The global high temperature insulation market is fairly concentrated, with the top four market participants accounting for 46% of the global demand in 2012. Key companies include Thermal Ceramics, Unifrax, Pyrotek, Zircar, Isolite, Skamol, and Promat. There are a number of regional participants across the industry, especially in China, which has resulted in intense price sensitivity. Companies are looking at long term agreements and collaborations to counter this threat and sustain market share.