Industry Insights
Global ceramics market was USD 157.70 billion in 2014. The industry is expected to witness significant growth over the forecast period owing to their widespread use in the construction and medical sectors. Growing construction and rising government spending on infrastructural development are expected to have a positive impact on the industry over the forecast period.
These materials fulfill demanding hygiene specifications of chemical and mechanical resistance required in bathrooms. Growth in the sanitary ware sector will augment product need over the forecast period. However, rising energy and raw material prices are expected to restrain growth over the next seven years.
U.S. ceramics market by end-use, 2012-2022, (Million Tons)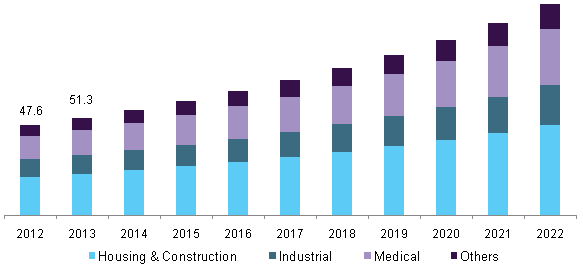 Durability is one of the key advantages of these products as they require very little maintenance, have high resistance to environmental conditions, and are extremely cost-effective. Growing consumption in various end-use industries will have a positive impact on market growth over the forecast period.
Application growth in refractories and disk brakes is expected to restrict raw material availability for product manufacturing, which is expected to impact negatively growth over the forecast period. Rising demand for substitutes such as glass and wood is expected to challenge growth over the next seven years.
The industry is governed by strict regulations for its use in construction, medical, food & beverage, and automobile industry. Additionally, various agencies including the U.S. Clean Water Act monitor mining operations under the CWA Section 402 and 404 on account of harmful environmental effects. Regulatory pressure aimed at reducing carbon emissions is expected to affect adversely growth over the next seven years.
Technological innovations aimed at the development of cost-effective manufacturing processes by companies are expected to remain a critical success factor over the forecast period. In September 2014, KaMin LLC announced the release of a new clay product for the flexographic ink market.
End-use Insights
Ceramics demand in the housing & construction sector was the largest in 2014 accounting for 40% of the global market. Rising government expenditure on infrastructural development in various regions will fuel need over the forecast period. Product demand in the industrial sector was over 55.0 million tons in 2014.
In the chemical and petrochemical sector, these products are employed in the manufacturing of thermocouple protection tubes, pumping components and rotary seals, while in the coatings sector, ceramics are used on engine components, cutting tools, industrial wear parts, biomedical implants, anti-reflection, optical, self-cleaning coatings for building materials. Growth in the industrial sector will have a positive impact on the overall market over the next seven years.
Product Insights
Traditional ceramics was the largest product segment in 2014 accounting for over 60.0% of the global industry. Rising construction, particularly in developing regions including Africa and the Middle East coupled with enhanced product properties, is expected to propel need over the next seven years.
Application Insights
The sanitary ware application was valued at over USD 12.00 billion in 2014. Increasing population and rapidly evolving standard of living will drive the need for sanitary ware. Product demand is expected to be high in consumer sectors such as hospitals, hotels, educational institutes, industries, housing and other public places. Innovations in the production, as well as changing consumer preferences, are also expected to drive this industry over the next seven years.
Regional Insights
Asia Pacific is expected to be the fastest growing market with high need from the construction sector. South Korea is expected to show high growth in construction industry owing to private and public investments in commercial, industrial and infrastructure projects. This, in turn, will have a positive impact on the industry over the next seven years
North America and Europe were the largest markets in terms of volume accounting for above 55.0% share. Increasing need for environment-friendly products in Europe coupled with rising application scope is expected to open new avenues over the forecast period.
Competitive Insights
The industry is fragmented with several large companies dominating the market. Key players include ABK Group, CARBO Ceramics, Cemex, Ceramiche Caesar, Ceradyne, Coop. Ceramica Imola group, Industrie Ceramiche Piemme, and Serenissima cir ind. Ceramiche group.
These companies focus on R&D for the production of innovative environment-friendly products to comply with stringent regulations in developed regions. In October 2012, Morgan Advanced Materials developed a new membrane for water purification and filtration for use in industrial wastewater treatment processes.