Industry Insights
Global industrial adhesives market size was 9,400.0 kilo tons in 2014. Industrial adhesives are increasingly replacing conventional fasteners in packaging, construction and automotive industries owing to superior product characteristics.
Acrylic, epoxy, EVA, PVA and other industrial adhesives are largely used in numerous bonding solutions on account of flexibility, better adhesion joints and lesser cure time among other properties. Rising industrial output and growing disposable consumer income in emerging markets of Asia & South America are expected to drive adhesive applications in consumer goods, construction, and other sectors as well.
Regulatory policies play an essential role in the development of the global industry. Federal and governmental agencies such as the U.S. FDA, NHSTA, CARB and SEPA constantly evolve, formulate and establish environmental policies associated with the adhesive application.
Adhesives are increasingly being used to substitute metal fasteners in automobiles to reduce overall car weight by around 15%, leading to carbon emissions reduction as well. Agencies such as FEICA (Association of European Adhesive and Sealant Industry) have also stated reduction of energy consumption during the use phase by around 14.2 gigajoules.
Increasing R&D investments by major industry participants such as A.Schulman are also expected to improve overall production processed by initiating strategic plans to reduce costs and promote fuel savings by utilizing adhesives in automobiles.
The global industry is characterized by unstable raw material prices and supply coupled with stringent governmental regulations regarding environmental degradation. Political turmoil in Middle Eastern countries regarding crude oil production is further expected to affect supply and pricing dynamics over the forecast period.
U.S. Industrial Adhesives Market Revenue By Product, 2012-2022, (USD Million)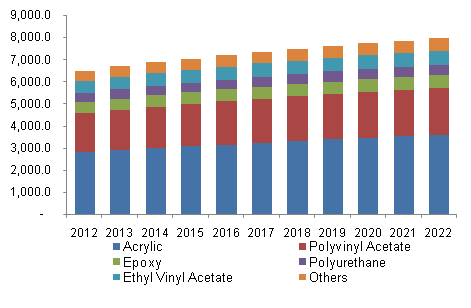 Increasing demand for high-speed assembly and manufacturing processes is further expected to complement the market. Development of bio-based adhesives is anticipated to meet increasing environmental concerns and boost market demand.
Product Insights
On the basis of product, industrial adhesives market has been segmented into acrylic, polyvinyl acetate, epoxy, polyurethane, and ethyl vinyl acetate. Acrylic adhesives were the leading segment and are expected to continue dominating the market over the forecast period.
Acrylic adhesives bond together differing materials such as plastics and metals, improve aesthetics, and ensure a secure bond between oily or contaminated surfaces. The segment generated revenue of USD 3,821.7 million in 2014 and is anticipated to grow at 4.7% CAGR from 2015 to 2022.
Increasing governmental support to boost construction spending in Asia Pacific and MEA is likely to increase acrylic adhesives consumption over the forecast period. The product is also expected to benefit from growing demand in other end-use industries such as automotive, medical and high-speed product assembly.
Application Insights
On the basis of application, global industrial adhesives industry has been segmented into automotive, construction, packaging, electronics and electrical, energy & utilities, medical devices, industrial machinery and others.
Packaging was the leading application segment with revenue estimated at USD 12,999.0 million in 2014. Increasing demand for frozen foods, flexible packaging and expanding food & beverage industries is likely to foster segment growth. The segment is anticipated to grow at estimated 4.4% CAGR from 2015 to 2022.
Automotive is expected to emerge as the fastest growing segment on account of increasing investment by major companies in countries such as China, India, Vietnam and Thailand that posses favorable market conditions such as inexpensive labor and governmental incentives. The segment accounted for around 12% of total market volume in 2014 and is likely to grow at 4.4% CAGR over the forecast period.
Regional Insights
Regional markets analyzed in the report include North America, Asia Pacific, Europe, Central and South America and the Middle East. Asia Pacific generated revenue of USD 18,457.1 in 2014 and is likely to continue dominating the global market over the forecast period. Increasing construction spending and economic growth in China, Indonesia, India, and Malaysia is expected to drive regional demand over the forecast period.
Development of bio-based alternatives is further likely to boost demand in North America and Europe. Government and environmental agencies are constantly making efforts to support the development of adhesives for bio-based sources.
Competitive Insights
The global industrial adhesives market share was dominated by integrated companies providing feedstock, adhesive products and supplying them to end-user industries such as OEMs, automotive, construction, electronics & electrical and packaging among others. The market has numerous industrial adhesive manufacturers who dominate a majority of the market.
Key multinational companies include Henkel AG & Co., Cytec Industries Inc., Hitachi Chemical Co., Mitsubishi Chemicals, The Dow Chemical Company, Covestro, Lord Corporation, Bayer Material Science and Avery Denison Corp among several others. Innovative product development, technological advancements, and resource optimization are crucial for industry participants to gain higher share.