Industry Insights
The Latin America low voltage cables market size was estimated at USD 5.65 billion in 2014. Technological proliferation and rapid industrialization are expected to drive industry growth over the forecast period. Increasing investments in various projects in construction, infrastructure, oil & gas and power sectors are anticipated to have a positive impact over the regional demand for such distribution and utility products.
Brazil low voltage cables market share by application, 2012-2022, (USD Million)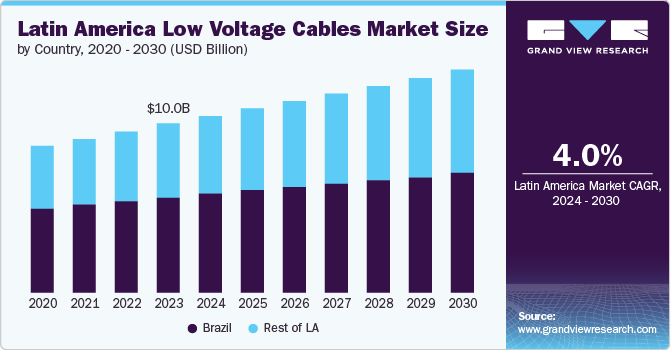 Low voltage power cables, wires and cords of capacities from 0.6kV to 1kV are used in most of the electrical projects such as low voltage side of distribution transformers, buildings, networks, control boards of motors and diesel generators, telecommunication and DC and AC power systems.
Rapid advancements in telecommunications and core electronic technologies are expected to diversify the application areas for the regional cables industry. Manufacturers are increasingly investing in R&D activities to develop environmentally safe and customized solutions for their clientele in the Latin American region.
The purchasing power of end users expected to increase, which has led to the rise in demand for good quality cabling and wiring. This is expected to further boost the overall demand for such wiring products in the region.
Electrical & electronic products manufactured in the region need to have a mandatory S-Mark & TUV Rheinland Inmetro certification that indicates compliance with safety standards for wiring product types. It specifies conformity towards the safety standards for obligatory wiring product categories such as power cords, plugs, outlet sockets and other electrical wiring devices.
Application Insights
These products are used in buildings, distribution and specialty segments. The distribution segment is expected to account for over 45% of the regional industry during the next seven years. The laying of the ambitious Central American Electrical Interconnection System (SIEPAC) is planned for the interconnection of six Central American nations. The SIEPAC system is expected to increase the electricity production capacities in these nations, thereby providing an increased 300 megawatts of electricity for usage.
The increased electricity production in these regions is expected to foster new opportunities for industrialization, thereby fuelling the industry growth in the regional market. Low voltage power cables market finds application in conventional electrical power supply to assembly of any gadget. Single core and multi core products are used in several electronic gadgets based on individual power requirements.
The specialty segment is comprised of gadgets starting from the industrial robots to normal music players introduced in the South American market. Thus the scope of demand is expected to grow with the introduction of further technical advancement.
Regional Insights
Brazil accounted for over 40% of the total regional market in 2014 by revenue owing to the increasing construction and infrastructure activities in the region.
Increasing emphasis on urbanization in Brazil owing to increased purchasing power is the major factor driving demand over the forecast period. Growing safety regulations related to the electrical distribution and utility products in the Latin American region is expected to support the industry.
However, rising prices of aluminum and copper, the two major raw materials, are constantly fluctuating and are a major restraining factor for regional low voltage cables industry growth.
Market Share Insights
Major players in the low voltage cables market are focusing on product differentiation through the addition of innovative products range. Vendors such as General Cable have introduced a range of low-smoke, halogen-free cables in the regional market, thus increasing its safety standards.
Prysmian Group has introduced an innovative polymeric mechanical cable protection system, designed to absorb impacts resulting in the reduction of permanent damage risk to the underground and submarine cable layers. Major industry participants include ABB Ltd, General Cable, Nexans, Prysmian, Remee Products, Southwire, and The Siemon Company.