Industry Insights
Global linear alkyl benzene market was 3,579.1 kilo tons in 2013. Positive outlook on household and industrial cleaners are expected to remain critical for LAB demand growth over the next six years. Increasing consumer spending is also expected to have a positive influence on the demand.
LAB demand is directly linked with the FMCG industry as most (over 95%) of LAB produced is used for the production of Linear Alkylbenzene Sulfonate (LAS), which is further used for producing a variety of detergent powders and liquid detergents in consumer household space. The increase in disposable incomes and economic growth have led to increase in consumer spending globally.
Exponentially increasing population growth in various industrial sectors has triggered demand for cleaners used for various household and industrial purposes. LAS is a key derivative of LAB and is amongst the primary raw material used in the production of these cleaners. The demand for these cleaners is amongst the primary drivers for the industry growth.
Growth in the construction industry is another factor contributing to the product demand which has led to an increase in demand for glass cleaners, rug cleaners, metal cleaners and other industrial cleaners, and home cleaners. This is due to rise in income levels and improvement of the standard of living of the vast and growing population, particularly in China and India.
North America linear alkyl benzene (LAB) market volume by application, 2012 - 2020 (Kilo Tons)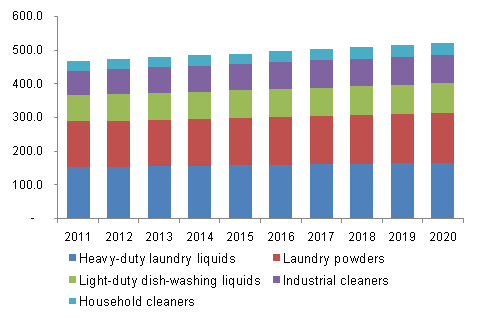 Kerosene, a derivative of crude oil is extensively used in the production of LAB. The volatile price of crude oil in the international market is a major restraint to this industry. It is difficult to sustain a price level in the event of frequent fluctuations in the price of raw material, as costing fluctuates proportionately. Hence, there lingers a threat of losing market share to other surfactants.
Application Insights
On the basis of applications, linear alkyl benzene may be segmented into linear alkylbenzene sulfonate (LAS) and others. It accounted for over 98% of the total demand in 2013. LAS is expected to grow on account of its vast application scope in the household and industrial applications. It is majorly used for manufacturing of surfactants and growing demand for surfactants in emerging economies such as China and India. This is expected to drive market growth over the next six years.
The global LAS market can further be segmented into heavy-duty laundry liquid, laundry powder, light-duty dish-washing liquid, industrial cleaners, and household cleaners. Heavy duty laundry liquids dominated the global LAS market and accounted for over 32.7% of the total demand in 2013.
LAS is majorly used for the production of heavy-duty laundry liquids on account of the shift in focus towards non-phosphate base heavy-duty laundry liquids used in household and industrial applications by detergent manufacturers. Low cost and biodegradable nature, when compared to phosphate base laundry liquids is expected to augment heavy-duty laundry liquids' consumption over the forecast period.
Heavy-duty laundry liquid segment was followed by industrial cleaners segment. Household cleaner segment is expected to be the fastest growing application segment over the forecast period. Growing demand for end-use household durables coupled with growing urban population in emerging economies of China and India with growing concern towards hygiene is expected to enhance product consumption over the forecast period
Regional Insights
Asia Pacific linear alkyl benzene market accounted for 46% of total volume in 2013. APAC is expected to be the fastest growing market on account of growing infrastructural development in developing countries such as China and India coupled with increasing use of household durables.
In addition, the growing concerns towards cleanliness and hygiene in urban households and industrial applications are expected to augment further the growth for LAB over the forecast period. North America and Europe are expected to witness declining share from 2014 to 2020.
Competitive Insights
The global linear alkyl benzene market is characterized by the presence of a large number of regional manufacturers. The market is still not consolidated, and major players had a share of nearly 50% in 2013. CEPSA Quimica emerged as the leading company in 2013. The company acquired 72% of the Brazilian company DETEN, thus becoming its majority shareholder increasing its share.
The global LAB industry exhibits characteristics of an oligopolistic nature, where major players do not dominate the industry and barriers for new entrants are high owing to raw material procurement issues. The companies are focused on mergers and acquisitions for expansion and penetration. PETRESA, a wholly owned subsidiary of CEPSA acquired DETEN to strengthen its foothold in Brazil. Sasol, CEPSA Quimica S.A., Unggul Indah Cahaya, Chevron Phillips Chemical, Reliance Aromatics and Petrochemicals Pvt. Ltd., Deten Quimica, Jintung Petrochemical, Fushun Petrochemicals, ISU Chemical, Honeywell, and Huntsman Corporation are amongst the major players in the industry.