Industry Insights
The global maleic anhydride market size was USD 2.30 billion in 2015. Increasing demand as a platform chemical for manufacturing a wide variety of chemicals including copolymers, 1,4-butanediol (BDO) and unsaturated polyester resins (UPR) is expected to remain the key factor driving the market growth. An upturn in the lubricant industry in recent times is also projected to mirror the product demand. Increasing product consumption in the automotive industry, primarily in China and India, is anticipated to boost the market growth.
Increasing maleic anhydride usage in manufacturing fuel oil and lubricant additives is anticipated to drive industry growth over the next eight years. Benzene and n-Butane are the principal raw materials used for manufacturing the intermediate using transport bed, fluidized bed, fixed bed, and recovery from phthalic anhydride technologies. Benzene has been replaced by n-butane as the key raw material for MAN manufacturing process over the past decade to minimize the effect of volatile crude oil prices in the overall profitability.
U.S. maleic anhydride market volume by application, 2014 - 2024 (Kilo Tons)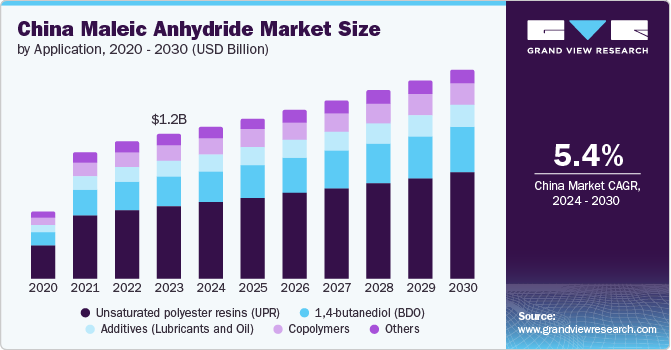 Global maleic anhydride average prices were relatively stable over last five years owing to steady supply and demand regime and its spot prices across regions are likely to continue the downtrend on account of fall in crude oil prices along with softening of alternate feedstock (butane) prices in 2014 to 2015.
A significant surge in construction spending and improving infrastructure mainly in the BRICS economies is anticipated to raise copolymer and UPR demand over the next eight years. This is anticipated to drive market growth in near future. Substitution of synthetic intermediates by various bio-based feedstock for manufacturing copolymer and BDO is projected to be a major threat to the industry growth over the forecast period.
Application Insights
Unsaturated polyester resin (UPR) was the largest application segment and accounted for 50.5% of the total demand in 2015. Growing end-use industries such as building & construction and automotive particularly in emerging economies of Asia Pacific and Latin America is anticipated to drive the product demand in the segment over the forecast period. UPR was followed by 1,4 BDO, which accounted for over 17% of total demand in 2015.
The U.S. maleic anhydride demand in BDO was 7.4 kilo tons in 2015 and is expected to witness the fastest growth over the next few years owing to surging demand from polyurethane and tetrahydrofuran (THF) producers. BDO has been successfully investigated to produce methyl ethyl ketone (MEK) and 1,3 butadiene.
This is anticipated to encourage the players to focus more on BDO production. The aforementioned factors are anticipated to increase MAN demand in the BDO application segment over the forecast period.
Growing environment concerns towards toxic emissions have encouraged regulatory agencies to mandate legislations such as "The Clean Diesel Program" in the U.S. Such mandates have further prompted oil marketers to blend specialty fuel additives in transportation fuel. Increasing requirement for specialty additives is projected to raise maleic anhydride demand over the forecast period.
Regional Insights
Asia Pacific maleic anhydride market led the global industry and accounted for 57.6% of total demand in 2015. Growing automotive industry coupled with increasing construction spending particularly in India, China, and Indonesia is anticipated to drive the market growth in this region over the forecast period. Asia Pacific is anticipated to witness the fastest growth over the forecast period owing to rapid commercialization of lubricant additives and improving infrastructure primarily in South East regions of Indonesia and Thailand.
Europe maleic anhydride market is estimated to reach net worth exceeding USD 650 million by 2024. Growing UPR demand in construction utilities coupled with technological advancements in lubricant additives industry is expected to fuel product demand in the region. The European maleic anhydride industry is projected to observe sluggish growth owing to reduced construction spending in key economies and strict regulatory scenario for manufacturing synthetic polymers.
Increasing trade activities in the region owing to the recovery of certain economies of Eastern Europe such as Turkey, Poland, Russia, Hungary and the Czech Republic is expected to drive the marine industry in the region. This, in turn, is expected to drive MAN demand over the next eight years.
The Middle East & Africa and North America markets are anticipated to observe average growth owing to slow development in the downstream industries within the regions. Central and South America is anticipated to witness significant growth on account of shifting manufacturing bases of various U.S. and European companies in Brazil and Argentina. Capacity expansions of existing UPR and BDO manufacturing facilities in the region are expected to have a positive impact on market growth over the next eight years. 
Competitive Insights
The global maleic anhydride market is highly fragmented with top five companies including Huntsman, Polynt, Yabang Jiangsu, Tianjin Bohai and Qiaoyou Shanxi, accounted for just over 30% of the total revenue in 2015. Huntsman was the largest manufacturer and accounted for over 9% of the total revenue in 2015.
Yabang Jiangsu is the leading manufacturer in Asia Pacific and accounted for over 7% of the global market in 2015. The company has regularly been involved in technological advancements and product development to improve the yield of maleic anhydride. Other companies operating in the industry include Flint Hills Resources, Polynt SpA, Lanxess AG, Ashland Chemical Co, Nippon Shokubai Co Ltd and Royal DSM N.V.