Industry Insights
The global aesthetic medicine market size was valued at USD 5.9 billion in 2014. The past decade has been instrumental in ensuring rapid growth in demand. The introduction of technically advanced products enabling minimally invasive surgeries is identified as the most influential growth driver.
Moreover, rise in disposable income has boosted the demand for cosmetic surgeries, thereby accelerating market growth. On the other hand, side effects associated with aesthetic procedures continue to negatively impact the consumer preference index.
Global Aesthetic Medicine Market, By Product, 2012 - 2022 (USD Billion)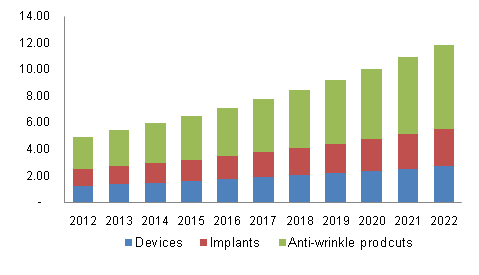 Growth in population between the age of 30 to 65 years is widening the target consumer base as signs of aging such as wrinkles, lack of skin elasticity, and dark spots appear prominently in these years. For instance, according to the CIA World Fact Book, around 41.7% of the total German population was aged between 25 to 54 years and around 13.6% of the population was aged between 55 to 65 years in 2014. The presence of a higher percentage of population having aging signs, the demand for aesthetic medicine is likely to experience rapid growth.
Segment Insights
Based on products, the market is segmented into energy based devices, implants, and anti-wrinkle products. Anti-wrinkle products dominated the overall market with a revenue share of around 50% in 2014. Factors such as wide awareness regarding availability of these products, minimally invasive procedures, and affordable costs are leading to a spur in demand for these products globally.
The anti-wrinkle products segment is expected to exhibit significant growth during the forecast period owing to wide availability of these products, instant and persistent results, and declining costs. The aesthetic laser segment accounted for the largest market share among the other energy based devices.
High cost of these products coupled with wide application areas including laser resurfacing, hair removal, and others resulted in it being the largest revenue generating segment in 2014. On the other hand, microdermabrasion segment is expected to experience the lowest growth during the forecast period owing to lesser effectiveness and risk of skin sensitivity, bruising, or permanent discoloration.
End-use Insights
Commercially available products are commonly used in aesthetic clinics and home settings. Aesthetic clinics segment led the overall market in terms of revenue in 2014. High cost associated with the professional devices, stringent regulatory guidelines for use, and the requirement of skilled professionals are some factors attributing to the segment's large market share.
Most commonly, invasive procedures are performed in aesthetic clinics and beauty centers. Cost associated with surgical procedures is higher than non-surgical procedures as skilled professionals, costly equipment, and hospital stay (in some cases) are required. According to the international survey on cosmetics performed by the International Society of Aesthetic Plastic Surgery (ISAPS), worldwide 9,645,395 surgical procedures and 10,591,506 non-surgical procedures were performed in 2014.
On account of the large number of surgical procedures performed, the demand for aesthetic medicine is the largest in professional clinics. Moreover, products used in clinical settings are costlier than products used in home settings. As a result, aesthetic clinic segment is expected to show significant growth of 9.1% during the forecast period.
Regional Insights
Presently, Asia Pacific is leading the global market owing to a large number of surgical procedures performed in South Korea, Japan, and China each year. Availability of skilled professionals, advanced techniques, and cheaper treatment costs are attracting customers around the world to Asia Pacific. As a result, Asia Pacific accounted for the largest market share of around 32.5% in 2014.
China and India have the largest population pool aged between 30 to 65 years. Moreover, rising disposable income coupled with presence of a large pool of working population is generating demand for aesthetic procedures in these countries. As a result, Asia Pacific is expected to show significant growth in the near future.
Competitive Insights
The market for aesthetic medicine is highly fragmented with many local players competing with international players. However, strict regulatory approval process is challenging the entry of new products into the market. Some of the key players contributing to the global market include Allergan, Inc., Alma Laser, Cynosure, Galderma S.A., Lumenis, Johnson and Johnson, Solta Medical, Inc., Syneron Medical Ltd., etc.