Industry Insights
Global medical laser systems market size was valued at USD 4.9 billion in 2014. Increasing demand for noninvasive cosmetic surgeries, growing awareness about the safety of these procedures, and technological advancements in the process are expected to drive growth over the forecast period.
Furthermore, rising incidences of eye related disorders, growing demand for aesthetic appeal, along with rising application in gynecology, is anticipated to propel the growth of this industry over the next seven years. However, the risks associated with these procedures such as infection, scarring, bleeding, and change in skin color are expected to act as constraints, impeding the growth rate.
North America medical laser systems market, by product, 2012-2022, (USD Million)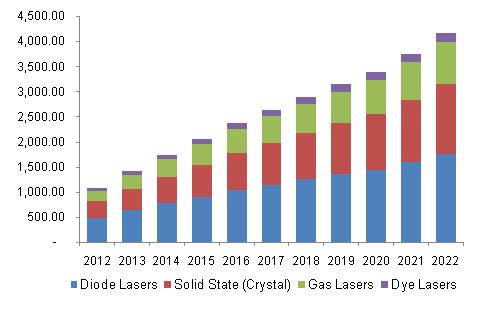 As per American Society for Aesthetic Plastic Surgery (ASAPS), the American population spends more than USD 13 billion on aesthetic treatments such as body contouring, acne prevention, dermal resurfacing and others. This is anticipated to further drive the demand for these procedures over the forecast period.
Product Insights
Key product segments of the medical laser systems market are a diode, solid state, gas, and dye lasers. The diode segment held the largest share in 2014 and is expected to grow at a lucrative growth rate, owing to its varied application in aesthetic procedures and photodynamic treatment.
The solid state segment is anticipated to grow at the fastest rate of over 12.0% CAGR during the forecast period due to high usage in the field of dermatology. The segment is further classified into CO2, Argon, Krypton, metal vapor, Helium Neon, and excimer and is widely applied in periodontology, tattoo removal, skin treatment, and vein removal treatment.
Applications Insights
The medical laser systems market, on the basis of the application, is segmented into ophthalmology, gynecology, dermatology, urology, dentistry, cardiology and others. Dermatology dominates the application segment owing to increasing demand for aesthetics.
Rising patient awareness levels and booming adoption rates of minimal and noninvasive treatment along with growing demand for aesthetic procedures such as skin tightening, skin rejuvenation, and contouring are expected to act as high impact rendering drivers. Furthermore, growing prevalence of skin cancer and other skin disorders such as acne, dermatitis, psoriasis along with skin warts, moles, and lesions especially in emerging economies is expected to serve the medical lasers market with future growth opportunities.
Application of these products in gynecology field especially for cervical erosions, and in the field of infertility offers unique properties which are anticipated to propel the growth over the forecast period. Along with this, the system also finds wide applicability in intra-abdominal gynecological surgeries, which is further expected to drive the demand.
Lucrative growth in ophthalmology segment is anticipated over the next seven years due to the rapid replacement of non-laser instruments such as blades in cataract, refractive, and other surgical procedures.
Regional Insights
North America was the largest regional medical laser systems market in 2014 with revenue share valued at over 35%. Rising adoption of cosmetic lift-ups and increasing demand for aesthetic surgeries along with high disposal income and increasing healthcare spending by patients are the factors responsible for the growth. Technical advancement and higher R&D investments within the region are expected fuel the growth over the forecast period as well.
However, the plausible existence of untapped growth opportunities in the Asia-Pacific countries is likely to drive future growth. Strategic expansion of key players into this region due to lower labor and manufacturing cost and faster adaptability of technological advances is likely to assist the Asia Pacific medical lasers market register the fastest growth over the next seven years.
Competitive Market Share Insights
Key players of the medical laser systems market include Photomedex Inc, Lumenis Ltd, Biolase Inc, Spectranetics Corporation, and IRIDEX Corporation. The players are actively involved in various strategic collaborations such as mergers and acquisitions in order to ensure long-term growth and sustainability. Technological advancements such as adoption of pulsed laser for aesthetic appeal and new product launch with wide applicability are further expected to drive the demand.
For instance, Palomar Medical Technologies received U.S. FDA approval in 2010, for launching a diode semiconductor based device that can be sold over the counter for the purpose of wrinkle removal. In December 2014, BIOLASE launched EPIC X diode laser for application in dentistry to promote faster treatment without comprising on quality and efficiency.