Industry Insights
The global mHealth market size was valued at USD 4.75 billion in 2014 and is expected to witness substantial gains throughout the forecast period. Change in consumer preferences on account of increasing consumption and demand for data services are expected to foster market growth. Furthermore, rising aging population coupled with changing lifestyle is expected to result in increasing the prevalence of diseases.
mHealth uses wireless and mobile technologies to generate data on an individual's biology, physiology, as well as the daily environment. Increasing incidences of chronic diseases such as heart ailments, diabetes, and cancer is expected to boost demand. 3G & 4G LTE networks enable services such as video calling & high-speed data transfer which further helps in the fast delivery of telemedicine services.
U.S. mHealth market by service (USD Million), 2012 - 2020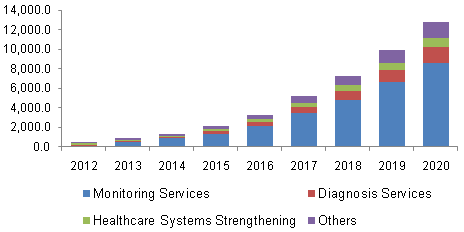 Mobile health technologies include two-way as well as one-way data applications. The two-way model depends on data access programs, such as client record access and remote monitoring. One-way data application includes the flow of information from healthcare practitioner or physician to patients through educative methodology & SMS.
Security concerns along with the need to uphold a secure infrastructure for privacy and data safety are expected to inhibit the mobile health market growth over the forecast period. Availability, as well as affordability of healthcare services owing to the rising healthcare expenditures, is expected to pose a challenge to mHealth industry growth. This further results in high degree of pressure on insurance companies, governments, as well as individuals.
Service Insights
mHealth market services include diagnosis services, healthcare systems strengthening, monitoring services, and other services Other services particularly, consist of prevention and wellness, and are also focused on drug abuse prevention, elderly care, child care, healthy living, and smoking de-addiction.
Healthcare systems strengthening consist of services such as healthcare practitioners support, emergency response, and healthcare surveillance & administration. Monitoring services can further be segmented into post-acute care services, chronic disease management, independent aging solutions and devices such as body trackers which are monitor vital signs.
Monitoring services accounted for over 60% of the overall demand in 2013. Diagnosis services enable healthcare professionals to connect with patients distantly, thereby offering a diagnosis of ailments as well as other health related issues. Additionally, mobile telemedicine is helpful in emerging countries through video calls with healthcare professionals and rural health centers.Diagnosis services consist of mobile telemedicine services and IVR-based services or call center services.
Regulatory support is anticipated to drive the use of the aforementioned services demand over the forecast period which also includes ensuring certification of devices along with establishing interoperability and standardization.
Participants Insights
Participants can be segregated into device vendors, healthcare providers, content players, and Mobile Network Operators (MNOs). For instance, healthcare patients and professionals place importance on patient monitoring as well as rapid diagnosis.
MNOs are engaged in providing provide 3G & 4G mobile broadband network coverage. The vertical contributed to over 45% of the overall revenue in 2013. Device vendors offer tools for transmitting the captured information over mobile networks and also for gathering vital metrics of the user.
Furthermore, varied mHealth apps employ health sensors which help in tracking glucose level, heart rate, and blood pressure. The sensors are connected to an app through Bluetooth and Wi-Fi. On account of favorable regulatory back up which includes the formation of policies & incentives to the private participants, granting of funds, the abovementioned segments are anticipated to witness considerable growth.
Regional Insights
North America mHealth market accounted for over 30% of global share in 2013. There are a significant number of pilot and live mobile health projects in Canada and the U.S., which is anticipated to benefit the North Increasing number of wellness and health apps along with growing smartphone adoption is also expected to favorably impact growth in Europe.
Increasing rural population along with low penetration of medical practitioners in Asia-Pacific region is anticipated to open avenues for revenue generation. Furthermore, opportunities also differ in varied regions; with higher spending per user in developed countries of Australia, Japan, Singapore, and South Korea. Additionally, lack of effective healthcare delivery infrastructure coupled with the scarcity of trained professionals poses a challenge to the market growth in the emerging regions.
Competitive Insights
Vodafone, AT&T, Allscripts Healthcare Solutions, Apple, Inc., mQure, Qualcomm Inc., and Samsung Electronics Corporation dominate the global mHealth market. R&D spending has seen a surge in a bid strengthen the competitiveness of core businesses and further develop advanced innovation. For instance, Allscripts Inc. is a provider of innovative solutions such as Electronic Medical Records which empowers the stakeholders across the healthcare band for delivering varied favorable outcomes.