Industry Insights
Global natural antioxidants market is anticipated to grow on account of its increasing demand in food & beverages, cosmetics, pharmaceutical and animal feed. Rising demand for fortified food & beverages owing to a growing trend towards a healthy lifestyle is anticipated to drive natural antioxidants market growth over the forecast period. In addition, increasing use of natural antioxidants including vitamin C, vitamin E and polyphenols in cosmetics owing to their benefits on the post skin application is expected to propel market growth.
Global natural antioxidants market, by product, 2012 - 2022 (Kilo Tons)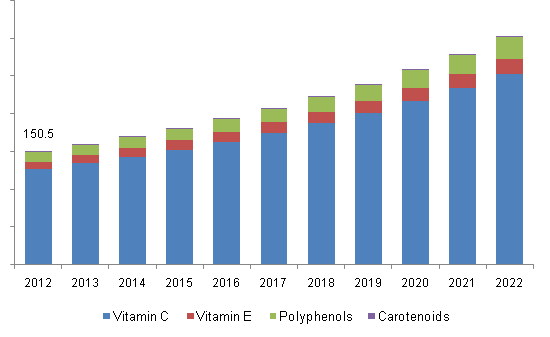 Moreover, increasing demand for these antioxidants for manufacturing quality animal feed to promote cattle growth and reduce the occurrences of diseases is likely to stimulate market growth. At present, vitamin C, vitamin E, carotenoids, and polyphenols are extensively used in manufacturing pharmaceutical supplements. Expansion of the healthcare industry on account of rising consumer spending on basic medical check-ups coupled with increasing focus of governments to provide its population with basic healthcare facilities is likely to fuel market growth over the next seven years. However, abundant availability of synthetic antioxidants including BHA, BHT, propyl gallates and EDTA is expected to restrain market growth for natural antioxidants over the projected period. Increasing demand for natural antioxidants in niche applications including coloring agents is expected to open new opportunities for the market in the projected period.
Product insights
Natural antioxidants are abundantly found in a wide of natural sources including plants, fruits, meats, herbs, and spices. Vitamin C dominated the natural antioxidants market in 2014 as it is widely used in pharmaceutical, food, beverages and feed applications. In addition, non-toxicity of vitamin C has resulted in its widespread use as pharmaceutical supplements. Vitamin E was predominantly used in animal feed application. Growing demand for animal feed on account of increasing consumption of dairy products and meat products on a global scale is expected to augment vitamin E market growth over the forecast period. Rising demand for functional food & beverages is expected to be the primary driver for augmenting polyphenol demand over the next seven years. Carotenoids were extensively used as an additive in manufacturing animal feed to impart coloration. However, the high price of carotenoids is expected to hamper adversely market demand.
Application Insights
Each type of antioxidant is used for different applications, as the functions performed by the products vary. For instance, vitamin C is extensively used in small doses in manufacturing pharmaceuticals as it reduces the risk of cancer, occurrences of cardiovascular disease and is used in the treatment of common cold. Pharmaceuticals are likely to remain the largest application segment of vitamin C over the forecast period. However, food is anticipated to be the fastest growing segment of the market owing to increasing demand for foods with natural additives.
Vitamin E was extensively used as an additive in manufacturing animal feed as the antioxidant cannot be naturally synthesized by pigs and poultry. Thus, vitamin C is used extensively across feeds to promote animal growth.
Regional Insights
Demand for natural antioxidants was highest in Asia Pacific in 2014, closely followed by North America. In addition, Asia Pacific is expected to witness the fastest growth in the global market owing to the presence of robust manufacturing bases for foods, beverages, and feed. In addition, China was the largest producer and consumer of vitamin C in 2014. Expansion of food and pharmaceutical industries in the region is expected to augment vitamin C market growth over the projected period. Latin America and MEA are expected to witness above average growth within the global natural antioxidants market owing to rising consumer awareness regarding general well-being.
Competitive Insights
Key players present in the global natural antioxidants market include DSM, Archer Daniels Midland, DuPont-Danisco, Prinova, Tianjin Jianfeng Natural Products Co. Ltd (JF Naturals), Indena S.P.A, Naturex and Ajinomoto OmniChem Natural Specialties. The natural antioxidants market is fragmented in nature owing to the presence of a large unorganized sector in Asia Pacific.