Industry Insights
The global natural oil polyols (NOP) market was valued at USD 5.03 billion in 2015. Industry shift towards the development of eco-friendly products is expected to drive the global natural oil polyols market over the forecast period.
Soy oil, castor oil, palm oil, and sunflower oil are major vegetable oil sources used as natural oil polyols feedstock. Improving extraction techniques coupled increasing investments in research & development activities is expected to boost NOP market growth over the coming years.
U.S. natural oil polyols (NOP) market revenue by product, 2014 - 2024 (USD Million)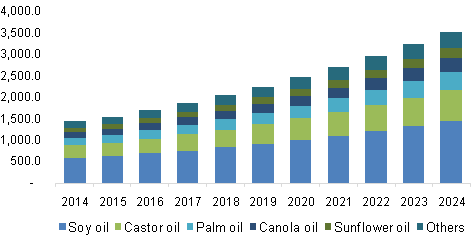 Favorable government initiatives to reduce greenhouse gas (GHG) emissions are projected to have a positive influence on NOP demand over the next seven years. Volatile petroleum price over the past few years is anticipated to boost the demand for NOP over the forecast period.
Asia Pacific is one of the largest vegetable oil producing region in the world, and has a major say in the pricing of these oils. South East Asian countries such as Malaysia, Thailand, and Indonesia commands a major share in the production of these vegetable oils. Increasing R&D spending coupled with the introduction of 100% bio-based NOP are expected to have lucrative opportunities in near future.
Increasing awareness regarding NOP in various industrial applications such as lubricants, additives, and solvents are expected to drive the global market growth over the forecast period. The growth of end-use industries such as construction and automotive in China and India is anticipated to augment the NOP market demand.
Product Insights
Soy oil was the largest product segment of NOPs with a total share of 36.03% of the global demand in 2015. Currently, the majority of commercially available NOPs are soy oil based with highest market penetration. Additionally, soy oil has been gaining popularity in food industry due to low cholesterol content.
Castor oil is one of the most promising natural oil polyols due to the presence of hydroxyl groups in the molecular structure; this makes manufacturing of finished products highly cost efficient and involves the least modification. Castor oil is second most preferred NOP source and is projected to witness the highest growth over the coming years.
Palm oil derived polyols are estimated to register significant growth over the forecast period. Advancements in extraction techniques coupled with increasing acreages of castor and palm particularly in South East Asia is expected to have a positive impact on the supply of natural oils over the forecast period.
Regional Insights
North America NOP market led the global industry and accounted for over 40% of total market volume in 2015. Government initiatives to encourage bio based products consumption in the U.S. and Canada have been an important factor driving NOP consumption in this region. High soy oil production coupled with increasing exports in the U.S. is expected to further complement the market growth over the forecast period.
Asia Pacific is projected to grow at the highest CAGR from 2016 to 2024. Growing construction sector coupled with increasing government regulations to reduce greenhouse gas emissions and encourage sustainable development is expected to drive NOP market growth over the forecast period. Increasing automotive production in Japan, China, India, and Korea is expected to further drive NOP market growth.
Europe is expected to grow at the second-highest CAGR on account of increasing industrialization in Eastern European markets such as Ukraine, Russia, Azerbaijan, and Armenia, which is expected to drive castor oil, based polyols demand for plastic foams such as polyurethane in construction, varnishes, and adhesives.
Competitive Insights
The natural oil polyols market is highly competitive with major companies involved in constant product innovation and research activities to boost their product offerings. Key companies in the industry include Cargill Incorporation, BASF SE, Huntsman Corporation, Jayant Agro Organics Ltd., Dow Chemical Company, BioBased Technologies LLC, IFS Chemicals Group, Emery Oleochemicals, Bayer Material Science AG, and Vertellus Specialties.