Industry Insights
Global bio-based PU market was 1,534.0 tons in 2012. Increasing demand for environmental friendly polymers on account of a strong shift in trend towards reducing dependence on conventional polymers is expected to remain a key driver for the bio-based polyurethane market. Increasing environmental concerns coupled with volatile prices associated with conventional polyurethane has also prompted the adoption of bio-based PU in the global market.
Global bio-based polyurethane (PU) market volume by product, 2012-2020 (Tons)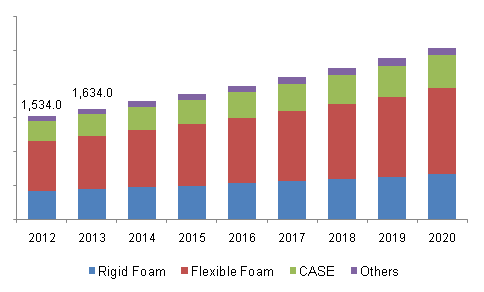 Favorable government policies for manufacturing bio-based products coupled with stringent environmental regulations for manufacturing petrochemicals and synthetic polymers is also expected to have a positive impact on bio-based polyurethane market growth. Commercially bio-based polyurethane may be obtained by reacting bio-based polyols with synthetic diisocyanates. Polyurethane hence obtained has bio content ranging from 30% to 70% depending largely on the type of bio-based feedstock employed for manufacturing polyols. Typically, most of the bio-polyols (either polyether or polyester polyols) are produced from castor oil, soybean oil, sunflower oil and rapeseed oil. Development of 100% bio-based polyurethane may act as a drop-in substitute for most of the applications of synthetic PU derived from petrochemical feedstock. Currently, the market size is very low as compared to other bio-polymers owing to the high price of bio-PU. However, shifting focus of end-use industries towards bio-based materials is anticipated to create immense opportunities for bio-based polyurethane market participants over the forecast period.
Major synthetic PU manufacturers globally are shifting their focus towards utilizing more renewable and environment-friendly materials in their products. These manufacturers are collaborating with biotechnology firms and synergizing their domains for producing bio-based polyurethane. Using bio-based raw materials will not only reduce the carbon footprint but also expected to be economically sustainable and may positively impact the performance and durability of the polyurethanes. Bio-based polyurethane market growth may, however, be restrained by the complex technology and high cost associated with the manufacturing of bio-PU. The end-products hence obtained also require price alteration to sustain in highly price competitive markets. Technological advancements coupled with capacity expansions in emerging economies may support bio-based PU market to cope with the challenges in the near future.
Product Insights
On the basis of products, bio-based polyurethane market may be segmented into rigid foams, flexible foams, and coatings, adhesives, sealants and elastomers (CASE). Rigid and Flexible PU foams together accounted for over 75% of the total demand in 2013. Flexible PU foam dominated the global bio-based PU market demand in 2013. Flexible foams are used in automotive seating, shoe soles, thermal insulations and sports equipment. Increasing demand for green materials for automotive seating and shoes is anticipated to drive demand for flexible PU foams. Rigid PU foams are employed mainly in furniture and automotive front panels and doors. The CASE products may be tailored to be used in various coating solutions for concrete, wood, plastics and also as binders & waterborne urethanes. Current market size of CASE products is small as compared to foams but is estimated to witness significant growth rates over the forecast period.
End-Use Insights
Construction was the largest end-use segment and accounted for just below one-third of total bio-based polyurethane consumption globally. Rising demand for impact-resistant materials made of bio-materials in applications such as insulation panels offers high growth opportunities for bio-based polyurethane market particularly in emerging economies such as China, India, and Brazil. Increasing infrastructure spending coupled with high rate of urbanization in these regions is anticipated to drive market growth. Growing demand for green polyurethane spray foams in the construction industry is anticipated to have a positive impact on the market growth over the next six years. Demand for bio-based polyurethane from the automotive industry is expected to grow at above industry average growth rates. The increasing number of OEMs by major foam manufacturers such as BASF, to offer automotive manufacturers with customized solutions. This is expected to augment bio-based PU market demand over the next six years. Furniture is also anticipated to increase its market share over the next few years. Other end-uses considered in the report include refrigeration, packaging, and insulation.
Regional Insights
Asia Pacific was the largest producer of bio-based polyurethane and accounted for just less than one-third of total production in 2013. Abundant availability of synthetic diisocyanates and increasing production capacities of regional bio-PU manufacturers are the major factors that contributed to bio-based polyurethane market growth. The regional market is anticipated to witness the highest growth over the forecast period on account of increasing infrastructure spending especially in emerging economies such as China, India, and Japan. The growth of automotive and packaging industries may also spur growth in demand for these bio-polymers in this region. Government regulations in countries such as U.S., UK, France, Germany and China for maintaining optimum bio-based content in plastic products have had a positive impact on bio-based PU market growth. In terms of demand, North America accounted for a major proportion of market share owing to increasing governmental support for the use of bio-based polymers. Over 70.0% vehicles manufactured by Ford Motor Company in North America contain seat components made of bio-based polyurethane foams. North America is however expected to lose out some of its market shares to high-growth regions of Asia Pacific, Latin America, and the Middle East over the next few years.
Competitive Insights
Global bio-based PU market is still in its infancy with a limited number of manufacturers. Major companies operating in the market have patented their technologies and have collaborated with biotechnology companies for manufacturing bio-based polyols to process further into polyurethanes. Recent developments such as Lubrizol's acquisition of Merquinsa's bio-based TPU portfolio and a joint venture of BASF and Purac for the production of bio-based succinic acid have been witnessed in global bio-based polyurethane market. BASF collaborated with Ford Motors and formed an OEM for a long-term supply of castor oil based PU foams. Other significant players operating in bio-based polyurethane market include The Dow Chemical Company, Mitsui Chemicals, Rampf Ecosystems, Johnson Controls Inc., Biobased Technologies, Rhino Linings and Hitachi Chemical Company.