"Development of healthcare insurance and reimbursement policies are expected to drive the North America molecular diagnostics market"
The North America molecular diagnostics market was valued at over USD 3.0 billion in 2015. Growth is triggered by the increase in per capita healthcare expenditures and technologically advanced healthcare infrastructure. Growing awareness amongst patients also serves as one of the major driving factors propelling the growth of the market.
Initiatives taken by different government associations are anticipated to boost the market growth. For instance, the American Cancer Society and American College of Obstetricians and Gynecologists conduct camps for cystic fibrosis carrier testing, Pap test, and human papilloma virus test in an attempt to create awareness among people for infectious diseases and cancer.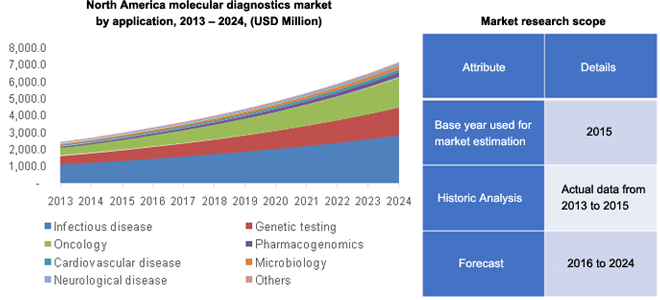 Healthcare spending in North America has increased at considerably high rate from 2014. A 5.3% increase in healthcare expenditure has accelerated the medical spending for physician consultation and clinical services. The increase in North America's disposable income is primarily due to the healthcare coverage expansions made by Medicare, Medicaid, and private health insurance companies, which is further estimated to play significant role in fueling growth. Furthermore, well-developed healthcare infrastructure and facilities in this region are anticipated to support growth.
"Reagents was the largest North America molecular diagnostics market in 2015"
The product segment comprises of reagents, instruments, and services. The reagents segment held the largest share of over 50.0% in 2015 owing to the multiple usages of reagents and kits in different hospitals and primary healthcare settings
The reagents segment is also expected to witness a lucrative growth throughout the forecast period. Increasing R&D activities in academic and research institutes are the primary driving forces for this segment.
"Central laboratories generated the most demand in the North America molecular diagnostics market"
Point-of-Care (PoC), self-test, or over-the-counter drugs and central laboratories are the test locations where molecular diagnostics are used. Central laboratories dominated the market with a revenue contribution of around USD 1.8 billion in 2015.
Developed countries like the U.S. and Canada have well-organized reimbursement infrastructure pertaining to various diagnostic tests undertaken in the central laboratories, which are provided by Centers for Medicare & Medicaid Services. This is one of the major factors boosting the growth of this segment.
However, PoC facilities are anticipated to account for the highest CAGR of over 13.0% throughout the forecast period owing to rapid diagnosis of target diseases. Most of the key players are focusing on the development of a molecular diagnostics platform that can be used in PoC settings.
"DNA sequencing is expected to account for the fastest CAGR over the forecast period"
The technology segment includes Polymerase Chain Reaction (PCR), in-situ hybridization, transcription-mediated amplification, sequencing, chips & microarrays, mass spectrometry, and other technologies. PCR technology dominated the market in 2015, owing to increasing development of PCR-based laboratory-developed tests for rare genetic diseases, cancers, and infectious diseases.
Sequencing is anticipated to be the fastest growing segment with a lucrative CAGR of over 16.0% over the forecast period because of greater analysis and detection of cancer biomarkers.
"Infectious diseases accounted for the largest segment in 2015 and oncology is estimated to be the fastest growing segment over the forecast period"
Application segment includes oncology, infectious diseases, pharmacogenomics, genetic testing, microbiology, and neurological & cardiovascular diseases. Out of these, infectious diseases dominated the market with nearly 40.0% share during 2015. The key factors enhancing this growth include increasing prevalence of HIV and introduction of novel molecular diagnostic test kits for HIV and hepatitis screening
Oncology is expected to show a lucrative growth over the forecast period. This is pertaining to the fact that the U.S. has a large base of untargeted population for cancer diagnosis, which is expected to rise to around 19 million in 2024, based on statistics reported by the National Cancer Institute.
"The U.S. held the largest market share in 2015"
The U.S. dominated the North America molecular diagnostics market with revenue contribution of over 2.7 billion in 2015, owing to increasing healthcare expenditure and developed diagnostic services in this region. Moreover, the U.S. has a higher number of favorable policies for molecular diagnostic providers to help expand their business.
"Roche Diagnostics, Abbott Laboratories, and Becton, Dickinson and Company are some dominant North American molecular diagnostics market players"
Some key players of this market include Abbott Laboratories; Roche Diagnostics; Hologic, Inc. (Gen Probe); Novartis AG; Bio-Rad laboratories, Inc.; Cepheid; Siemens Healthcare GmbH; Johnson & Johnson Services, Inc.; Bayer AG; Alere; bioMérieux SA; Sysmex Corporation; Becton, Dickinson and Company (BD); Danaher Corporation; Dako; and QIAGEN.
Companies are mainly focusing on investments in similar companies and expansion in developing states for targeting the growth opportunities underlying in this region. For instance, Exosome Diagnostics in 2015 launched a CLIA-Certified molecular diagnostic laboratory in Massachusetts.