Industry Insights
Global oncology based molecular diagnostics market size was valued at USD 1,136.5 million in 2014 and is expected to grow at a CAGR of 14.7% over the forecast period. Rising prevalence of various types of cancer such as breast, colorectal, and Non-Small Cell Lung Cancer (NSCLC) amongst the world population is the key driver propelling the growth of oncology based molecular diagnostics industry.
According to the report published by the American Cancer Society, over 1,665,540 new cancer cases and 585,720 cancer deaths are estimated to take place in the year 2016. Most common sites of cancer are lung, liver, stomach, colorectal, and breast. Cancer causing viruses such as HCV/HBV, and HPV are also responsible for about 20% of cancer deaths worldwide.
North America oncology based molecular diagnostics market revenue by product, 2012-2022, (USD Million)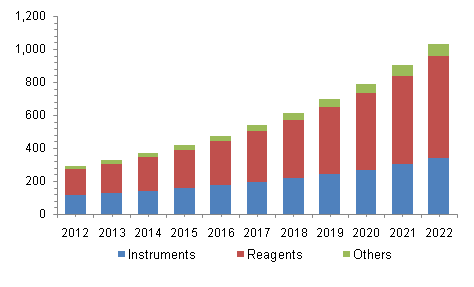 Furthermore, rising awareness levels among patients and healthcare professionals for early detection and differentiation of cancer is estimated to enhance the usage rates of molecular diagnostic techniques for oncology.
Increasing demand for technologically advanced diagnostics products on grounds of accuracy, speed, and cost-effectiveness is expected to serve this industry as a high impact rendering driver. Companies such as Qiagen and Sigma Aldrich Corporation are developing a new range of molecular diagnostic techniques such as Loop-mediated isothermal amplification (LAMP) and Transcription-Mediated Amplification (TMA) for diagnosis of tumors.
Behavioral and dietary changes such as low physical activity, high tobacco and alcohol uptake, low intake of healthy food, and obesity account for the increase in cancer cases globally. Low and middle-income countries are at high risk of increasing cases of cancer owing to their low resources and fewer infrastructure services to cope with increasing prevalence of cancer.
Type Insights
Types of cancers studied under this segment include breast cancer, prostate cancer, colorectal cancer, cervical cancer, liver cancer, lung cancer, blood cancer, and kidney cancer. Breast cancer dominated the overall market in 2014 in terms of share at 15.3% owing to the presence of large test volumes and an extensive portfolio of commercialized products. However, the faster-growing segment with a lucrative future such as colorectal cancer is expected to outgrow the former in terms of growth rate.
Liver cancer and prostate cancer diagnostics markets are also estimated to witness significant growth after colorectal cancer owing to its rising prevalence coupled with increasing awareness levels. Oncology based molecular diagnostics is marked by the presence of broad avenues for development of diagnostic applications at molecular levels in the fields of personalized medicine for medication and new drug discovery.
Product Insights
Reagents held the largest share among product segments in the year 2014 with a revenue generation of over USD 610 million due to the extensive usage of various reagents in cancer research and diagnosis.
However, instruments are expected to witness significant growth during the forecast period mainly due to increasing demand for rapid and accurate diagnostics devices. The segment is estimated to grow at a CAGR of 12.8% owing to the relatively high price of these products and growing market penetration of the instrument manufacturers in Asia-Pacific and Latin American regions with constantly developing healthcare infrastructure.
Technology Insights
The industry is segmented on the basis of technology into six segments, PCR, Multiplex PCR, In Situ Hybridization, Isothermal Nucleic Acid Amplification Technology (INAAT), Chips & Microarrays, Mass Spectrometry, Sequencing, and Transcription Mediated Amplification. In 2014, the molecular diagnostic polymerase chain reaction technology occupied over 31.0% of the revenue share for the global oncology based molecular diagnostic market.
The molecular diagnostic technology market share for genetic sequencing is expected to grow from 12.4% to 17.5% by the end of the forecast period. Potential decrease in processing cost and an increase in the portability of DNA sequencers and development of next-generation sequencing techniques providing high throughput analysis and sequencing of genomic data are estimated to be key factors for aforementioned growth.
Test Location Insights
The clinics and other establishments segment dominated the overall market in terms of revenue share and it was valued at USD 817.5 million in 2014. The presence of a high volume of molecular diagnostic tests in this segment is one of the primary growth drivers of this industry.
The point of care segment is expected to grow at the fastest rate of 16.6% from 2015 to 2022 on account of the growing initiatives aimed at reducing hospital stays to curb healthcare spending, rising levels of health conscious population, and demand for rapid diagnosis near the patient site.
Regional Insights
In 2014, North America represented the largest regional market accounting for over 34% of the overall industry followed by Europe, which accounted for over USD 364 million revenue generation owing to the presence of well-established healthcare infrastructure, rising base of health-conscious population, and high level of healthcare expenditure.
Asia-Pacific is expected to grow at the fastest CAGR of 16.7% during the forecast period. Increasing incidences of cancer among the low and middle-income countries in the Asia-Pacific region can be attributed to the aging populations and changes in lifestyle associated with economic development and epidemiologic transition. India, China, and Australia are expected to offer immense potential for this industry mainly due to growing economy and high unmet needs.
Competitive Insights
The key players in this industry include Abbott Laboratories, Bayer Healthcare, Beckton Dickinson, Cepheid, Dako, Danaher Corporation, Gen Probe, Qiagen, Roche Diagnostics, Siemens, and Sysmex Corporation.
Companies in an attempt to gain stability are adopting strategies such as specialized product development. For example, in September 2015; Roche launched the Cobas EGFR Mutation Test v2, which is used for diagnosis of Non-Small Cell Lung Cancer (NSCLC), which is expected to drive the growth of this market.
Global biopharmaceutical companies are also entering into collaborations with diagnostic companies for development of companion diagnostic pertaining to cancer. For instance, Qiagen and Lilly announced their plans to co-develop companion diagnostics for targeting common cancer biomarkers.