Industry Insights
The global optical brighteners market size was valued at USD 661.5 million in 2015, projected to expand at a CAGR of 6.5% from 2016 to 2024. Rising demand for paper products with a superior aesthetic appeal is expected to be the key factor driving the industry over the coming years.
Currently, optical brighteners are the most extensively used chemicals in the detergents and soaps sector. Consumption of optical brighteners in laundry detergents helps the clothes to look brighter and cleaner. The aforementioned factors are projected to drive the demand for optical fibers over the forecast period.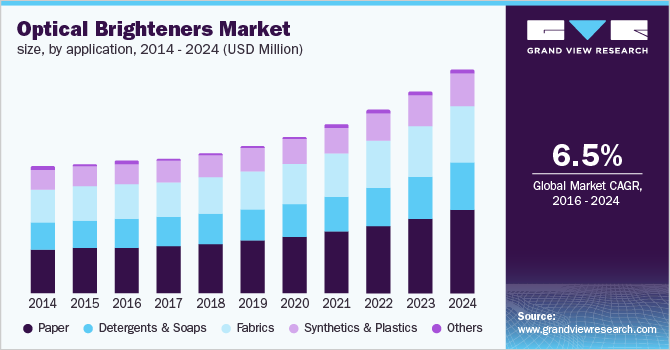 Growth in the laundry and cleaning sector is another key factor responsible for increased demand for optical brighteners, as they have superior cleaning properties and can be used as fabric softeners. It is also used in the cosmetics industry and as bleaching additives in the pulp and paper industry. Rising consumption of the product in coated, as well as uncoated, paper products will also play a significant role in driving its demand.
Europe has the maximum number of optical brightener manufacturers. However, there has been a significant demand shift from the Europe and America region to the Asia Pacific and Latin America markets. Furthermore, closure of paper mills in Europe and the U.S. coupled with consolidation in the industry has negatively affected the market. Rising demand for fluorescent whitening agents from various applications such as teeth whitener, fabric softeners, textiles, detergents, and paper whitening in the Asia Pacific region has provided a major boost to the overall demand.
Growth in industries such as chemical, paper, and textile is responsible for the high product demand and this trend is expected to continue over the forecast period. Upcoming development projects in various countries including Germany, France, China, and India in the chemical industry are also boosting the market expansion. Declining oil prices have resulted in fluctuations in raw material prices and volatility in the market. Resellers and users of optical brighteners have witnessed lowering of margins owing to this trend.
Government policies allowing manufacturers to procure production and exploration licenses have helped in increasing foreign investments in the domestic chemical industry in countries such as India and China. Privatization of state-owned companies such as Bayer (Germany) is expected to further encourage private investments. Increasing production capacity by companies owing to rising demand will be an important feature of the market. However, limited application scope will pose a challenge for manufacturers and may have an impact on the buying patterns.
Application Insights
The paper application segment led the optical brighteners market in 2015 and is projected to have a significant expansion over the coming years due to rising demand from India, China, Indonesia, and Thailand. However, the paper industry in North America and Europe has become saturated and has led to shutdowns of paper mills over the past few years.
Fabrics application segment is also anticipated to witness promising growth over the forecast period owing to consumer demand for bright and durable fabrics. Companies are using various formulations of optical brighteners in order to develop high-quality end-products. Consumers are focusing on convenience along with improving the functionality of their dishwashing and laundry agents, which will positively affect the product demand.
End-use Insights
Consumer products led the end-use segment in 2015 and is expected to maintain its dominance through the analysis period. Governments of emerging economies such as China and India are supporting their local manufacturers and institutions for R&D of optical brighteners-based products to increase their production volumes.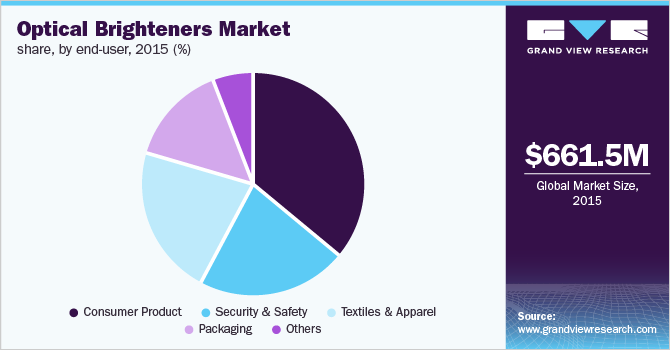 Security and safety segment also witnessed a significant demand in the past owing to a wide range of applications including fluorescence on the bank notes and labels on the products. Several superior characteristics of optical brighteners, such as blue light emissions and high transparency, have resulted in high product demand in this segment.
Regional Insights
Europe was the largest regional market in 2015 accounting for 33.2% of the global volume share. It projected to expand further due to escalating product demand from the soaps and detergents sector in the region. Asia Pacific is expected to witness the fastest CAGR of 7.0% during the forecast years.
Indonesia is one of the key raw material supplier to various manufacturers in Europe and hence, it exports a considerable amount of raw material such as diaminostilbenedisulfonic acid (DAST) to European manufacturers. Indonesia optical brighteners market is expected to experience significant growth on account of growing consumer demand for whitening agents from various consumer products including soaps, dishwashing agents, detergents. Increasing investments from various multinational companies are expected to be a crucial factor for the rising production capacities.
Rapid industrialization coupled with expanding paper and textile industries in emerging economies such as India and China is expected to be the key factor for region's growth. Rise in foreign direct investments in India is also expected to contribute toward market growth in the next few years.
Optical Brighteners Market Share Insights
Key companies in the market include BASF SE, Huntsman Corporation, Archroma, Keystone Aniline Corporation, and Clariant AG. BASF SE has been one of the major producers in the industry. It is engaged in developing a wide range of optical brighteners such as Tinopal, Tinocat, and Tinolux. The company has also developed a variety of innovative technologies for increasing the production capacity.